Zhou participates in UCSD biophotonics program, gains insight in biological field
As Darren Zhou (12) peered through the microscope, his eyes fixated on a single neuron cell. He scrutinized thousands of images, documenting each cell's response as they were being cut. Interning at UCSD's Cellular Biophotonics lab this summer, Zhou said, was one of the first times he had been able to observe cell responses so closely.
On June 21, Zhou, alongside students from various high schools across San Diego, began his internship at UCSD's Biophotonics Lab.
"Before the internship I was quite nervous about meeting my boss and all the other interns, but more so about if I would be left behind and unable to do the work assigned to me," Zhou said. "I was expecting to jump straight into the work, but the internship was actually very slow in the beginning and they gave us a lot of time to adjust and do the training for each of our specific jobs."
Throughout the eight-week program, Zhou interned under UCSD project scientist, Dr. Linda Shi. Zhou was initially interested in interning at a biophotonics lab in order to learn more about image processing analysis; a more specific niche of science.
Biophotonics, Zhou said, is a field of science which combines biology and photonics. Zhou studied the responses living organisms had to different levels of light on a cellular level.
During his internship, Zhou focused on calcium cell image processing, and the response cells would have when cut or killed.
Due to COVID-19 restrictions, Zhou's internship was primarily through Zoom, though he was able to enter the lab occasionally to complete lab work. 
"For the majority of the time in our Zoom internship, we had lots of presentations from guest speakers where they would talk about their lives and their professions, and we could ask about what they do," Zhou said. "Some of Dr. Shi's coworkers or her boss would talk about their experience working at the biophotonics lab, which gave me an introduction to the professional work environment."
Zhou was selected by Dr. Shi to fulfill the role of intern group leader, which he said gave him more opportunities to complete work in person at the research labs.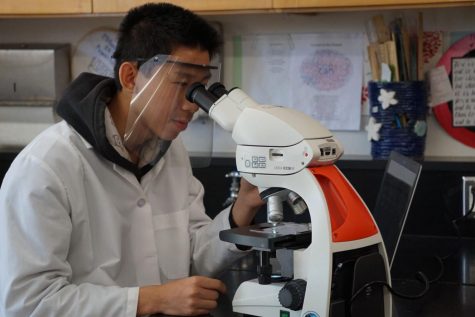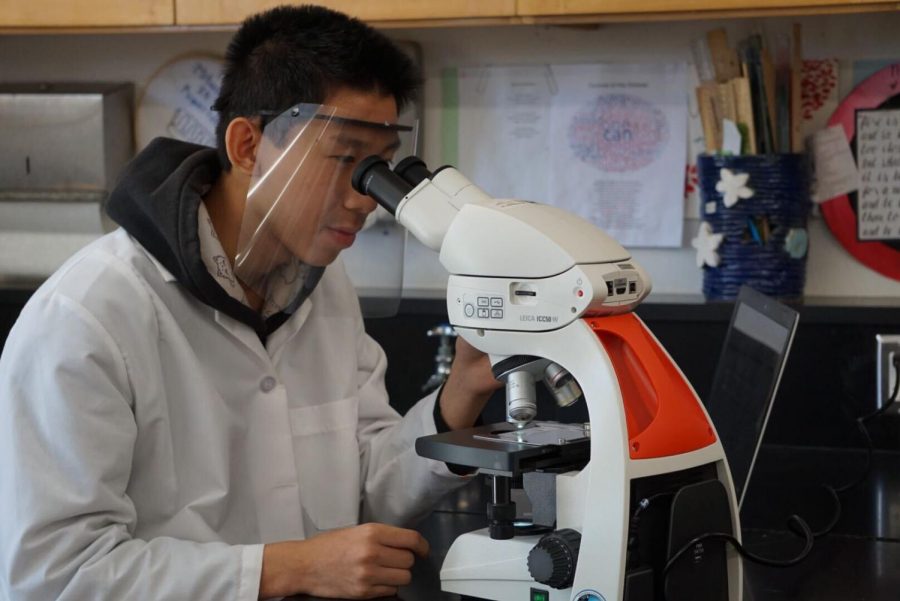 "I was chosen to be an intern group leader because I was one of the older interns and my boss [Dr. Shi] liked the fact that I played a lot of video games since she believed that people who played video games had more focus and time," Zhou said.
Additionally, Zhou said that prior experience in taking science classes at Westview combined with his parents' backgrounds gave him a competitive edge when collaborating with other interns.
"I had taken AP Biology and AP Chemistry previously, and both my parents were researchers so I had a more than adequate background to be the group leader for the calcium image analysis project," Zhou said. "I chose to become [an intern team lead] because I thought it gave me more influence over the project as I was given access to the UCSD lab computers through remote control and I could directly do research under the mentorship of graduate students who were working there."
According to Zhou, being a team lead also gave him the opportunity to use equipment he'd never used before and allowed him to improve his ability to communicate with peers in a professional setting.
"[Team leads] held separate meetings to discuss more technical stuff, like how to operate the different lab equipment we had never had a chance to use before, such as biological microscopes and remote-access lab computers," Zhou said. "The [remote-access] lab computers allowed me to access images of cells that had already been cut or drugged, and with those images I could process them with the processing programs that were also included on the computer."
Previously, Zhou unofficially interned at the Scripps Research Institute, which he said was a very different experience from the one he gained interning at UCSD.
"At Scripps, I performed basic lab experiments and practiced proper lab etiquette," Zhou said. "With my internship at UCSD, I was able to try a lot more equipment and learned about new softwares which I had never used before."
Zhou said that the internship not only helped him improve interpersonal skills he will need to work in any given profession later on, such as writing emails and collaborating with other interns to meet deadlines, but also helped him procrastinate less.
"During the internship, it was difficult to procrastinate when other people are waiting on your work, especially when you're working under someone else," Zhou said. "I always tried to finish things ahead of time, and it became a habit to try to finish things before the deadlines."
Additionally, through his internship experience, Zhou said that he feels more confident in his desire to pursue a future in research-based science.
"As a senior, hearing other interns talk about college made me consider mirroring their career paths," Zhou said. "It showed me what kinds of classes I should take in high school and college, and gave me an idea of the general workload I would have in college."
After the summer internship ended, Zhou received an offer from Dr. Shi to extend his internship for an undetermined duration, and he agreed. Zhou said that he plans on continuing his image processing analysis work at UCSD's research labs through the first semester of his senior year.
"After eight-weeks, I realized that research-based science is something that I find enjoyable," Zhou said. "I am excited to continue my internship and hopefully be able to continue learning more about biophotonics."