Student board member Bylsma pushes for excused absences for mental health days
Some days, Sarah Sumner (12), who was diagnosed with Major Depressive Disorder and anxiety last year, just can't get out of bed, much less go to school or focus in class. 
"I wake up feeling bad for no reason other than my anxiety and depression," Sumner said.  "Going to school only adds more work, more stress, which causes me to spiral even more."
On days like this, if she chooses to miss school, Sumner has to ask her parents to excuse her absence with the school as a physical sickness even though it's a mental one.
"I don't want to lie about it," Sumner said. "But, when days are really bad, it's my only option."
It's for students like Sumner that Student Board Member Emily Bylsma, a senior at Rancho Bernardo High School, is working on an initiative for excused absences for "mental health days."
"A lot of students in PUSD have frequent issues and struggles with mental health and wellness, especially with the competitiveness  of our school system," Bylsma said. "There's such an expectation of excellence, which is a good thing, to an extent, but can also take a toll on mental health. [With this resolution], students would have the opportunity to say, 'I'm taking a day off because of my mental health and the stress I'm under and the feelings that I'm struggling with right now,' and that would be legitimized and understood by the school."
A student wouldn't need a diagnosed mental illness to be able to take a mental health day. Bylsma said she hopes that the excused absences can be utilized by any student genuinely struggling with their mental health.
"The initiative is so broad because there are so many different aspects to our mental health," Bylsma said. "I think having the provision be so open is important because everybody's journey with mental health is unique. I would never want to regulate how a student used their mental health days, but rather let them decide what they need for their own health."
As a student board member, Bylsma attends all board meetings to offer a student perspective, to represent the student voice in discussions. Additionally, she gets a preferential vote on motions, which does not have the power to sway the motion, but just represents the student decisions on all issues.
"It's not a super powerful position, but I think it's an impactful one," Bylsma said.
In order to address student concerns, Bylsma is writing a proposition and creating an informational presentation for today's board meeting to "start the conversation" on excused absences for mental health days, she said. 
Public school absence codes are written by the state, so they cannot be changed at the district level. However, the California Education Code allows for excused absences for student "illness," a phrase Bylsma said she wants to reinterpret at the district level to include mental illness. This would include writing a resolution at the district level to show this interpretation.
To ensure mental health days are used appropriately by students, Bylsma is introducing three regulations to the proposition: students cannot take a mental health day on a day they have a final, students cannot use a mental health day on a day directly preceding or following absences for vacation, and students under 18 must have their parents call to excuse the absence, just like for a physical illness.
Legislation on excused absences for mental illness has been passed in states like Oregon and Utah. Early this year, California Assemblymember Kansen Chu introduced a bill that would have accomplished the same goal as Bylsma's initiative—but the bill was dropped a few months later.
So, Bylsma and the California Student Board Member Association (CSBMA), an organization where student board members across the state come together to discuss goals and issues, decided to take this issue on themselves.
"We knew this was important, so we said, 'If this isn't going to happen at the state level, we want to make it happen at the district level,'" Bylsma said.
The student board member of San Diego Unified School District is also preparing a proposal for their monthly board meeting, according to Bylsma.
Bylsma said she thinks virtual learning makes this issue even more imperative.
 "Virtual school has so many new struggles that students are having to adapt to and I think a lot of students have done really well but a lot of students are also really struggling, more than ever before," Bylsma said. "So being able to have the opportunity to legitimately say 'I need a day for mental health,' is so powerful."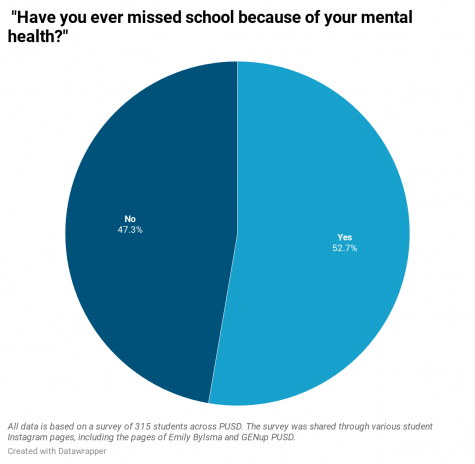 Sumner said she struggles with virtual learning too, that it's even harder to focus on a Zoom class when she is experiencing increased levels of anxiety and depression than it was during in-person school.
This is why Bylsma is focusing on this issue right now, even though a student board member has never before introduced a proposition like this in PUSD, according to Byslma.
"It's pretty unprecedented," Bylsma said. "But I'm excited to try."
She had never written anything like this before, so she reached out to board member Dr. Darshana Patel for help formulating her proposal. 
"She was really helpful in making sure I understood how to put the ideas I had down on paper and to really make sure this was something that board members would respect because it's always a challenge, as a student, to gain the respect of these important members in the school district," Bylsma said.
A student advocacy group Bylsma is a member of, GENup PUSD, as well as CSBMA members helped her with her presentation for today's board meeting. 
"[Writing legislation] is definitely new territory for me, but support from both of those groups have been extremely helpful in making sure that the stuff I'm proposing actually makes sense and is something that can happen," Bylsma said.
Her presentation will simply let the board members know that this is a student concern she is looking to address. At the meeting, board members will be able to ask her questions about her initiative and decide if this is something they want to pursue. The next step would be writing the legislation and then, Bylsma hopes, eventually voting on it.
"If we really have support from our stakeholders in PUSD, this is something I can see passing in the next year, which is really exciting," Bylsma said.
If the board is interested in moving forward with this piece of legislation, Bylsma would like to discuss with counselors as a next step. She said she hopes that counselors would be able to participate by doing check-ins with students who use all three of their mental health days in a grading period. Bylsma said she wants to talk to counselors to gain support for these check-ins as well as the initiative as a whole.
Afterwards, she said she hopes to talk to teachers about the initiative and hear their opinion.
Bylsma said she believes that the entire initiative could help to destigmatize mental illness in PUSD schools so students no longer have to lie to administration when they are taking days off for mental health.
 "I hope, by instituting mental health days, we give students the opportunity to be candid about their mental health struggles with the school and have legislation that will honor those struggles,"  Bylsma said.
Sumner can see this legislation changing the mindset of Westview's community as a whole when it comes to mental health, as mental illness will be formally defined as a valid struggle.
"A lot of people at school, who don't struggle with mental health or aren't close to someone who does, aren't aware of how much of a problem it can be, how debilitating it is," Sumner said. "I think something like this could help to change that."
Bylsma said she wants to garner as much student support as possible, so she encourages students to attend today's board meeting at 6 p.m., which will be live-streamed here, and submit a public comment (either in the chat on the Zoom call or on the PUSD website between 3-5 p.m. today) in order to voice support if this is a topic students think is important.
Sumner said she is hoping for a future where mental health absences are excused.
"[If Westview allows for mental health days,] I could take days to recharge," Sumner said. "I can take time to think about myself  and what's making me feel bad—rather than thinking about school—so I can get better."