Narayanan, Paryani, Sengupta hold clothing drive to support wildfire victims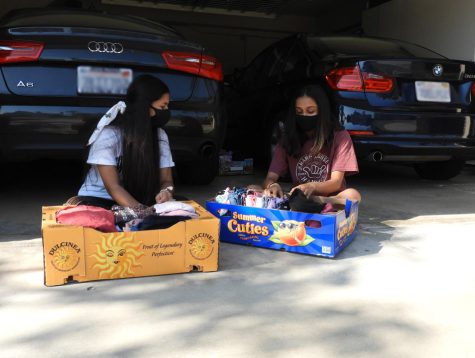 In light of all the chaos that's unfolded over the course of 2020, Ananya Narayanan (11) said she felt compelled to seek out community service opportunities that could provide relief to those in need of support. 
"Originally, I wasn't too sure what I could really do, but because there are so many people who are struggling with everything that's going on in the world right now, I just knew I needed to find something to do locally that could help some people out," Narayanan said.
Finding it difficult to decide on a particular cause to support, Narayanan reached out to Suvali Sengupta (11) and Tanisha Paryani (11), two of her friends who share her passion for helping others, and proposed they collaborate on a community service project—something that, according to Paryani, they've wanted to do for a while. Together, they took to the internet and conducted research on local crises, which eventually sparked the idea to contribute to the recent California wildfire relief efforts. 
"It crossed our minds that we could do something for the families affected by the wildfires, and when researching impacted areas, we came across the Jamul Dulzura Union School District," Paryani said. "Aside from its location in an area impacted by the fires, this particular school district has kids from more underprivileged areas, so we thought it was the perfect fit." 
After reaching out to the Jamul Dulzura Union School District via email to ask questions concerning which resources would be of most use to the community, the district replied with suggestions of clothing donations. According to Sengupta, this response prompted their idea to hold a clothing drive, as they thought this method of collecting donations would be easy to fit into their busy schedules, while also allowing others to get involved with the project.
"We all have clothes we don't wear anymore so we thought that anyone who wants to contribute could do so by just dropping off their clothes," Sengupta said. "For me personally, I have extracurriculars like dance and my honors and AP classes take up most of my time, so we just thought that with our full schedules, it would be easy to make a clothing drive and just get the word out by posting about it on our social medias."
Although they were pleased with the drive's turnout in the end, Sengupta said they were initially discouraged by the thought that their promotion tactics, which included posting a flyer with the drive's information on their Instagram stories, wouldn't be enough to grab people's attention and encourage participation. 
"At first it was hard to get a lot of people on board because most people don't want to go through the effort to drive out and drop their clothes off," Sengupta said. "They'd rather just leave it in a drawer at home.   When the drive first started, we were a little nervous that not many people would show up because maybe they scrolled past the flyer we posted on our stories, but later when more people started to show up, it felt so rewarding to know that we were actually making an impact on the community and getting others involved as well."
The clothing drive, which was held on Oct. 3 in Narayanan's driveway, accumulated more than five large boxes of clothing, which Narayanan helped deliver alongside her parents to Jamul Elementary, where they were greeted and thanked by the district's superintendent, Liz Bystedt. 
"We didn't get any pictures of people receiving the clothes, but after I met the superintendent when I dropped [the boxes] off at the school, she let us know that the clothes really came in handy and a lot of people in the community were really appreciative of our donations," Narayanan said. 
Despite not being able to reach a greater number of people with their donations, Narayanan said she feels that it's still rewarding to know their efforts were successful in providing relief to even a few people who were struggling to support themselves.
"This year has definitely been difficult for a lot of different reasons," Narayanan said. "Even though our clothing drive wasn't able to impact a large group of people, just the fact that we even got to benefit a small group of people with our donations still felt really good."