Performing arts programs adjust to new school year
As the new school year moves forward with distance learning, the performing arts programs have been forced to find ways to adapt to the virtual format. In particular for performing artists, creating their art becomes more challenging with physical separation.
Choir:
While the choir typically relies on having a large group to create a melody of sounds, choir president Sophia Khurana (12) said that they have had to find new ways to practice singing together.
"Instead of trying to force traditional choir to work in an online setting, we've just shifted what choir has become and instead we're just focusing on solo work and recording projects," she said.
According to Khurana, even if school were to reopen in person, choir would still look very different than it would in a regular school year. She said that they would have to practice outside in order to properly distance as singing is a high-risk activity for spreading the virus. 
For now, though, she said the choir is focusing on doing bonding activities to create a better connection between the members.
"We're making sure that for the people who are new to choir that they feel like they are part of our community and not just let everyone who was already in choir clique together and not allow any of the new people to become integrated with them," Khurana said. 
She said that she is working to remain positive about being online and working towards making this year's choir as interactive as possible.
"I was just expecting choir to be boring and not interactive, but we're all putting in a lot of effort and actually making new friendships and staying involved in music which is a pleasant surprise," Khurana said. "I feel pretty confident that we're going to have a good year and I just hope that everyone else acknowledges how much work all of the performing arts departments are putting into making music and art for everybody." 
Westview Gold (band/orchestra):
According to Westview Gold President Alex Soriano (12), this time in a regular school year, marching band would have already begun their field show and concert band would be a few weeks into learning advanced music. However, this year, because of the pandemic, marching band season has been canceled. 
"We would've already spent weeks bonding as a group, particularly with our new members," he said. "All of us here at Gold are really missing the community aspect of music, but we're extremely optimistic that we'll find ways to connect throughout this new school year."
Soriano said that one of the hardest parts about band being held on Zoom is the timing aspect. He said that the precision, accuracy and cohesion necessary for marching band performances is hindered while playing together on Zoom. He said there is a delay with both the audio and visuals that makes it hard to keep in time with the other members, so instead, they all play at once with their microphones on mute.
"We are given exercises like rhythms, or a certain scale and exercise that we all sing or count as a group," Soriano said. " The main change is that we have our microphones muted to avoid audio interference, but we still maintain a group feel because we visually see everyone playing or counting on screen. It's not quite the same experience, but we're thankful we still can practice and develop our skills together even when we're distance learning."
He said that while being apart, the curriculum has shifted to have greater focus on skills the musicians can work on by themselves, such as tuning, rhythm practice and scales. They are also implementing yoga and flexibility training, skills that would help with mobility and breathing during marching season.
This focus on individual improvement can also be seen in the other aspect of Gold's program: orchestra. Orchestra president Esther Jeon (12) said there has been a shift from focusing on in-class repertoire to music theory, scales and etudes.
"Although I love the performance aspect of orchestra and focusing on pieces, I still think focusing more on theory elements will be beneficial since we usually don't invest as much time on it during the regular year," Jeon said.
Additionally, she said that the orchestra is placing more emphasis on bonding activities in order to supplement the connections that would have been built on campus.
For now, Soriano said that the exact future of Westview Gold is still uncertain.
"Here at Gold, we are extremely optimistic that students can still leave quarantine better musicians than they were prior," he said. "Although we're missing the group aspect, distance learning has allowed the curriculum to focus on improving the individual's musical skills and fundamentals."
Color Guard: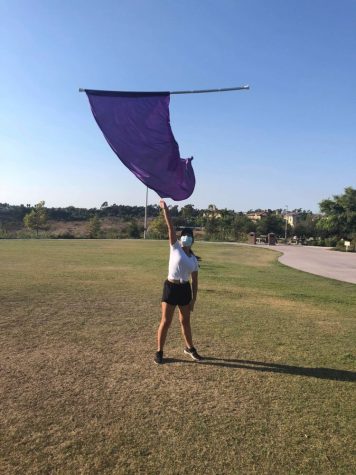 The cancelation of marching season has also changed the plan's for Color Guard, who by now would typically be preparing their field show. Now, however, color guard is practicing digitally, adding extra challenges to the already challenging. Color Guard Captain Rachel Carr (12) said that most of the people who join color guard have never had previous experience, making it challenging to teach them in-person, but even more difficult online. 
To help with this challenge, Carr said the guard is focusing on teaching dance and stretches through the Zoom classes, instead of just skills with the flag and weapons. Fortunately, Carr said she was able to grab flags for the new Color Guard members on a day when people could return to the band room to pick up their belongings. 
Learning the technique of flag and weapons is also tricky because of how much space is required to practice with those tools. 
"Instead of learning and trying to perfectly execute performance choreography, we're focusing more on technique as well as community," Carr said. "We're training hard to be the best performers we can be, just without the end goal of competition."
They are using recordings to learn and practice new moves, but also to receive feedback on their own performances. Additionally, over the summer, color guard was split into smaller groups in order to foster better connection in a closer setting. One of these groups, led by Ella Cuevas (11), meets at a park every Friday in order to have more personalized practice sessions.
"I have learned over these past years that I learn the best when someone is by my side telling what I am doing wrong and correcting me," she said. "I didn't want to see my newbies become discouraged and give up guard because they couldn't do the basics so I thought these mini park practices would help."
As of now, the color guard is finding alternative ways to practice, hopefully preparing to perform again in the spring.
"Everyone on the team is here because we love to perform, and we're dying to get in front of an audience again," Carr said. "But until we can do that, we will be preparing and training as best as we can so that when we are finally granted that opportunity, we're more ready than ever before."
Dance Troupe:
Like the other programs, Dance Troupe has been greatly affected by the pandemic and has been forced to change how they practice. Fortunately for them, the team has found a way to continue practicing together by having workouts at Redline Athletics, even though they cannot practice at school. There, they can participate in workouts and the dance captains teach new dances for the team. These practices are optional for all Troupe members, and measures, like temperature checks and sanitizing the workout equipment between each use, are taken to ensure the dancers' safety. 
Dance Troupe officer Alex Andrada (12) said that being able to practice in person has helped to bring the team together.
"We're basically just trying to keep everyone connected in some way or another because Dance Troupe is a big family and it's important we make the connections now despite what's going on," she said.
One of the main challenges for the Troupe this year is the size of the team. Another Troupe officer, Jade Bucci (12), said that because the team has 31 people this year compared to the 26 last year, it was hard to find a way to bring the whole team together and remain socially-distanced. Because of this, she said that the main struggle the team is facing is building the connections that are such an important part of Dance Troupe. 
According to Olivia Dawson (11), a Dance Troupe officer, a strong bond between Troupe members is important because that connection shows on stage and in group performances.
"You can get frustrated at each other, but at the end of the day, everything is easier when you feel comfortable with the people you are surrounded with," she said.
The Troupe officers are responsible for teaching the new dances to the rest of the group. They said that over Zoom, it is challenging to figure out how to position their body in order for the move to come across correctly.
"Basically because a lot of the classes are on Zoom, you have to figure out yourself on where to orient yourself so you can be doing it the right way," Bucci said. "Sometimes when we've had to teach on Zoom, we've had to flip our cameras in a mirror or face away from our camera, which is kinda hard especially when you're watching on the camera the backside of the movements, you can't even tell from the front what we're doing unless we turn it around."
The team is also missing out on many of the performances that they would normally participate in at the beginning of the school year, such as football games and pep rallies. 
Dance Troupe is structured into two groups, the performance teams which everyone is a part of, and the competition team which must be auditioned for. According to Bucci, some members of Dance Troupe who are only a part of the performance team have lost almost all their opportunities to perform for the school this year. 
"That's kind of a struggle and it makes it hard because [football games and pep rallies] are some of the things that we're known for and we love representing our school," Bucci said. "I think a lot of people have joined because of that reason and they don't get that this year."
Though nothing is set in stone, the officers said that they are still hopeful for a competition season starting in January.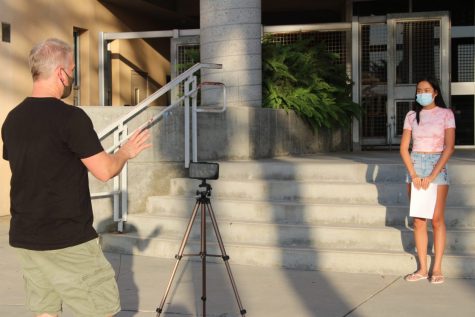 Theater:
This year, the Westview Theatre Company has moved fully virtual, creating its own set of unique challenges. According to Theatre Secretary and Treasurer Lexi Hastings (12), the program has had to adjust to running online. She said that two problems are a change of funds due to the cancelation of the Performing Arts Gala in the spring and a struggle to find new interest in the theater program which is typically garnered from in-person shows.
However, more than that, Hastings said that the program has completely changed how they perform shows. She said that actors must now focus on how to perform in front of a camera instead of an in-person audience. 
Improv captain and Theatre Company Historia Esteban Marin said that the main difference between performing on camera versus live is not being able to feed off of the energy from the crowd.
"Every single thing about [improv] is boiled down to us interacting with people," he said. "Improv shows especially don't work well without an audience to give us feedback and attention. So, we are trying to find a way to balance our performers having fun with what they're doing, and putting out good content that's enjoyable to watch."
At the start of distance learning in the spring, she said that the play Midsummer/Jersey was recorded by the tech crew piecing together different clips of audio and video, a process that turned out to be far more challenging and complex than expected.
"It seemed simple enough, but lining up more than 20 videos and audio in the final product proved near impossible for our technicians," Hastings said. "Since that time last year, the actors and technicians have honed their skills, and our latest Cabaret-style production 'Bound for Broadway' had the highest quality of a virtual production yet."
As for the other programs, the technical challenges posed by Zoom have added another layer of complication to performing plays online.
"The technical difficulties that present themselves onstage under normal circumstances are nothing compared to the inconsistencies in reaction time, audio breaking up, or simply staying together in a scene," Hastings said. "As time has progressed, we've gotten more practice dealing with technical glitches, and the theatre community often shares new settings they find in Zoom to increase the quality of the audio and video to be recorded."
As for the future of the theater program, they have already performed their annual show "Bound for Broadway," which was streamed on Youtube, and are scheduling their first mainstage production to be set for the spring. In the meantime, Hastings said that the Theatre Company is using social media to garner new interest and publicize future events, such as "Scenes on Screens," which is set to replace One Acts. Theater technicians are participating in workshops and the actors are planning short play readings over Zoom to stay connected.
Marin said that the play readings over Zoom are a good way to keep the group connected.
"It's really fun because there's no pressure to perform, we're all just here to chill and have fun," he said. "However, people do start getting into their characters and the play quickly and what comes out is actually a very entertaining play to watch and be a part of."
Hastings acknowledged that even in this uncertain time, the Theatre Company is still doing all in their power to try and create content for the Westview community.
"While this school year will definitely be unique, we're experimenting and learning together about all the new events we can attend and put on," she said. "While this year won't look the same, I've learned so much about the dedication of my fellow thespians, and I'm insanely proud of the hard work and brilliant talents I've seen brought to the small screen over the past few months."
About the Writer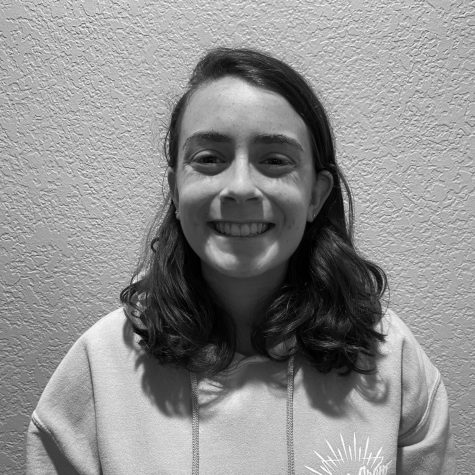 Sydney Alper, Editor-in-Chief
Sydney is a senior and is honored to serve as one of the editors-in-chief this year. She is passionate about covering LGBTQ+ related topics, as well as misinformation. When she's not writing for the Nexus or writing poetry, she can be found playing with her cats, baking, or reading a book. :)