Chin, Lu start eco-friendly skincare business Freshest Future
YJ Si, Editor-in-Chief
September 2, 2020
Jamie Chin (10) wanted to start a business ever since she'd developed a passion for entrepreneurship working with marketing in Westview Robotics. She'd never started a business before, but she loved to watch entrepreneurship shows and wanted to take on the challenge.
So on July 5, she teamed up with Shining Lu (10) and began brainstorming for their new business, Freshest Future. Initially, they considered starting a makeup line, but in order to create a successful business, they decided to go with a more universally used product category: skincare. 
But because skincare products are generally used daily, they subsequently will be used up quickly, creating more environmental waste. Chin and Lu wanted to help change. 
"We wanted to create a business that would both spread awareness [of environmental problems] and show others that eco-friendly alternatives [are just as good]," Lu said. "We wanted to make products that were more approachable to eco-conscious consumers."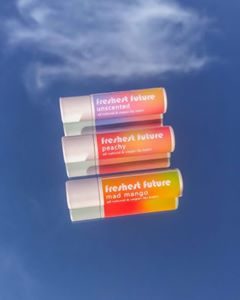 Currently, all of their products are homemade and use paper packaging to reduce plastic waste. Their first product, an all-natural lip balm, was released Aug. 28. The supplies they used to make the balm were purchased from environmentally-conscious suppliers such as GreenWay Container and LorAnn Oils. They were made by measuring and melting together oils, shea butter, and candelilla wax, pouring the mixture into paper tubes, and freezing them.
Lu said starting the business and creating the products had its share of challenges as well. Creating the website and conducting trial after trial to perfect the lip balm formula was completely new to the two of them.
"The best part about working on this is seeing our vision finally come to life," she said. "It's nice to see the progress we've made from our very first product prototype."
Along with this, Chin said the plan to help contribute to spreading awareness and educating about environmental issues. To do this, they will be donating five percent of their profits to organizations involved with climate justice and advocacy, such as the Climate Reality Project.
"Climate change is a topic that is often not addressed, and we want to change that," Chin said. "Creating an eco-conscious business can help create at least one more voice for climate justice."