NJROTC holds military ball, uplifts unit morale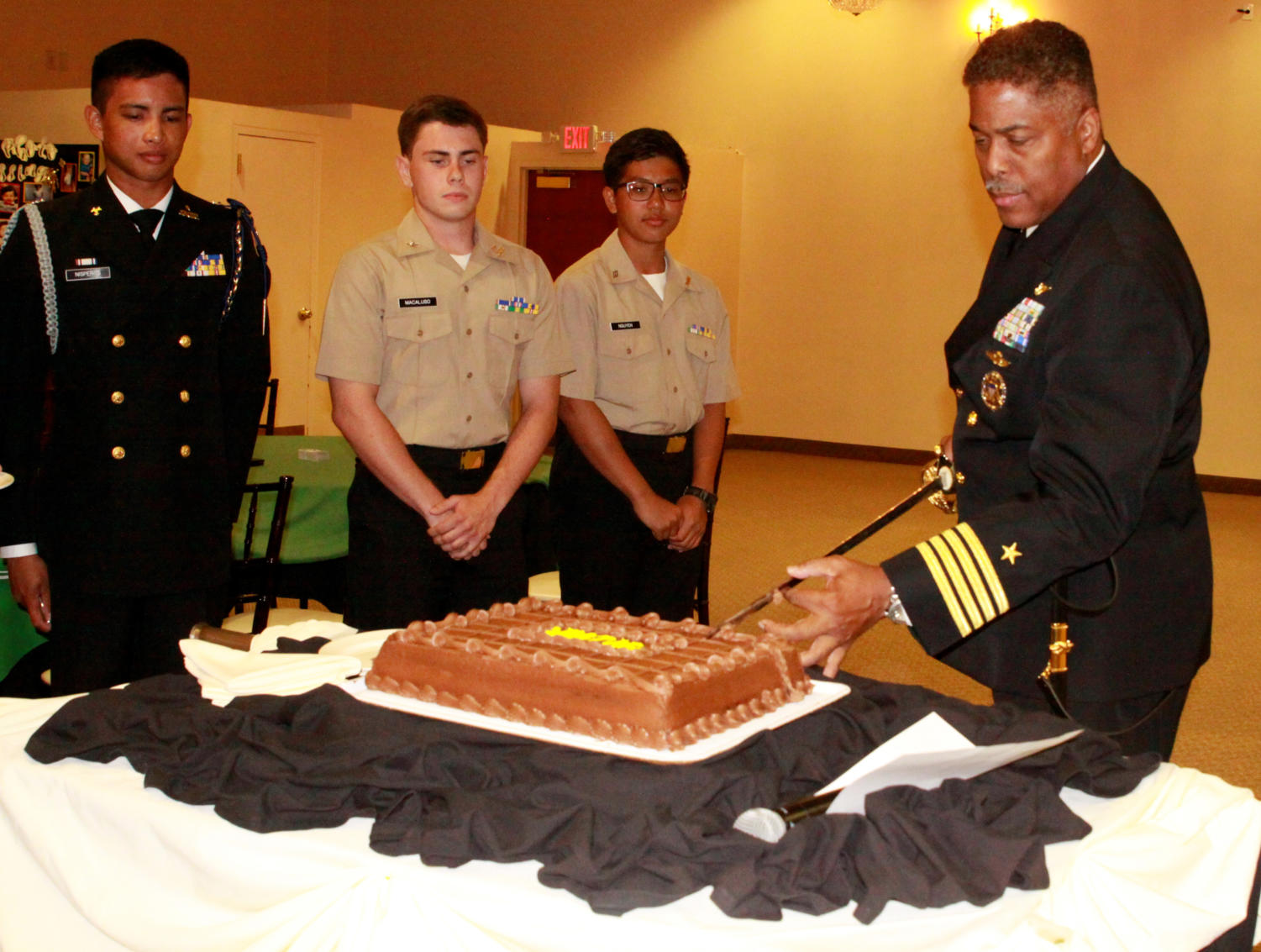 A red carpet was rolled out through the doorway into the ballroom of the Pacific Views Event Center at Camp Pendleton. On one corner of the room was the snackbar with an illuminated sign and clear bowls filled to the brim with gummy bears, Watermelon Sour Patch Kids, and popcorn. Right beside that was a bright ring light that shone on a Hollywood sign hung above a "theater curtain" for photos. To the right was the hardwood dance floor, and up above was a stunning glass chandelier with crystals that glimmered gold in the dimly lit room.  
 The Navy Junior Reserve Officers' Training Corps (NJROTC) Ball Committee began planning the  theme, Hollywood, at the beginning of March, as the NJROTC supervisor, Captain Thomas Adams, had already determined the logistics for the event last May. Adams said each year he marks his calendar with important deadlines for the Ball, and by May of last year, he had already signed contracts and put a deposit on a venue. 
While the venue, food, and DJ had already been coordinated by Adams, the Ball Committee was responsible for organizing the Ball's theme, decorations, and activities.
Platoon Commanders Bridget Yang (11) and Jacelyn Macaraeg (11) spearheaded that committee, despite never having attended an NJROTC Ball prior. 
The committee purchased decorations such as director's clappers, awards, and roses and baby's breath flowers as table centerpieces. During Spring Break, Yang and Macaraeg also designed and created a tri-fold board of NJROTC upperclassmen's baby photos as well as a Google Form for cadets' guesses. They also organized a paper form on which cadets could vote on who should receive most-likely-to awards in the unit. At the bar, instead of serving drinks, cadets had the option of signing cards decorated in colorful, cursive writing addressed to graduating seniors in the unit. 
On the day of the event, Adams said that about 20 cadets arrived early at 4:30 p.m. to set up the ballroom before the event started at 6 p.m. The attendant who was supposed to allow the cadets onto Camp Pendleton didn't arrive until 5:03. 
Yang was wearing a t-shirt, shorts, and her Vans with a full face of makeup and Macaraeg was wearing a tank top, biker shorts, and Converse with her hair already in a half-up-half-down braid when they entered the ballroom and scrambled to set up. 
Flowers, their leaves, and their stems littered a corner of the ballroom as cadets sat in their ball gowns to cut and put the flowers into vases. At 6 p.m., 80 total cadets and guests waited to be received by Commanding Officer Matthew Deverell, Executive Officer Emily Hauw, Cadet Staff Advisor Caeden Giorgetta, and Adams.
According to Adams, the ball was structured similarly to a traditional military ball, but condensed to allow for more free time within the four hours. Adams had taught cadets proper etiquette from the book Naval Ceremonies, Customs, and Traditions that they practiced during the dinner. In addition to learning how to properly use their utensils, there are rules such as that male cadets must stand when females leave the table. Adams said that despite the rules seeming old-fashioned, it prepares his cadets for future military balls if they were to join the service. 
"If you came in there and [disregarded a rule of etiquette], I hate to say it but you might be the hardest-working, best-performing person at your level in that command, but if they want to, they can use that against you," he said. "Things that you do might negatively impact your chances for getting a fair shot in the organization. It will be used against you if the people who are making the decision decide to. So the goal is not to ever set yourself up."
After dinner, the youngest and oldest cadet received the first slice of cake that Adams cut with a sharp saber. Then, Ball Court was announced.
Sam Palacios (11) was nominated for prince. During their first and second quarter of junior year, Palacios had only faced setbacks in their ROTC unit. They were initially supposed to be a lead petty officer (LPO) but fulfilled the role of guidon, a lower-ranking position, because the unit didn't have enough people. Despite being Honor Guard captain for the past two years, they didn't receive Color Guard captain. 
However, during the third quarter, things started looking up, and they were promoted to LPO. As Palacios was non-binary, they weren't sure if they could run for Ball Court, but they were added onto the final ballot with the permission of Adams.
"There was no way I was gonna say 'no, you can't run for prince,'" Adams said. "If [Palacios] identifies that way [and] if that cadet wants to run for [prince], okay, fine. It is up to the rest of [the unit] to decide whether they're going to vote for that person or not."
When Palacios was crowned NJROTC's ball prince, their friend of 10 years, Macaraeg became their princess. The loudest applause of the night erupted, with whoops and hollers as Palacios proudly stood in front of the sword arch with three cadets to their left and three to their right. Palacios linked arms with Macaraeg, who had changed into a dark green, off-the-shoulder dress before the event, and the sword arch fell away as they walked through it onto the ballroom floor.
"It's a weird misconception, but everyone in ROTC is actually weirdly accepting like, really, a lot of them," Palacios said "And [while] running for prince, a lot of people [were] super supportive. I know because a lot of my friends are PCs [platoon commanders] so they're advocating for me in their [class] periods."
After Ball Court had their first dance, the cadets and their guests were then invited by the DJ onto the dance floor. Palacios said they believe the ball strengthened the connections between the cadets. 
"I think ball's a great morale booster for the whole unit because it's one of the bigger events that we do that we haven't done in a few years," Palacios said. "I think a lot of cadets are a lot more motivated to finish off the year strong and still continue on to go through the unit next year I have good hopes for next year and staff and all the cadets."