Markey moves from engineering to law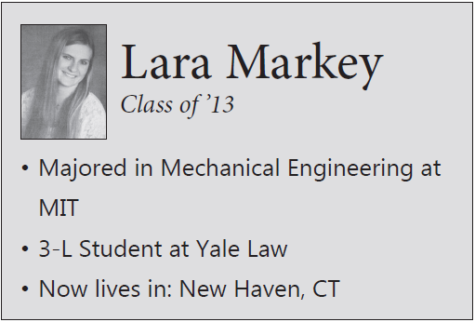 In 2013, Lara Markey was an economics major at the Massachusetts Institute of Technology (MIT). Knowing she wanted to be a lawyer since middle school, she was planning on taking the traditional path to law school​​—economics or political science as an undergraduate major and then law. But around April of her freshman year, after her Introduction to Macroeconomics class, she made the switch to the other side of the spectrum— mechanical engineering.
"I found the [econ] classes difficult, and I wasn't enjoying it that much," Markey said. "I think I struggled with it because I was finding it hard to translate the equations we were learning into real world concepts. The equations made sense in isolation, but I couldn't picture them as a reflection of the economic market."
Markey said that she had always loved physics, especially after taking the class with [Westview science teacher Dawn]  Hester. She took both AP Physics B and C at Westview, further inspiring her to  
"So when I decided I didn't want to do econ, I was looking for another major," Markey said.
"People said that MIT's mechanical engineering department was one of their largest departments, and it was basically based on learning principles of physics and then applying them to experiments in the classroom. So at the end of my freshman year, I switched my major to that."
Markey grew up around STEM concepts, with parents who were both scientists. She said that despite enjoying science and math, she never really wanted to follow in their footsteps, worrying that a STEM field wouldn't have a lot of opportunities for interaction and debates with other people. 
"I also wasn't really inspired by their career," Markey said. "And I convinced myself that law was a way to take problem solving and analysis skills that you learn in science and math and apply them to real-life questions for people to have more of an immediate impact for them." 
As a mechanical engineering major, none of Markey's classmates were pre-law, forcing her to navigate the path by herself, largely isolated from external influence, which was similar to her experience at Westview. Markey said she appreciated that while there was a lot of pressure and stress at Westview, she felt like she was self-motivated in choosing it, pushing herself on her own and taking opportunities that she wanted to pursue. Markey was involved in Advocates for a Better Environment, the volleyball team, English teacher Stephanie Tanaka's tutoring program, and a youth homelessness club. 
"The advice I've always tried to live by is to try to focus on the things that actually matter to you, and to not get swept up in what the people around you are doing," Markey said. "My favorite part about being pre-law at MIT was that nobody else I knew was pre-law. So every time I was making a decision about what classes to take or what to do, I was evaluating the information on my own and making the choice that I thought would be best for me instead of watching 50 peers that have the same goal and comparing myself to their decisions. And I think that was really valuable for me to chart my own course that way."
She continued to follow that advice into her consulting career after MIT, where she worked for the Boston Consulting Group in Los Angeles. There, she completed 13 different projects over the span of two years.
"I think consulting was just a really good path because I got to try all different types of projects," Markey said. "I learned a huge variety of skills. I was definitely asked to grow really quickly and given a lot of opportunity to take on responsibilities, so I thought that was just the perfect way to prepare myself to then go on to my professional degree in law, and taking those few years off was incredibly valuable because I got so much more perspective coming back into law school and realized what my actual career goals are and what I want to prioritize."
Her co-workers were often confused when she was applying to law school, as most of her peers in consulting were going on to get their Masters in Business Administration or following a business-related career path. 
"Since other people kept being so surprised by it, it meant that I had to be really, really sure about it to stay on this path," Markey said. "I felt like I spent so much time in spaces where me saying that I was pre-law was so weird, so I think that I got to law school a lot more sure that this is what I actually want to do because it was the 'off the path' decision and honestly, such a difficult decision to rationalize to everyone else for so long. But I know that I'm really happy here and this was the right thing for me."
One of the projects Markey was involved in with her consulting firm was a program where she taught business skills classes at a high school in Los Angeles. Markey's tutoring and teaching experiences are actually rooted from Westview, where she was a part of Tanaka's Honors English and Humanities (HUMEC) program as a tutor. She continued tutoring at MIT, and then at Yale Law school, where she's currently a third-year law student and teaching assistant. 
"I think I always appreciate [teaching/mentoring programs]," Markey said. "It feels like just as much of a learning experience for me as it does with whoever I'm working with. I know with Tanaka's tutoring, I definitely think it improved my writing. And I found that was a very rewarding experience. Personally, the business skills class I helped teach, I got an immense amount of value out of that, by being able to give back to that community that I was living in."
As a law student, Markey has demonstrated her passion for working with and assisting individuals through not only teaching, but also with her work with Human Rights First, a Washington, D.C.-based organization handling asylum litigation cases and asylum advocacy on legislation that could potentially have an impact on U.S. foreign policy. 
There are generally two main divisions lawyers are classified under—direct services, which is having an individual client and helping them with an individual project, known as impact litigation, or general counsel services, which tends to have a broader impact but not necessarily a close client relationship. Markey said that choosing between those two is one decision that a lot of people have to make before going to law school or becoming a lawyer.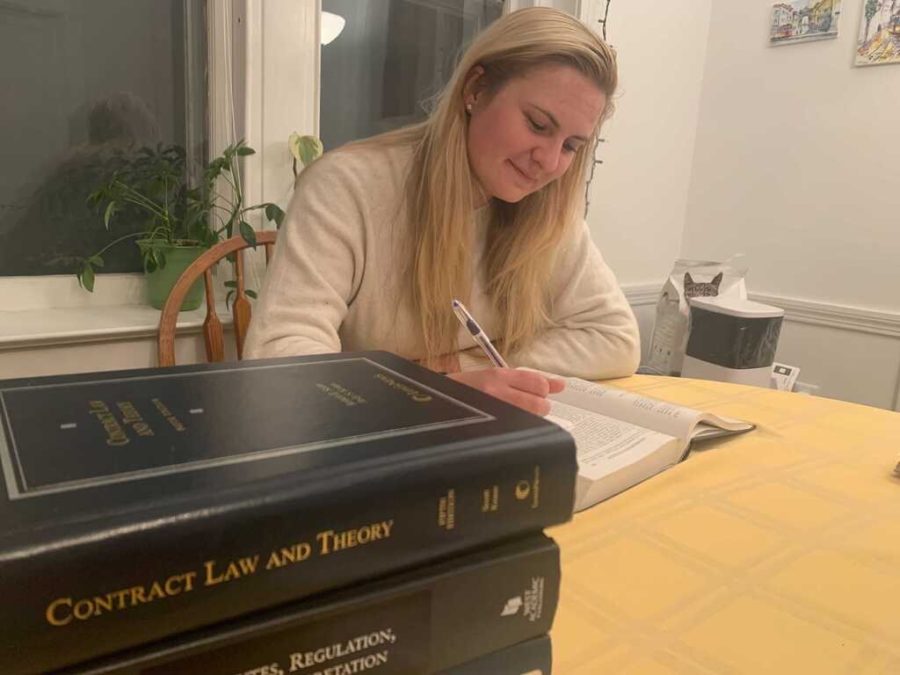 "When I came to law school, I really wanted to have that direct service impact, and a close client relationship where I could make a huge difference just for one person," Markey said. "The realm of asylum work was really incredible for that, because you're working with clients that have seen really big challenges in their life and are going through something that is a really emotional process for them. Putting in your all and the most effort that you can to make something work for them was so rewarding, and I also got to learn a lot in the couple of cases I did that summer between my first and second year of law school because every case was so different."
The following summer, Markey interned full-time for the Department of Justice, specifically in the National Security Division. As a part of the main office in D.C., her job required giving assistance or advice and essentially being the subject-matter expert on complex issues in national security prosecutions to help local prosecutors on cases. 
"The legal research questions that I've gotten have been so interesting, and very nuanced, something that like nobody has ever come up with before and you yourself are just going and trying to figure out the answer on your own on something that's very high stakes," Markey said. "I've gotten a lot of responsibility through them and learned so much, it was definitely one of the best learning experiences that I've had in law school."
A few questions she's researched have been related to cyber-evidence, a field that interests Markey. During law school, she authored a research paper about the U.S. government's access to electronic evidence from online data sites. 
"I think it was just the fact that, since I had an engineering background, it [cyberlaw] was something that seemed very technical and related to the national security space," Markey said. "Both the technical aspect and national security were independent interests of mine. So when I saw an issue that was kind of at the crux of them, that was something that I wanted to look into more."
Alongside aiding her understanding of the technical aspects of cyberlaw though, Markey said her engineering background has helped her pick up material in law school. 
"I'm very fortunate that I got derailed a little bit by studying engineering, which was something I really loved," Markey said. "Having a couple more years of core problem-solving, training, and doing my undergrad in engineering has been really helpful to me in law school. I think I pick up material differently than some of my classmates. While it's harder in some ways to sit down and read a textbook for two hours before every law class, which I used to be able to do at Westview but never in engineering, it's easier at the end of the semester when we're studying for finals to synthesize a lot of material because that's what I was used to doing. So that was not at all planned, but I'm really happy I ended up going off the path that way." 
Throughout her journey, Markey has remained in touch with her roots by connecting with old classmates from Canyon View Elementary and Mesa Verde Middle School. She's also developed close friendships with former Westview graduates after graduation, fostering a strong support system throughout law school. 
"I think maintaining relationships with people is really important and can add a lot of value in your life," Markey said. "I have close friends from seventh grade, and even third, that I still make an effort to see. So that's made a huge impact on my life, feeling like I have that support especially at law school, where the learning is a bit isolating. And I like not having the feeling that this is my last chance in school to meet new people, not having the feeling that I need to make new friends. So it's been nice to really focus on myself and my friendships and relationships that give me a lot of value." 
Some lifelong friends Markey found have been through volleyball. She started playing in sixth grade and continued throughout her freshman and sophomore years for MIT's team. Markey came to Boston two weeks prior to the beginning of classes her freshman year for pre-season events with her team, forming an immediate family and close connections with the season starting in the fall. 
"So before classes at MIT even started, I had a really close group of friends that were in my grade with the other recruits in my year, and then also the upperclassmen that I could go to for questions on class registration," Markey said. "I will say it was like a really big-time commitment. But all of the people on my volleyball team would actually say that they did better in school when we were in season and had practice for three hours a day because with less time, you're more efficient with your time and are able to make better use of it."
After the fall season was over, Markey didn't have consistent practice times during the offseason, in contrast to her club volleyball seasons during high school, which ran throughout the entire year when the school volleyball's season wasn't on. Being on Westview's varsity team, Markey said she committed approximately 10 to 15 hours per week to the sport. 
"At Westview there are so many extracurriculars you can take that are very intense and do take a lot of time," Markey said. "We are really fortunate for all the opportunities we get in high school, but in hindsight, college is stressful, and work is stressful, and stress so early in our lives maybe isn't the best thing. I think I did try as hard as I could, but the part of me that's self-critical thinks that I could've been the president of another club, or been more involved and done more extracurriculars. But in reality, once you've been out of school for a few years, those small things aren't going to make that much of an impact in your life."
At the end of the day, Markey said that without the education she received at Westview, without the support and guidance she received from her teachers, establishing a foundation across the board, she would not have the opportunity to succeed in MIT and reach law school. 
"I really think that it was the teachers, who were so accessible and cared so much and gave students the opportunity to learn at whatever level they wanted to, was really what allowed me to work hard at Westview and then have the ability to succeed when I was in college," Markey said. "I'll be forever grateful."