GOLD hones skill at Poway tournament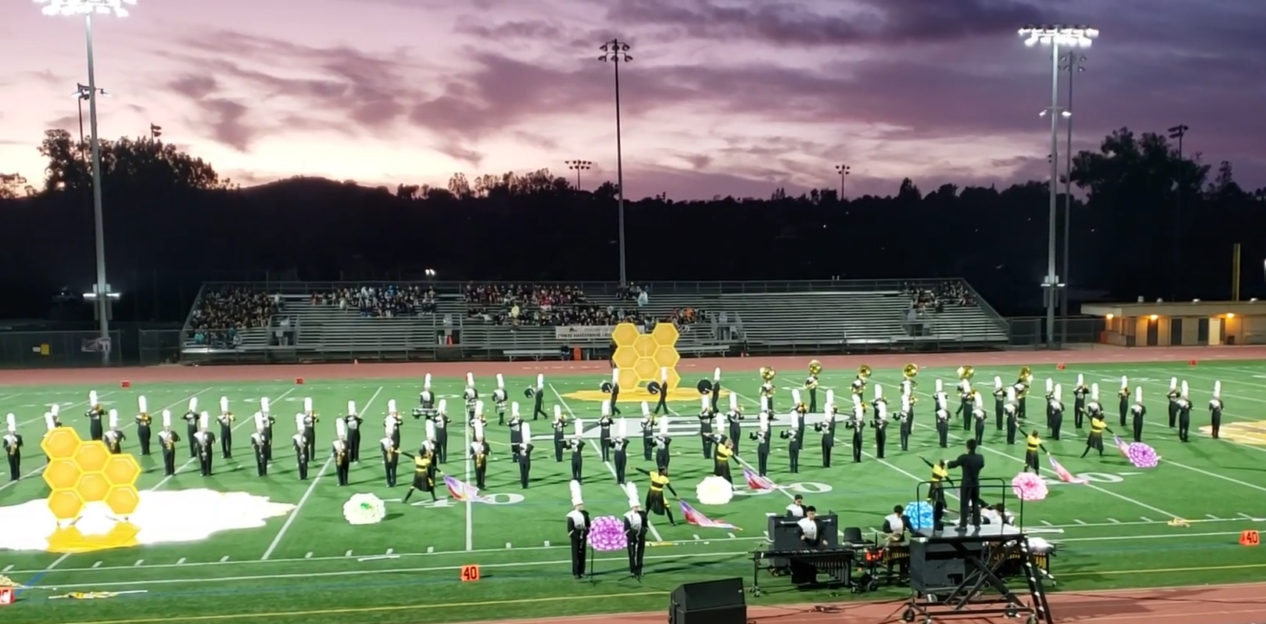 GOLD President Katie Jacques (12) practiced her salute once before the competition—but she had messed up—so she stood in front of her mirror and practiced another 30 times.
The moment was surreal for her as she stood by her leadership team for the first time to accept their awards for placing first in their division at the 28th Poway Invitational Field Tournament, Oct. 23.
At last weekend's tournament, Jacques said that with two weeks to adequately prepare and reflect on feedback from their showcase, it highlighted an improved unity between the band's sections and Color Guard. 
"We stayed very solid in the music," Jacques said. "At the last tournament, there were some difficulties because it was our first performance. There were sections where the whole band wasn't playing together, which is something that happens in a marching band. But this tournament, it actually went really well with timing."
Although Jacques said her director communicated that the band played with a smaller sound, or less volume, they were precise and executed properly overall. Jacques said she believes a more consistent volume from all members will come with time and practice.
"I think a lot of the time, [while] playing in a different stadium, it feels different because there's a different amount of reverb," she said. "So sometimes we sound a little bit different at different tournaments. I think we could just work on getting a more confident sound from all the players."
Color Guard Captain Ella Cuevas (12), said her section has shown improvement since the tournament at Rancho Bernardo as well. 
"My coaches definitely focused on different parts that needed more work and spent more time on [technique]," Cuevas said. "That's definitely made the girls more confident, at least in cleaning up the counts and cleaning up what angle the flag is at. I feel like they definitely got more comfortable at Poway than Rancho Bernardo, since we've had two weeks longer than we did at Rancho Bernardo."
During both shows, GOLD's theme, The Hive, incorporated floral and beelike elements to the tune of pieces such as "The Flight of the Bumblebee." 
In the band's first movement, they played a spritely tune with an emphasis on energy to convey springtime. As opposed to using traditional marching techniques, which are relatively straightforward, the directors opted to use flutter running and a follow-the-leader action to imitate bees. 
Color Guard visually symbolized bees of a hive in their black-and-yellow costumes as they spun their spring-themed flags and their newly introduced umbrellas shaped like flowers. Many new props were used at Poway, such as large honeycomb-patterned backdrops made of wood and vinyls scattered on the ground to appear like honey splotches in order to enhance GOLD's visual presence. 
As the end of marching season approaches in November, Jacques said the band is on track to learn their final movement of four. 
"I'm most looking forward to seeing our performances improve over time," she said. "With marching band, you reach a point near the end of the season where the music is well performed and it gives you chills to hear everything come together in a really powerful way."