Olaes ('18) works in ER, sees effects of COVID-19 firsthand
By the time Alexis Olaes ('18) gets off work and into her car, it's 7 a.m. Olaes works a 12-hour night shift at Palomar Medical Center—from 7 p.m. to 7 a.m.
Olaes, who got her Emergency Medical Technician (EMT) license right after graduating from Westview in 2018, now works as an emergency department technician in the Palomar Medical Center emergency room. Here, Olaes assists nurses and doctors in direct care, which includes wound care, splinting people, administering EKGs, giving CPR and treating COVID patients.
To accommodate an expected overflow of patients, Palomar Medical Center began to designate specific floors as COVID ICU or COVID units in mid-summer, Olaes said. Olaes said patient numbers began rising in October and November, and that currently, out of the 80- to 90-bed ER she works in, around 65-70% of patients have COVID. Comparatively, in early January, around 50% of patients in this ER were COVID-positive; Olaes said this influx in COVID cases is likely from an increase in socializing during the holidays.
"We have a lot of patients now who come in for something completely different than COVID, who we then find out hours later are COVID-positive," Olaes said. "And we also have more people who have been coming in with symptoms since the holidays."
The hospital also implemented a federal medical station in early January, which is essentially a government-run field hospital, in its 10th and 11th floors to open up space for additional beds.
"We're a really big hospital; we [take patients from] all the way down to where Westview is, and the ER is huge, but consistently every single bed has been full," Olaes said.
Because the pandemic began soon after Olaes began working at the Palomar Medical Center, Olaes said that it's difficult to remember pre-COVID life in regards to her job.
"I worked there for three to four months before COVID even started, and I just don't remember it because it's just been chaos since COVID started," Olaes said. "So many things have changed in my hospital that I don't remember what it was like before this." 
The less recognized side of Olaes's job, she said, is the act of dealing with people and emotions alongside medicine and physical healthcare. This has become especially prevalent with the implementation of a uniquely COVID policy in hospitals: visitor restrictions.
"We don't let visitors go into the ER [or] the hospital anymore, so one of the roughest things has been me having to tell people they can't go and see their family members," she said. "Because the hospital is so cramped, it kind of puts [me] in a bad place because I don't want to be telling people these things. I would love for them to go see their family members, but physically, I can't let them in."
Olaes noted that there is a disconnect between the public and healthcare workers, especially since, outside of the hospital, it's harder to see the effects of COVID in real time. This disconnect has followed a period of initial support and adoration for healthcare workers, a phenomenon that didn't last long, Olaes said.
"In the beginning [of the pandemic], the world loved healthcare workers," she said. "March through July, we would get people donating pizzas and all different things to the hospital. And now, COVID is still going on, healthcare workers are still working hard as hell, but I feel like there's just such a huge disconnect now. It's so hard to talk to people about what's going on at work because it sounds crazy and terrifying to some people, but it's a normal day for me and my coworkers. I've seen so many people die just in the last year because of COVID, and it's scary."
Part of the disconnect between healthcare workers and the public, Olaes says, is that many don't get to see the variety of people with COVID who are admitted to hospitals.
"A lot of people think it's just older patients or people with medical conditions [that are affected] but I've seen them bring in patients who are in their 20s with no medical conditions, and they thought they were immune because they're young and they're healthy," Olaes said. 
Initially, Olaes said, many people were scared to come to the hospital, leaving hospital beds open and patient numbers down. As time has gone on, however, Olaes said a trend in fewer people taking COVID seriously has driven up patient numbers, especially in younger people.
"It's getting to the point where people are really just disregarding all the precautions," she said. "In the beginning of COVID, I saw a lot less younger people getting sick and coming to the hospital, and now it's everyone, [from all age brackets]. I've watched them swab babies. Basically everyone who comes to our ER at this point gets tested because of how widespread it is right now. We've been just testing everyone because everyone is coming in with the symptoms."
COVID hasn't spared healthcare workers, either. Olaes said one of the most difficult things she's dealt with during the pandemic has been seeing her own coworkers be rushed into Palomar Medical Center by ambulances because they have COVID.
"It's very different when you see someone very, very sick and getting the treatment that they would normally be giving in the ER," Olaes said. "It hurts differently when you see your own coworker come in and you're trying so hard to make sure they're okay. It's your own people. It's your group, like I work 12-hour shifts with these people."
The intensity of healthcare right now has taken a toll on the mental health of healthcare workers, something that many don't seem to realize, Olaes said.
"Every few days we get a new email from a coworker saying they're sick or they're quitting because the hospitals are being so overrun right now and people are exhausted, especially the staff members," she said. "Mentally, physically, we're all exhausted. I'm constantly exhausted."
Something that can help manage patient numbers in hospitals, Olaes said, is knowing when to go to the ER. Although some go to ER for events that don't necessarily constitute emergencies, it's also important, Olaes said, for those experiencing serious medical emergencies to go to the hospital as soon as possible—without feeling the guilt of taking up beds. 
"COVID is one thing, but people still have a lot of other health issues and because of how filled ERs are right now, it's scaring people away from getting the proper help they need," Olaes said. "People apologize to me saying, 'Oh, I didn't want to come to the ER because I don't want to take up space,' but that also leads to a lot of patients who don't think they need to go to the ER and then things get worse, and it's too late when they finally go. I've seen someone have chest pain for a few days say, 'I didn't want to take up the space,' and then they're rushed to the ER."
Olaes said the distribution of COVID vaccines has given her some hope, but that vaccines alone won't stop the pandemic.
"It doesn't mean we just disregard all the other precautions we're supposed to take," she said. "I was lucky enough to have gotten both doses of the vaccine, but I also understand that that doesn't mean I can just go back to not wearing a mask and not following social distancing and not getting tested regularly."
Though Olaes said the end isn't quite in sight yet, she finds solace in her coworkers, who she says have become somewhat of a second family.
"The thing that keeps me going during these shifts is the amazing people I work with," Olaes said. "It takes an amazing, amazing group of people to have to do this for 12 [hours], and being able to talk to my coworkers about how crazy everything is and being able to know that someone else can understand what's going on helps so much."
About the Writer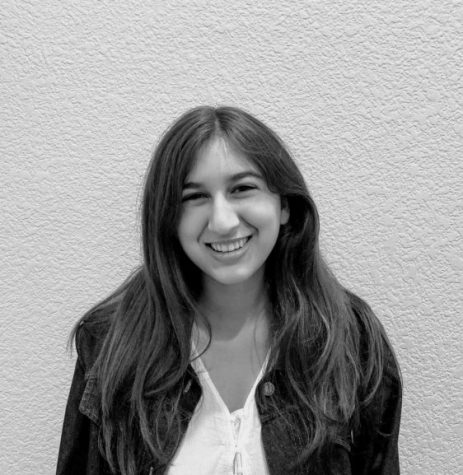 Sofia Miller, Final Focus Editor
Sofia Miller is a senior and the Final Focus editor for The Nexus. A previous California Playwrights Project winner and Adroit Journal Mentorship alum for fiction, Sofia is passionate about creative writing. Her poetry appears or is forthcoming in literary magazines such as Polyphony Lit H.S., The Incandescent Review, Élan, and Westview's own Inklings Magazine. She is rediscovering her love for making art.