DoThanh ('20) rediscovers passion for art through press-on nail business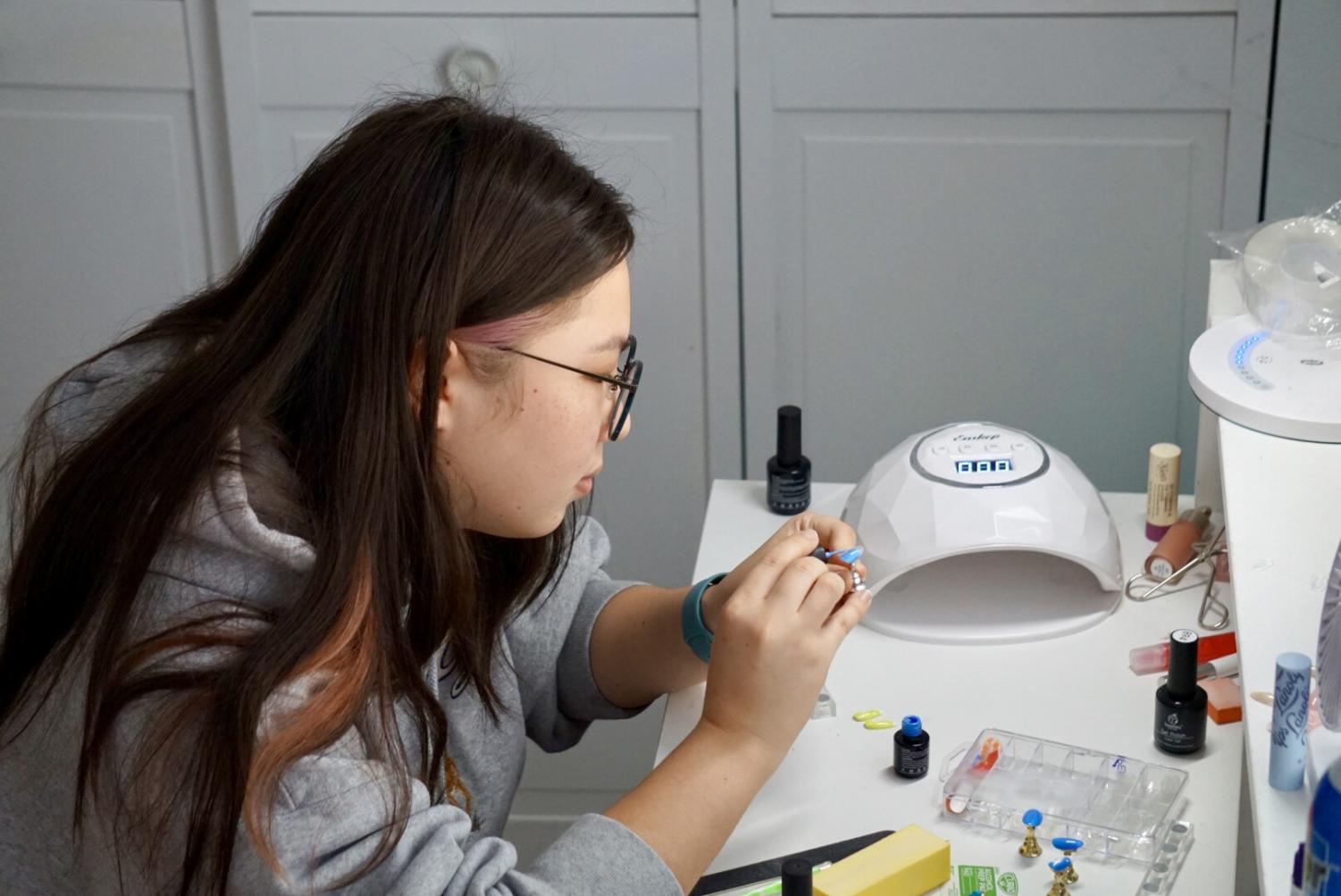 Holding her paintbrush with a steady hand, a 10-year old Destiny DoThanh ('20) dips into a puddle of gray paint before raising her brush to an 8-by-5 inch canvas, using light feathery strokes to create an image of clouds against a bright blue sky. 
In early September 2020, nine years later, DoThanh is hard at work painting an image similar to the cloudy sky she created for her fifth-grade watercolor project, only now, her canvas has shrunk to the size of a fingernail—a faux fingernail that, along with 9 others, DoThanh is preparing to ship as a set to her customer in Brooklyn, New York. 
According to DoThanh, she first discovered her passion for painting when experimenting with different art forms in her fifth grade art class.  
"I had a lot of fun in art class because I got to play around with so many different types of art, and it was always a confidence-booster when I created something I was really happy with," DoThan said. "But as I got older and busier, I stopped finding the time to do the things that I really found joy in as a child, and I just never really picked a paint brush back up until a few months ago."
It wasn't until DoThanh stumbled across a nail art page on her Instagram explore feed when she considered rekindling her long-lost passion for art. The page, qt.nails, advertises handmade sets of intricately decorated press-on nails, some of which DoThanh says she considered purchasing before deciding to experiment with nail art herself. 
"When I discovered the page qt.nail back in late August, I was really impressed with the nails' level of detail, and I immediately wanted to buy a set for myself," she said. "But the more I thought about it, the more I started to realize that making press-on nails could be a fun project for me to do myself, so I just thought: Why not give it a try?" 
After spending hours on YouTube and Safari watching nail tutorials and reading reviews on different nail materials, DoThanh picked up a paintbrush for the first time since fifth grade to begin the process of making her very first set of press-on gel nails—a process that, according to DoThanh, was easy to grasp. 
"Making the nails came pretty easily to me but it could get pretty tedious since you're working with such a small canvas and you need a really small brush to create more intricate designs." DoThanh said. "Beyond that, it just requires a great deal of patience because each nail needs to cure under an LED lamp for up to a minute in between each coat of gel so it can dry properly, and I usually paint 2-3 coats per nail."
After a successful first attempt and three weeks of refining her technique, DoThanh decided to turn her small art project into her very own press-on nail business. To advertise and sell her nails sets, which retail for $20-$25, DoThanh created Dustysnails, an Instagram page for customers to request a set. After approving the requested nail design and shape, DoThanh then requires customers to pay for their set through Venmo.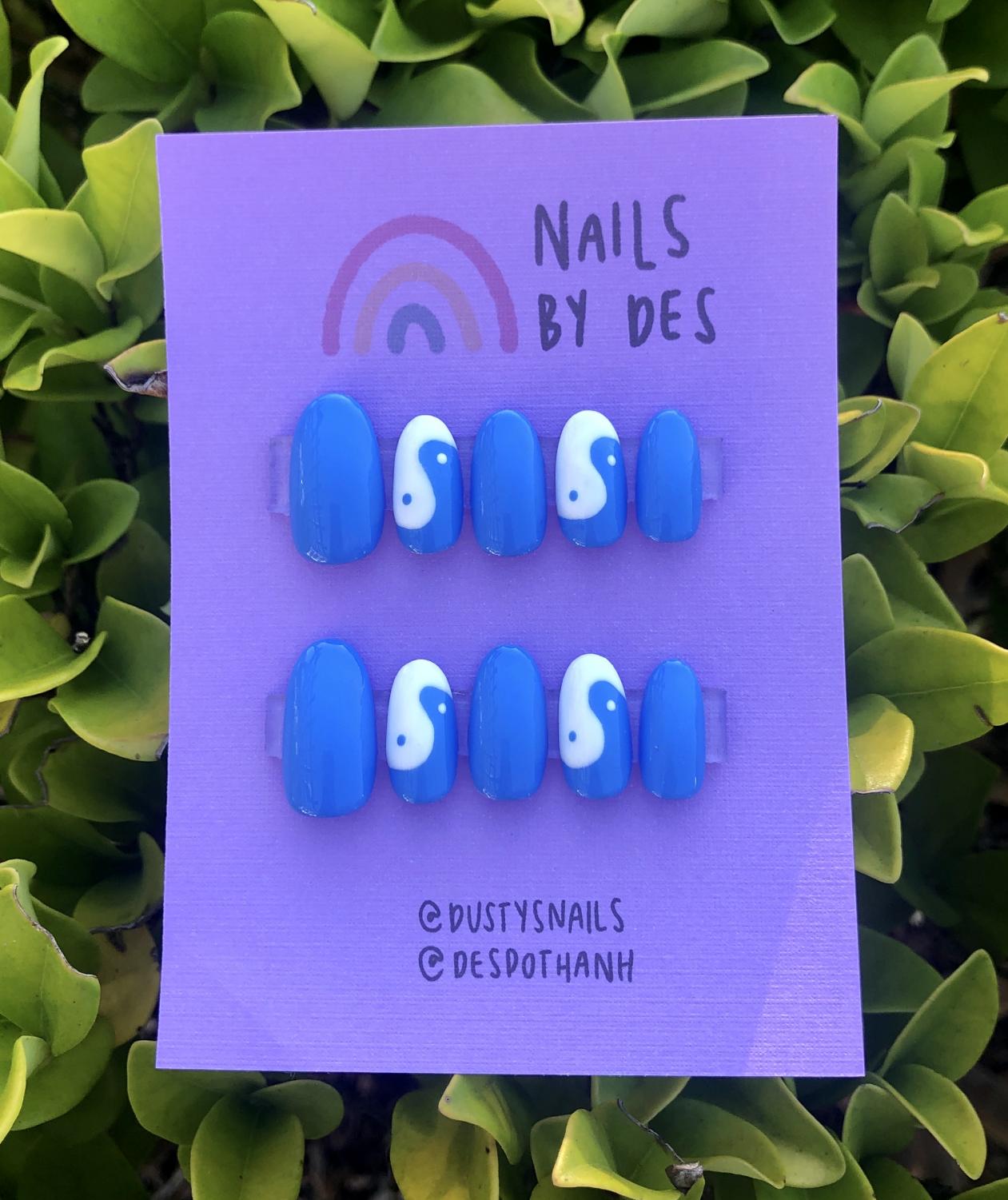 Although getting acrylic nails professionally done at a salon is a popular method of achieving long, decorated nails, DoThanh said she thinks that press-on nails are a good alternative for anyone looking to buy a less expensive, more reusable option. 
"I remember from the one time I did get acrylics professionally done at a salon, I ended up wanting to take them off after a week because having long nails made it more difficult to do certain tasks," DoThanh said. "The problem was I didn't want to take them off because I had spent $45 on them and I knew I wouldn't be able to re-glue them later if I wanted to. That's why I think press-on nails are a good option—not only are they cheaper but you can also get as many uses out of them as you want as long as you remove the glue residue from the nails in between applications." 
Since starting Dustysnails two months ago, DoThanh has created and sold more than 30 sets of press-on nails. While finding time to work on orders wasn't difficult for her in the first two months of creating her business, DoThanh says that it's become increasingly difficult to juggle running a business and working her regular job in between attending classes as a nursing major at San Diego Miramar College. 
"When I first began creating and selling nails, it was relatively easy to set aside time in between my classes at school and my shifts at Tea N More in order to work on nail orders," DoThanh said. "But around the time midterms rolled around at school and my work load started to pick up, it became really stressful trying to also focus on running my business, so I made the decision at the very end of October to stop production until I'm able to set aside more time towards making nails." 
Although she said she feels relieved to have extra time to dedicate towards school and her regular job, DoThanh says that creating her business has been a meaningful experience and she is looking forward to starting production back up in the near future.
"Not only has creating nails helped me get back in touch with my artistic side, but being able to feel proud of my finished product each time I make a set has really helped me gain more self confidence," DoThanh said. "Beyond what my business has done for me, it's been really rewarding to hear back from customers who tell me how wearing my art has helped them feel more beautiful and confident in themselves as well."
About the Writer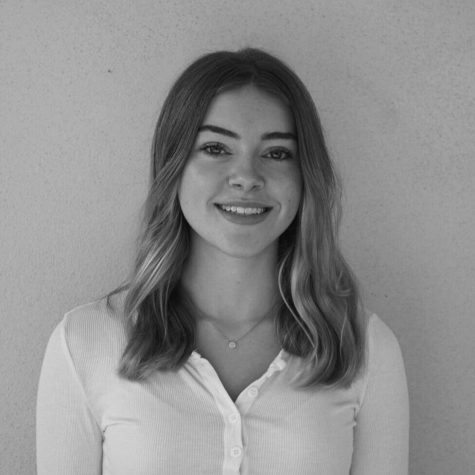 Julia Dailard, Photo Editor
Julia Dailard (11) is a second year staff writer and first year photo editor for The Nexus. She is passionate about fashion, photography, and advocating for womens' rights. Outside of school, she enjoys spending time at the beach with friends, thrifting, and traveling. Can probably guess your astrology sign.