Mi ('20) graduates early, creates own path in entrepreneurship, politics
At the beginning of her junior year in August of 2019, Jocelyn Mi ('20) knew that she wanted to forge her own path in life, that the competitive nature she experienced in high school, inextricably linked to the college admissions process, was not for her.
"I don't like doing things [just] because other people expect me to do them," Mi said. "I did APs and extracurriculars because I thought that was what my dad wanted of me or because I thought that's how I could get into college. But by the beginning of my junior year I was really burnt out."
Early in her junior year, Mi saw another path she could take when she decided to audit a Calculus class at Miramar. She chose to audit this class to prepare herself better for AP Calculus, but she ended up learning far more than she expected.
"I learned more in the four-week program than I had learned in a year of my previous classes," Mi said. "The students and professors I interacted with were all helpful, mature and very independent, which was suiting for me."
Meeting these independent people at Miramar, combined with a desire to save money in getting her college education, prompted Mi to look into graduating early from Westview and enrolling at Miramar. In October of her junior year, she took the California High School Proficiency Examination, which equates to a high school diploma. After passing the test, she graduated from Westview in January. 
"This was my chance to start a new life," Mi said. "This was my chance to find a new path where I could be independent."
Without the long school days and her involvement in the Westview community, Mi found that she had a lot more free time after she graduated, even with the classes she was taking for her Business major at Miramar and her job at Target. She decided to spend her free time doing something she had always considered, but never had the time to do: start a jewelry business. 
"I had started making jewelry in high school, just on the side," Mi said. "But when quarantine began, I started seeing people online making resin jewelry and I thought it looked cool, so I tried it out and started selling it online."
Mi creates her resin jewelry using a liquid plastic that hardens when it dries inside of molds that she buys wholesale online. Inside of the resin, she places pressed clover or pressed flowers, many of which she finds on the ground around her neighborhood in Mira Mesa.
Mi has found turning nature into jewelry to be a valuable experience.  
"I'm preserving nature that would just be sitting on the ground [otherwise], waiting to be swept up," Mi said. "I'm giving it a chance to live on in someone else's hands."
She puts her resin charms on chains or earrings that she buys wholesale online as well, then photographs the jewelry and advertises it online. Mi manages the entire business—the design, advertising and finances—by herself. She has begun reaching out to social media influencers to wear her jewelry and post pictures of it in order to give her business more exposure.
Since she began selling jewelry, Mi has gotten over 80 orders for her necklaces, bracelets, and rings from all over the world.
Mi said she never would have known the right path to take in starting her business without the business classes she has taken at Miramar. The first class she took helped her understand the audiences of people she could cater toa. Her second class, a business law class, prompted her to create contracts for the influencers who advertise her merchandise as well as create a policy/disclaimer page on her website.
Mi said she has noticed that when she is working on her business specifically, she becomes so absorbed in her work that the hours just slip away unnoticed. This is in contrast to the way she said she constantly checks the time during days at work in retail or when she was doing schoolwork in high school.
"I think it's passion," Mi said. "I get to be the reason these flowers from the ground in Miramar are being worn by someone in the U.K. It feels big."
Working on her business, Mi said, was the first time in her life when she was truly working for herself, not for an employer or to get into a top college. In entrepreneurship, she said she found the independence she had longed for.
Being a "self-starter," Mi said, is also what drew her to Barbara Bry's mayoral campaign. Mi admired the businesses Bry had started in San Diego before she entered the political realm. This, combined with Mi's desire to work with a candidate whom she believed would help dismantle systemic racism in San Diego, led Mi to apply to be Bry's volunteer coordinator for the campaign in August.
"I never would have gotten hired if I was still in high school," Mi said. "I was able to show them that I am a college student and a business owner. Graduating early ended up being a big step in my career path."
As a volunteer coordinator, Mi phonebanked, coordinated the dispersal of yard signs, and answered questions about Bry's goals at various campaign events. Mi spent a lot of time working directly with Bry as well, and was inspired by her empathy for the San Diego community and her passion for public service.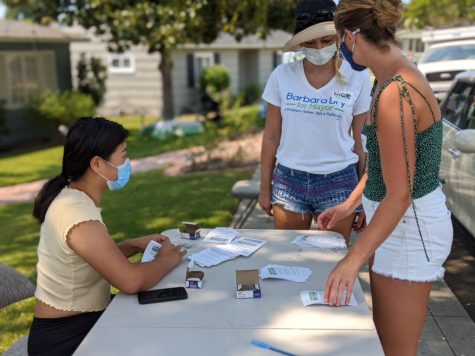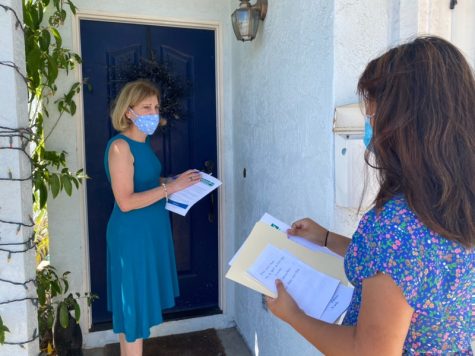 One day in particular—when Bry asked Mi if they could walk around the neighborhoods of Mira Mesa together to see room for improvements—inspired Mi greatly. 
"She was really genuine," Mi said. "I realized I want to be someone like Barbara who focuses on helping people, even in smaller areas, because everyone matters."
Moreover, Bry showed Mi the type of woman she wants to be when she works in business and law in the future: hardworking and confident. 
"As a woman in a male-dominated industry, she's grown a tough skin," Mi said. "She's inspired me to be more like her. Now I see that everything I focused on in high school was really petty and I had no reason to get so heated over it. When someone insults Barbara, it doesn't get to her head. Having that mentality will be important to me in the future, in the business industry or law. Having Barbara as an inspiration, someone to look up to, will always be in the back of my head when I'm faced with a problem with other people in my career."
Mi's career, her future, is often on her mind, especially as she is able to start working two years earlier than she would have been able to had she waited to graduate at the end of her senior year. 
"I've always been adamant about getting to work earlier," Mi said. "So graduating early was the best choice I've made for my future."
About the Writer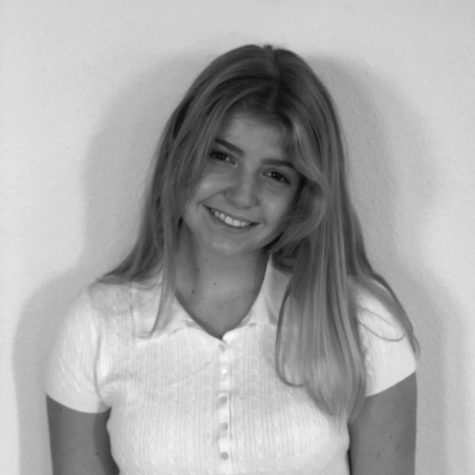 Brynne Paiva, Editor-in-Chief
Brynne Paiva is a senior and an editor-in-chief of The Nexus. In her free time, she reads avidly, spends time with friends, and attends local concerts. She is passionate about social justice and journalism.