Emdad, Oshiro volunteer for Lawson-Remer in San Diego Board of Supervisors race
Black Lives Matter; the Yemen crisis; the Beirut explosion—there's been a lot to focus on, with calls to action for crises around the world flooding social media everyday.
Neda Emdad (12) did her best to accomplish what these activism posts asked of her. She called District Attorney offices, wrote personal emails to senators, signed countless petitions for justice for Black lives. It never seemed to be enough, Emdad said.
"I got really frustrated with how I couldn't do more because I'm under-age, so I can't vote, which is one of the most important things someone can do," Emdad said. "And every day, there's a new petition with a new story, so I was like, 'I need to figure out a way I can do something more.'"
An accessible way young people can make tangible impacts on their community, Emdad found, is by campaigning to get local politicians into office.
In early August, Emdad began working as a phonebanking volunteer for Terra Lawson-Remer, a Democratic candidate for County Supervisor in District Three, after Sarina Oshiro (12) mentioned to Emdad that she was volunteering for Lawson-Remer's campaign as a Content Associate.
The San Diego County Board of Supervisors serves as San Diego's County's primary legislative and policy-making body, and is responsible for public services such as food assistance, medical insurance, and maintaining public health (including containing new viruses such as COVID-19). 
The race for County Board supervisors holds particular significance this year, as voters will have the chance to flip the County Board from Republican majority to Democrat majority for the first time in more than three decades, Oshiro said. This flip depends on the outcome of District Three's race between Lawson-Remer and Republican incumbent Kristin Gaspar.
Although the race for Board of Supervisors is local, Oshiro noted that "local" doesn´t necessarily translate to "small" when it comes to how many cities the Board of Supervisors have jurisdiction over within San Diego County.
"The reach of the Board is actually a lot larger than people think," Oshiro said. "It includes San Diego City, Encinitas, Escondido, Poway, Del Mar, even all the way out to Julian, just as some examples. I don't think people realize how big the county is, and how important the Board of Supervisors is because of that."
Beyond this particular race's importance, Oshiro said that local elections impact our community much more than most think. 
"A lot of people only vote for those [federal] tickets at the top, and on some levels and for certain people in certain communities, the things that the President does will impact you directly," Oshiro said. "But for the most part, for things like addressing homelessness, or what your environmental policy is for your entire county, like whether or not we should be using single-use plastic: all of that happens at a local level, whether or not Donald Trump or Joe Biden gets elected."
Because Gaspar is the incumbent County Supervisor for District Three, she has greater name-recognition among voters. This makes getting the word out for Lawson-Remer via phone-banking all the more important, Emdad said. 
"A lot of people who vote for the incumbent vote because they're like, 'Well, I don't really see the problem with things the way they are now, so I'm just going to vote for the person who's already in position,'" Emdad said. 
As a phone banker, Emdad makes between 30 and 50 calls per two-hour shift, with 10 to 20 of those calls going to voicemail, and of those who pick up, around 10 hang up after learning it's a campaign call, she said. With these expectations in mind at the beginning of each calling session, Emdad said her goal going into each call is to carry out a conversation with the person on the other end of the line. This conversation, she said, is what builds name recognition for Lawson-Remer, and is what she counts as a baseline success, regardless of whether the conversation will lead to a definite vote for Lawson-Remer or not.
"When I sit back and I think about what I did at the end of the day, I don't think about the people who I came across who completely disagreed with me," Emdad said. "I think, 'Oh, I got four yesses today. But at the same time, I got Terra's name out there to those people who decided they were too busy to talk; they still heard her name and the position on the Board of Supervisors, so hopefully they'll recognize her on Election Day when they see her name on the ballot."
Even four "yesses," Emdad said, could make a difference in the election; in the 2016 election for Board of Supervisors, Gaspar won by 1,272 votes—a number that both Oshiro and Emdad said the Lawson-Remer campaign refers to among volunteers as a reminder that each volunteer´s efforts can make a difference.
Continuing a conversation isn't always easy; Emdad's phone-banking shifts are on Sundays, which are reserved for calling voters who either identify as Independent or prefer not to say their political party. Emdad said these shifts tend to be a mix between voters with right, left and moderate-leaning views, so Emdad has had to learn how to quickly adjust the calling script based on who picks up the phone.
"The way you do these phonebanks is that you have a script, but as soon as they start talking, you can tell whether they agree with you or don't agree with you," she said. "Sometimes, you shouldn't say the entire script. Sometimes you need to adapt to the person you're talking to and figure out what they're passionate about to try and appeal to them and tell them about the qualities and positions and beliefs [of Lawson-Remer] that [they might] agree with."
Though name recognition has been important for much of the Lawson-Remer campaign, campaign efforts have shifted over the last few weeks to a Get Out the Vote strategy (GOTV), which involves calling previously indicated supporters to remind them to vote, Oshiro said.
"Up until about a month before the election, you're doing outreach and contacting new people and asking if they might support your candidate and marking that down as a yes, and then with GOTV, you call all those people back and say, 'Hey, are you still committed to voting?' to both remind them to vote for your candidate and to make sure they have an actual plan to vote," Oshiro said.
As this is Emdad's first campaign experience, she has had to deal with a learning curve with phone banking, especially during the push for name recognition. Oshiro, on the other hand, had previous experience under her belt—Representative Scott Peters' 2018 re-election campaign—before volunteering for Lawson-Remer.
While Oshiro said she is thankful for both experiences, she said that her work with Lawson-Remer's campaign has allowed her to play a greater part in behind-the-scenes work. As a Content Associate for Lawson-Remer, Oshiro has been able to attend field meetings, in which she could look at campaign strategy, polling, finances, and more.
"For me, being in that controlled environment of that first campaign and being able to learn how to phone bank with other people was a good experience, and that made me a lot more comfortable with the second campaign," she said. "At the same time, I feel like I've learned a lot more of the nitty gritty of what it's actually like to be very involved in a campaign by working for Terra Lawson-Remer because it's smaller and I´ve been brought into the fold more."
Oshiro said that being involved in a local election has also simply taught her more about how the government functions on a local level. 
"I didn't even know what [the Board of Supervisors] was until I started working on [the election]," she said. "By working on this campaign and learning the policy positions and plans Terra has for our County, I've gained so much understanding about the role that local government, especially the Board of Supervisors, plays in policies that affect our lives."
Getting involved in a local race, for Emdad, is about the feeling of regaining control in a time when, nationally, so many have become painfully aware of what is out of our hands.
"The thing that irritated me about signing petitions is that it felt like, 'Okay, I did what I could, but it's not enough," she said. "And that's what it felt like every single time I would call a district attorney's office; every time I signed a petition; every time I researched [a crisis]. But what happens in a phone call depends on me and how I present myself as the caller and present the candidate. [The person I'm calling] can say no, they can be mean, but at the end of the day it's what I say that influences their answer, whether it's positive or negative. It's all up to me."
About the Writer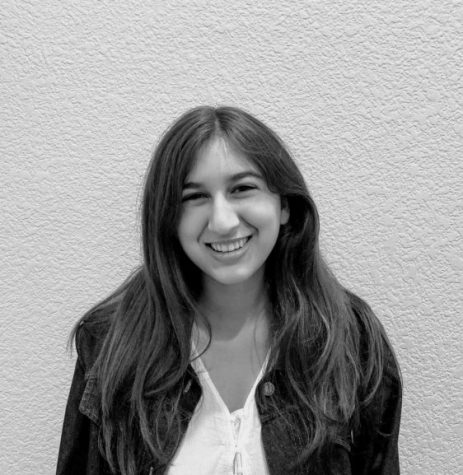 Sofia Miller, Final Focus Editor
Sofia Miller is a senior and the Final Focus editor for The Nexus. A previous California Playwrights Project winner and Adroit Journal Mentorship alum for fiction, Sofia is passionate about creative writing. Her poetry appears or is forthcoming in literary magazines such as Polyphony Lit H.S., The Incandescent Review, Élan, and Westview's own Inklings Magazine. She is rediscovering her love for making art.