Opinion: Taking the ACT during a pandemic was bizarre, not entirely necessary
I walked into my ACT test site at Barona Charter School in the middle of Lakeside on Sept. 12, still convinced that at any time they would cancel the test and send us all home. 
I had been trying to take the ACT since March. After understandable cancellations in March, April, June and July, I had convinced myself that any test I signed up for during the pandemic would get canceled. The entire week leading up to Saturday, I had been frequently refreshing my email, waiting for the subject line "Important change to your ACT test registration" to pop up in my inbox like it had done four times already. 
But it was on Friday, the day before my test, when I finally started to accept my fate. I had been anxiously refreshing the ACT Test Center Cancellations website once every 30 minutes from 3 to 11 p.m., praying that my test center name would pop up. By 7 p.m., however, I began to lose hope. I decided that studying would be my best option. 
I thought back to March and April when I was dedicated to getting a score I was happy with. I spent hours taking and grading practice tests, correcting every single mistake I made and ensuring I understood each concept I might mess up on. I remember feeling proud of the scores I was consistently earning and was more than prepared to ace my test on the actual day.
This was a stark contrast to how I felt waking up Saturday morning, five months later. After reassuring myself during the weeks leading up to Saturday that it would be impossible to still hold a test during a pandemic and after hearing about my friends' canceled test centers in Temecula and Palm Springs, I had put next to no effort in preparing for this ACT.
Even at this point, I had no idea why I still felt so pressured into taking the test. Aren't most, if not all, colleges test-optional now? After my significant decrease in motivation due to constant cancellations and enduring a pandemic, I was annoyed at colleges for not giving students more of an explanation as to how they would review applications. Even though they labeled themselves as test-optional for the class of 2021, I was still skeptical as to what that meant. With the uncertainty as to how the college admission process would play out, thousands of students, myself included, still felt the need to take this test that may not even matter in their applications. 
All I had with me as I took my seat inside Barona's library, aside from my calculator and four #2 pencils, was the tiny sliver of knowledge that had stuck with me when I was diligently preparing in March, and prayers that the curve would be generous. 
I had only seen three other students check in at the front, and there was just one other student testing in the library with me. 
None of this testing process seemed real. It was so much different than what my SAT and Math Subject tests were like in 2019: the desks right next to each other, the high-stress environment of all the students packed in a room, and the hundreds of students leaving the test center at once.
I doubt I will ever take a standardized test in an environment like this again; it was something unique to my academic experience during a pandemic. The significantly less people in a testing room made it easier to focus, but having to keep my mask on for the full five-hour process was something I was not used to.
Even if subjecting myself to the stress of taking the ACT with almost no preparation ends up becoming completely useless, it was still an experience I was somewhat grateful to have. My test not getting canceled allowed me to finally take it. 
In a way, I was fortunate to be able to take the ACT: I was able to get it over with and now will never have to think about it again. 
About the Writer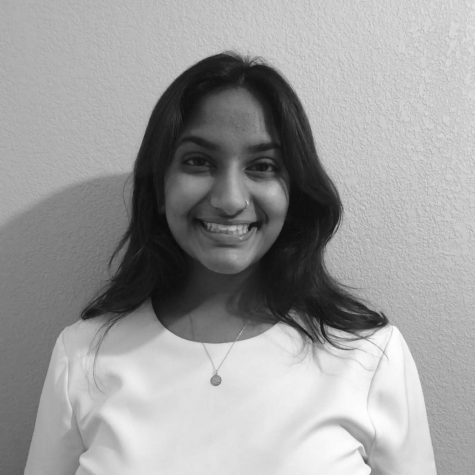 Deepali Yedulapuram, Features Editor
Deepali Yedulapuram is a senior and serves as the Features Editor for The Nexus. She has been on staff since her sophomore year. Aside from writing, Deepali enjoys talking to people, eating good food, and playing basketball and tennis. She is also part of the Speech & Debate and Mock Trial team at Westview.