Fall Sports Senior Commits
Karen Gao
Washington University in St. Louis- Tennis
Karen Gao's  (12) dedication to tennis began at the age of 9, ultimately leading to her committing to Washington University, St. Louis' Division III tennis program. After jumping from one sport to the next as a youngster, Gao discovered her passion for the rush she felt when she hit the ball with a solid swing. She loved the subtleties of the game that were often overlooked.
"Tennis is definitely more complicated than many people think, as it targets specific areas all over the body, from careful footwork to the amount of tension applied to the racquet by the fingers," Gao said. 
Gao picked up the sport naturally and has worked over the years with many coaches who once competed professionally at the top level. 
"A lot of coaches that I've had and have will talk about their experiences throughout the years," Gao said. "It's definitely influenced me to work harder like them."
Gao knew she wanted to attend a DIII school in order to balance academics and athletics. 
"WashU also has a really collaborative environment, which is exactly what I was looking for," Gao said. "Tennis can get really lonely, often training and competing alone."
Gao realized the value of teamwork while competing in team nationals in 2018, where her team placed fifth. Being stronger in singles, the majority of Gao's career was spent playing games by herself. However, during the tournament, Gao was able to play as a team.
The chance to play doubles more in college appeals to Gao. 
"The set-up of college tennis has players on the lineup that play both doubles and singles, so there are plenty of opportunities to play both," Gao said. 
Gao plans on taking medical courses at Washington University and becoming a medical professional after college but knows that tennis will always be a part of her life. 
Robert Greer
Cal Poly SLO - Football
Robert Greer (12) has made a name for himself as a linebacker on the football team by working toward playing football in college for as long as he can remember.
"From the time I could talk, I was obsessed with the game of football," Greer said.
Greer will be attending Cal Poly San Luis Obispo to study biomedical engineering. He said that this school will help him in reaching his full potential on the field and in the classroom.
"The prestige  of the engineering program and the culture of the school and football program weighed my decision," Greer said.
Greer's decision to pursue biomedical engineering was influenced by his little brother Joshua. He has a condition called Prader-Willi Syndrome, which affects  his learning abilities and the chemical balance of the brain. He will research this subject more while studying at Cal Poly SLO.
During his career, Greer has won several awards including All Conference Honors and is a part of the San Diego Union Tribune Academic Team. During the 2018 season he led the league in tackles with 119 total.
Many people, from family members to coaches, have been involved in Greer's athletic journey. Greer said that these people play a huge role in motivating him to keep working toward his dreams.
 "Another  motivation I have is from all the people who have invested themselves in my success, plus all the people that may look up to me and get inspired from my success," Greer said. "I will never become complacent or stop working to improve or achieve my goals."
Greer's dad, in particular, has supported him throughout his football career. Greer's dad was always there to support his son and Greer said he could always look to his dad for encouragement. 
"Every Sunday night, after our games and before the week of football practice, my dad and I took the field to run through drills and talk through where I could improve my game," Greer said. "The most important lesson my dad taught me that I will carry with me for the rest of my life is if you give something your full effort, and you control what you can control, then you have won whether or not the outcome is what you hoped for."
Amy Huang
Harvard College- Tennis
In eighth grade, Amy Huang (12) started the New Directions program, a way to go to school part-time so she could focus on  playing tennis. By high school, she was taking one or two AP classes while spending 15-20 hours a week on the tennis court.
"After starting tennis, there was no option for me to quit," Huang said. "I was sucked into the tennis world. I just knew I had to keep playing if I wanted to achieve my goals."
Though Huang always loved tennis, most of her goals have been academic: she has always wanted to get into a top school and receive the best education. For Huang, her tennis ability was always a catalyst for the academic future she desired.
The summer before her junior year was crucial, Huang said, as the college recruitment process began right after.
"Over that summer, I had a few really big tournaments with tough opponents," she said. "It was super stressful, but I just had to tell myself to relax and to play my game, and I ended up playing well."
She played well enough that summer and through her junior season to be ranked 20th in the nation for girls in her class, and to receive an offer from Harvard University in January of her junior year. 
The first thing Huang felt after committing was relief that her years of perfecting her form, endless conditioning, and days of drills paid off. After that, she was just excited to be a part of the Harvard team.
Huang visited the campus in March of 2019 and shadowed girls on the tennis team by sleeping in the dorms and seeing what their days were like. Attending classes, staying with her hosts until 2 a.m. in the libraries, and seeing the girls on the tennis team study together reaffirmed her decision, for it ensured that Harvard had the  academic environment she always dreamed of.
"I basically fell in love with the school on that first visit," she said.
Recently, Huang has been connecting with her future teammates on GroupMe and Zoom.
"I'm excited to be meeting new people,"  Huang said. "But I'm mostly excited to finally meet them in person soon and play tennis with them."
Sara Stone
University of California, Berkeley - Field Hockey
In the near three years since Sara Stone (12) committed to UC Berkeley for field hockey in the summer before her sophomore year, she has never doubted her decision.
"I knew that Cal not only had a good field hockey team, but great academics too and I couldn't beat that," Stone said.
She reached out to the school via email during her freshman year, inviting them to come to her games and tournaments because she knew Berkelely was the place she wanted to be.
"I visited a few other colleges, but at Berkeley I just had this feeling where I knew it was right," she said. "I liked the big school, the school spirit, the [challenging] academics."
When the recruiters attended her tournaments that year, she said she felt a lot of pressure, as she said messing up a play could cost her a spot at Cal. Mostly, though, she just tried to play the game like any other.
"Throughout the game I'm so focused on what I'm supposed to be doing and my role on the field that I naturally forget everything else," she said. 
This focus earned her a spot at Berkeley, and she spent her next three years of field hockey enjoying her time playing with her current teammates, focusing on bettering her leadership role and fostering a cohesive team unit on the field. Additionally, she just wished to improve all aspects of her game, motivated by the tough competition of college athletics in her near future. 
Each high school game she played simply got her more excited for the next level.
"I'm excited to experience something new,"   Stone said. "I know I'll treasure the experience [of college sports] for the rest of my life."
Jane Wang
Babson College - Tennis
Since she was 8, Jane Wang (12) has been devoted to playing tennis and will be continuing her career at Babson College in Wellesley, Massachusetts. Wang said that she considered her academic life at the school as well as how much time she was willing to devote to playing tennis in college.
"I chose Babson College because I knew that I always wanted to major in something business-related and Babson is considered a pretty good business school," Wang said. "I also wanted to find a way to keep on playing tennis during college and since Babson is a D-III college, it can provide me with the perfect blend of experiencing college life while also being on a team."
Wang has been playing with one of her doubles partners, Karen Gao (12), since they began playing tennis.
"Jane and I have known each other for over ten years now and we have spent tons of time together," Gao said. "We've spent so many hours talking in cars, on the court during matches, during water breaks, waiting in the library.We know each other so well and share so many precious memories that I really cherish and I'm so grateful to be able to call her my friend."
As sophomores, Wang and Gao decided to play as partners despite the strong senior duos from other schools that they would play against. This partnership contributed to her desire to play somewhere with a cohesive team dynamic.
Additionally, Wang wants to continue her tennis career in college in order to stay in shape.
"I have been playing tennis for half my life and I didn't want to quit now," Wang said. "I also figured that playing tennis in college would keep me active and play a role in preventing the dreaded 'Freshman 15.'"
About the Writer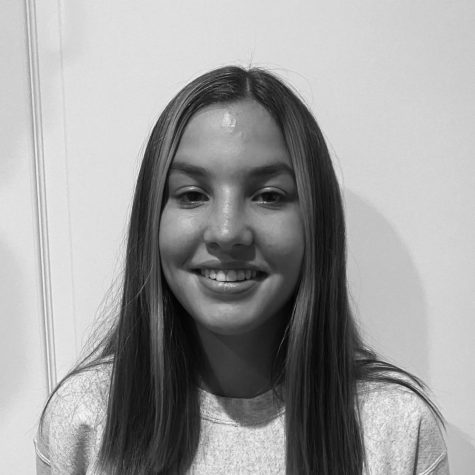 Sara Brownlee, Staff Writer
Sara Brownlee is a junior and has been a staff writer for the Nexus for two years now. She plays lacrosse and rugby. She also enjoys hanging out with her friends and playing guitar during her free time. She loves listening to music and making necklaces as well.