Library access decreases with conversions of cafe, quiet room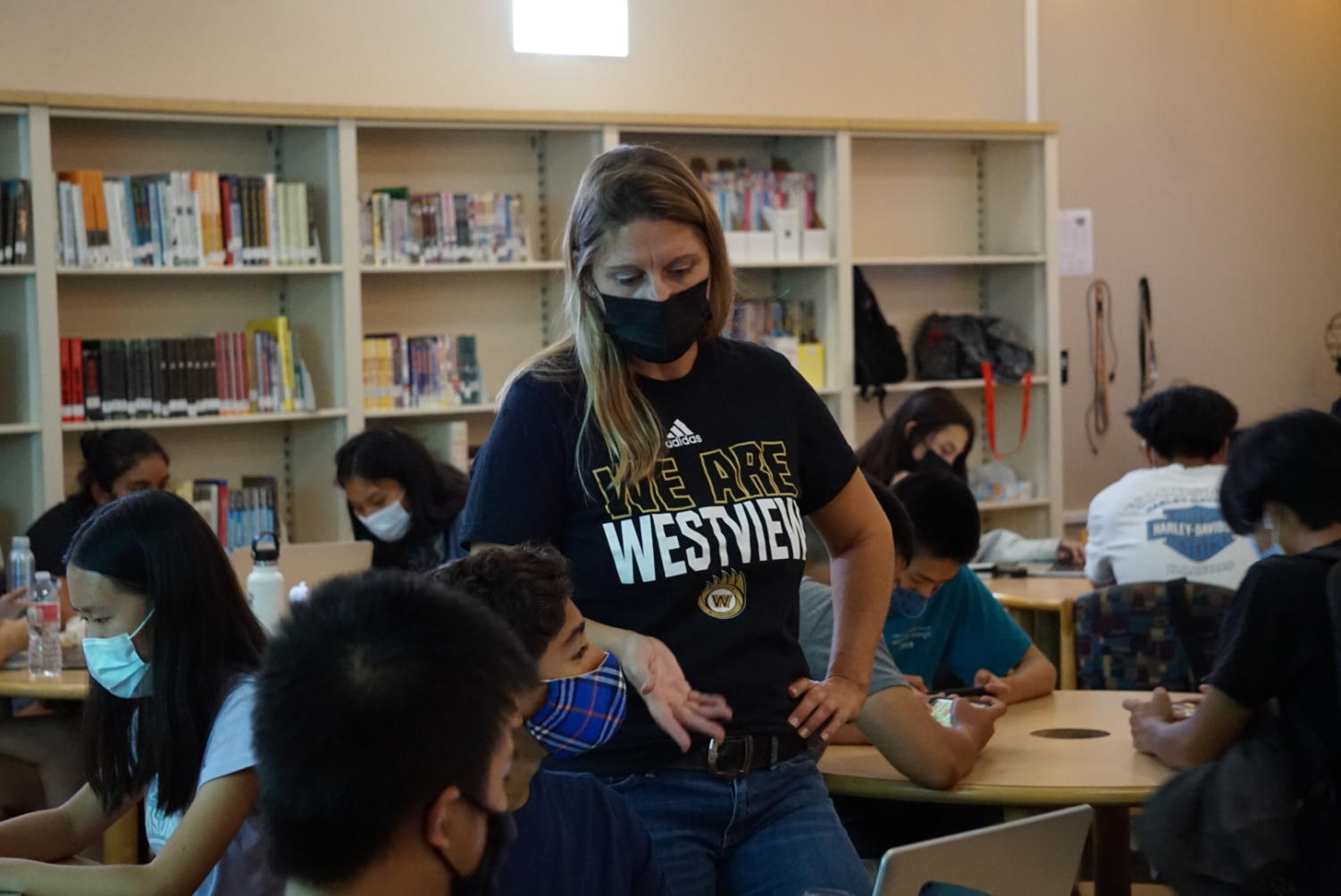 Long lines snake outside Westview's library doors during Lunch as students wait patiently for one student to leave, so they may enter. Library media teacher Cheri Tomboc-Brownlie watches the door closely and tracks student movement in and out of the library with a clicker in hand.
For the first time in Westview's 20-year history, the library is home to an English class. The library's quiet room has been converted into a classroom for English teacher Liz Campos. Additionally, Special Education teacher Elizabeth Kurzniec runs her homeroom class out of the cafe in the library.
Due to fire regulation safety laws, the library can only hold a maximum of 104 people at a time. During Wolverine Time—when the library becomes a hotspot for students—Tomboc-Brownlie uses a clicker to count the number of students entering the library.
According to Tomboc-Brownlie, the library quickly hits maximum capacity—104 students—during Wolverine Time on a typical Tuesday or Thursday.
During fourth period, the library averages 80 students. Those with fourth-period off rolls flock to the library, preventing Tomboc-Brownlie from teaching ENS classes with class sizes as large as 40 students. Prior to the Library Cafe and Quiet Study Rooms' conversion into classrooms, the rooms allowed for 52 additional students to be in the library.
As an information-literacy teacher who has taught at Westview since the school opened, Tomboc-Brownlie usually instructs classes that come to the library to learn research skills. Now, with the research room being used for English classes, she doesn't have the option to teach the way she used to in the library.
"I'm either going to go to the teacher's classroom or I'm either going to record all my lessons like I did before COVID,¨ she said. "[For] research projects, teachers [used to] bring their class[es] in and [I'd] usually do the instruction in [the library's classroom], or I would go out to the teacher's classroom. But now, I don't have the option of having them come up here, and I can't teach in the main room [because it] is not conducive. The acoustics in the space don't allow you to do classroom instruction."
Tomboc-Brownlie said she anticipates changes in the near future, remaining hopeful in regaining the lost library space.
"I hope that next year, they'll get additional classrooms, either trailers so that the library space can be returned for student use," she said.
Tomboc-Brownlie has also had to adjust to the new classroom setup herself. She has held her homeroom in the classroom for 20 years. Her homeroom photos from past years still even line the repurposed classroom's walls. As the school works toward some semblance of normalcy, she hopes to return to teaching in a familiar space.