Dang extends brand into basketball team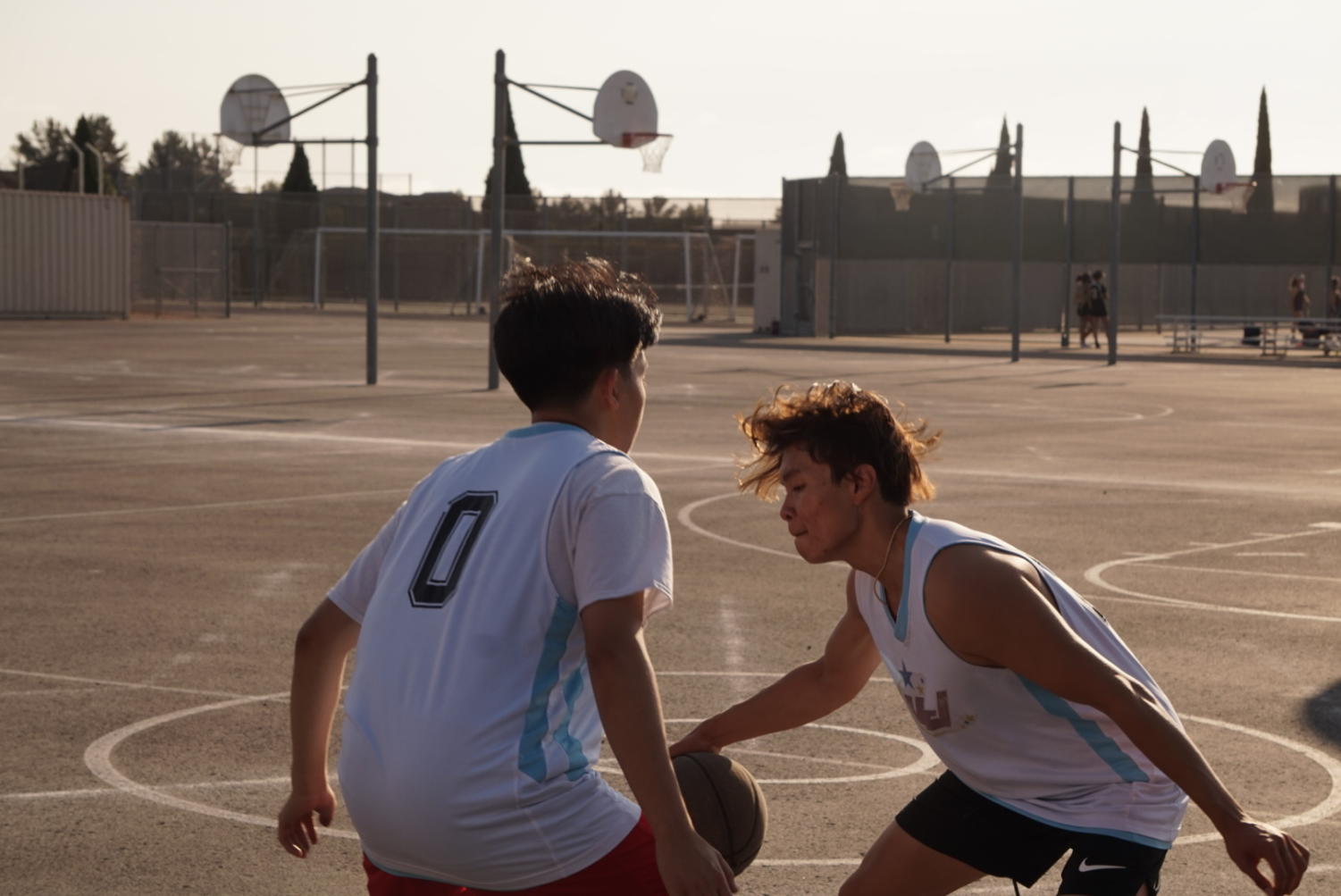 Caleb Dang (12) laced up his coveted Nike Undefeated x Kobe 4 Protro sneakers in the San Antonio Spurs' team colors as he stepped onto the court. It was 20 minutes until game time and Rick & Morty by Soulja Boy blared from the basketball team's personal speakers. The Venus Hoops team began warming up in their white jerseys lined with baby blue, proudly flashing the Venus Dreams '90s-inspired logo. 
The team was born out of Dang's desire to  receive more playing time on the court and to regain his love for basketball. Many of Dang's friends joined Venus Hoops to experience a unique, youth-led team dynamic. One of these athletes was Dang's younger brother, Connor Dang (10). He grew up playing basketball with his father and brother and began playing competitively in the fourth grade.
"I did like basketball for the majority of my life, but after I finished playing with the Westview program [this year], it kind of drew me away [from basketball]," Connor said. "I was drawn back to basketball with the Venus Hoops team."
During the team's season, technically, Venus Hoops went 0-8, but on paper they went 1-7 due to the league manager's error. Despite this record, the goal of the team wasn't to win, Caleb founded Venus Hoops during the summer, hoping it would become a permanent extension of his clothing brand, Venus Dreams. The team participated in the Sol summer basketball league, in a division consisting of various competitive teams at the high school level. 
"Venus Hoops is not only us having fun, but a great way to try to market the brand [using their logosand put it out there," Caleb said. "I think we have more followers on the basketball account now than the actual clothing account."
Despite it beginning as a joke, Caleb said he imitated many serious, basketball Instagram accounts for Venus Hoops' own account. 'Formal' interviews, announcements of contracts and contract extensions, and player trades were uploaded to the team's page for fans to see.
Some of these posts were accompanied by videos of the players airballing, others had a fried chicken establishment sandwiched between photos. In photos of signees, the players wore formal attire as pictures were taken of them signing their contract.
"You see a lot of other basketball accounts on Instagram, like big AAU teams, and we wanted to try to parody that," Caleb said. "It's a little joke, but it's also really fun to us, and we take a lot of pride in how we play."
Caleb recruited his closest friends from Westview and Del Norte to play on the team. Any empty positions were filled by friends of Caleb's friends, which gave him the opportunity to meet new friends and interact with new teammates. 
"My inspiration for creating the team was my whole friend group's love for basketball," Caleb said. "We didn't necessarily all play basketball in high school. We have a lot of athletes who play different sports, but everyone can relate to the fun we have playing basketball. I actually like it a lot more when there's no pressure from coaches or from the school."
Although it was merely a pastime for many of the members, Caleb said creating the team required an immense amount of dedication and expense. The total cost of playing in the Sol league was $500, in addition to the cost of gear and a 3% processing fee. Each team member contributed $50, which Caleb said was a significant reduction from the average $500 athletes pay to be on competitive teams.
Members did not acquire the same technical skills as a competitive team would have helped them develop, but the team provided them with an environment where they could socialize. John Nguyen (11), a late addition to the Venus Hoops team in August, played for the Westview JV and on a competitive team called Empower.
"[The team is] not serious to the point where I'm seriously trying to get better," Nguyen said. "The practices are just all about having fun, and team bonding. I've known a lot of them since elementary school."
On the court, the team runs a four-out-one-in offense, and a man defense. As of now, they are still working on developing their chemistry to ensure the ball is moving around the court more often, so one person isn't attempting to execute everything. 
While being a youth-led team coached by Ryan Moghaddas (12) from Del Norte has its advantages, as it gives the athletes more flexibility during practices and decreases the pressure associated with basketball, Caleb says it also makes it difficult to hold one another accountable. 
"We definitely ran into problems [like] messing around during games, and a lack of stronger coaching," he said. "I'm not saying our coach is bad, but he just needs to be a bit tougher on the kids like an adult would be because although we're trying to have fun—we are also trying to win—and there's just a lot of stuff that definitely would not slide with an actual coach."
Win or loss, after every game the team goes out to eat together. For particularly bad losses, they go for Jamba Juice, which they say isn't filling. One day, after a win, the team dreams of going to Chuck E. Cheese and eating Popeye's.
According to Nguyen, some progress has already been made toward this goal. Prior to Nguyen joining the team, Venus Hoops would often lose by a margin of 10-20 points. He noticed great improvement nearing the end of the season, where the second to last of their games was only lost by five points. Their final game was lost by only a single digit.
"At first [it] started off as a joke," Nguyen said. "We were going to go into games shooting half courts, but then [our] competitiveness caught up to [us]. And it just started becoming more official. We started gaining followers and fans."
On Aug. 28, to conclude Venus Hoops' first season, the team gathered for a cookout banquet at Hilltop Park where they grilled hamburgers, held an award ceremony, and bonded as a team. At the event, they promised autographs, free food, and a livestream for those who couldn't attend. 
At the award ceremony, categories ranged from traditional awards such as Most Valuable Player, to the Menace to Society Award, for the player who talked the most trash on court. Nguyen, won Rookie of the Year and Best Spark. Connor, who once showed up to a game in a shirt featuring Santa dabbing, won Best Dressed. And founder, Caleb, was awarded Best Ball Handler On and Off the Court. 
With newly signed recruits, and the upcoming fall season, Venus Hoops has been given another opportunity to finally go to Chuck E. Cheese and savor their pepperoni slices as not just athletes—but champions.