NJROTC march at Poway Rotary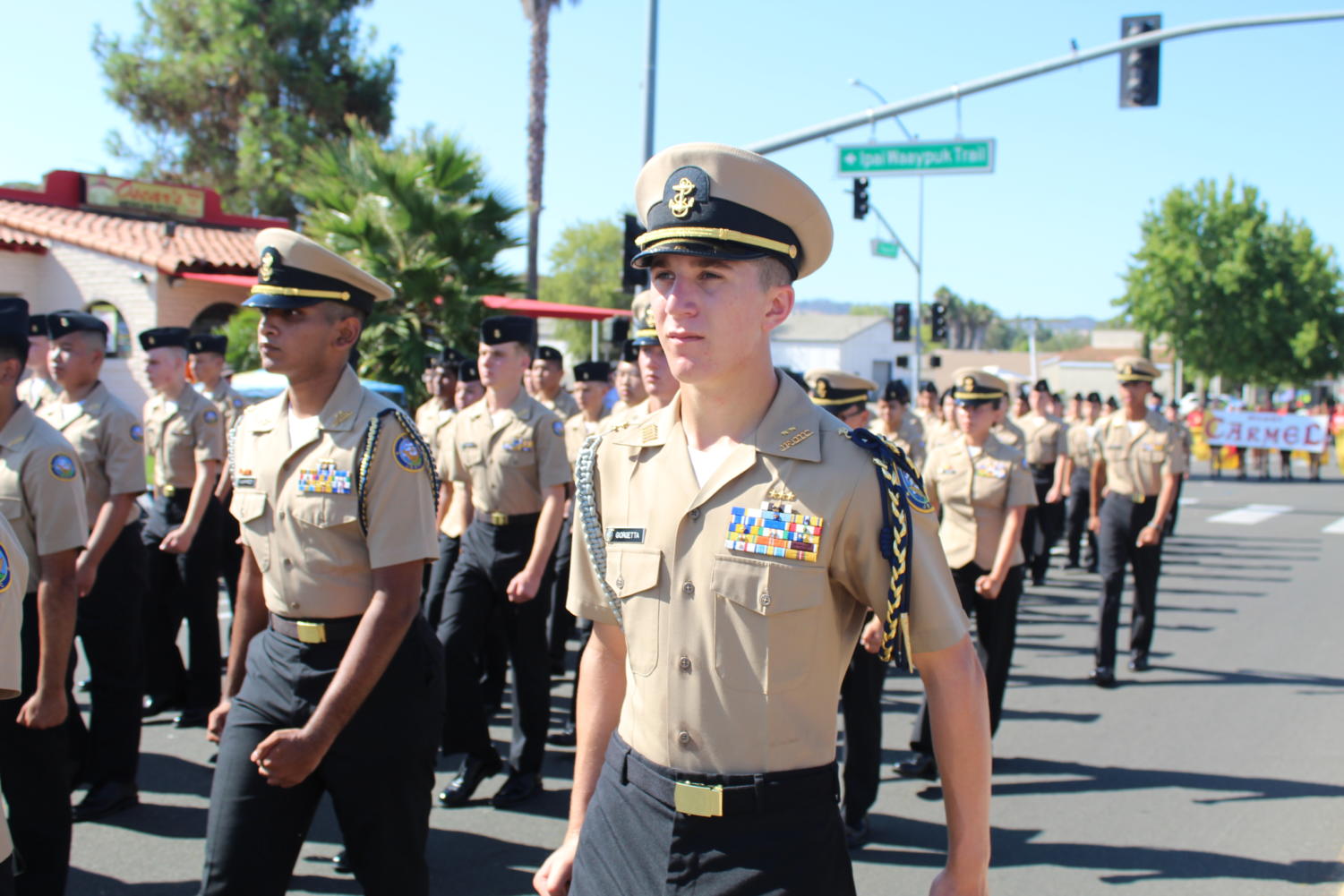 Commanding Officer Caeden Giorgetta (12) stood in front of the judges and audience to deliver a battalion sound off as a united unit with his Navy Junior Reserve Officers' Training Corps (NJROTC). The unit participated in the 56th Annual Poway Rotary Parade Sept. 11. 
The cadets marched down Poway Road as the unit's upper staff members called out different cadences, including 'showy' gestures to display to the parade's judges, such as calling cadences, which the cadets responded to, and traditional left-right marching cadences. The Westview Halt, for example, was a drill in which four columns of cadets mirrored each other's movements. Giorgetta worked with his upper staff team to smoothly lead the unit in the parade.
"It's a big show that we put on for the people around us [when they hear] the really loud projection of the entire battalion yelling across," he said. "We also have a few other drills we made up for the parade specifically [called the Westview Halt]. It's just another little showy movement to show off the skills of our cadets."
The unit had been preparing for the event since the beginning of the school year. During class, cadets regularly practiced drill movements and marching. The week prior to the parade, the battalion held after-school practices to ensure everybody was able to march in unison, prepare their own uniforms, and get each of their items for the parade checked off.
Giorgetta said he inherited a unit with slightly less experience than previous years due to the pandemic. 
"It was pretty different because I was moving off of slightly less experience from the people before me, as they were doing things and working through Zoom school," Giorgetta said. "Versus now, I'm running a battalion back in-person [this] school year, slightly odd transition, but it was pretty smooth [because] I had very good leaders coming before me, and they helped me a lot."
The current upper staff members of the unit last attended the parade as sophomores, and as positions have changed and responsibilities have increased, they have had to learn how to lead the unit.
The battalion's adviser, Captain Thomas Adams, said it would have been difficult to give cadets adequate preparation for events such as parades in a virtual learning environment. Although the unit was able to begin meeting in small groups last October, it wasn't the same as being in-person as an entire unit.
"It [virtual ROTC periods] was nothing like the real world," Adams said. "We have 14 different competition teams, and we weren't able to do any of our in-person practices of any form until mid-April, and [that occurred] only a few times just to make sure that [the cadets] weren't completely rusty."
Due to the pandemic, the unit saw a significant decrease in the number of current sophomores. Only 19 students returned in the sophomore class, as opposed to the 24 brand-new cadets who joined last year.
Another important aspect of NJROTC that was difficult to replicate online was the camaraderie among cadets. Because the unit accepts interdistrict transfers from all schools within the Poway Unified School District, it's difficult for students to connect without an incentive. Events such as parades gave them this opportunity. 
"Whenever we have an all-unit event, it gives a chance for the whole unit to be in one place [at] one time, interact with each other, [and] establish connections," Adams said.
Despite being virtual for one year, Adams said he believes the students' growth and progress mirrors those of previous years.
"[It's] a testament to the increased quizzes that occurred during the Zoom year that was [meant] to make up for the fact that we couldn't have as much in-person training," he said. "So they're actually right about where they should be, going into what would be a normal year, now."