Roberts finds comfort in service dog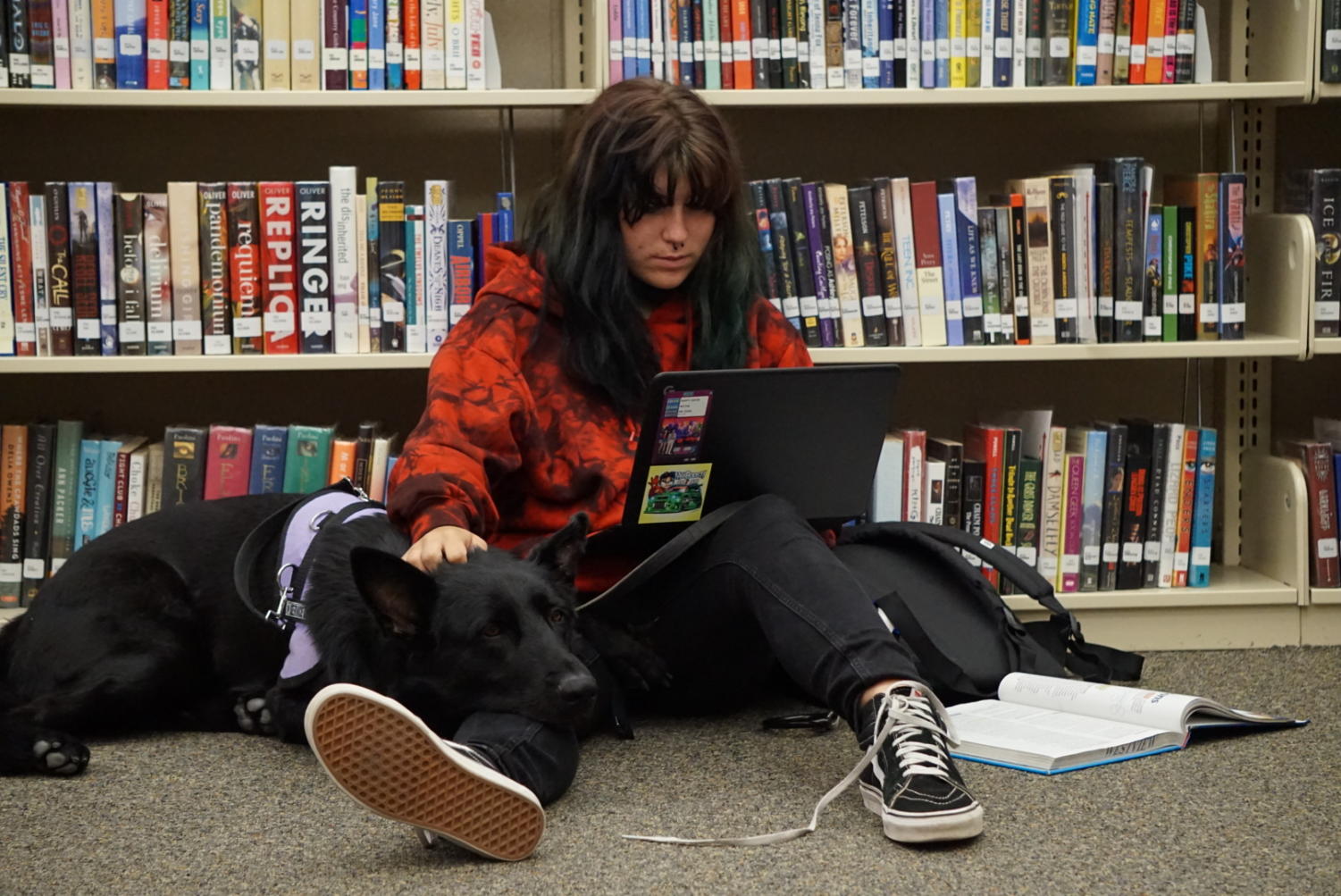 For Kylie Roberts (12), getting asked questions she doesn't want to answer has become a regular part of her day-to-day life.
"I get that people are curious, but halfway through the day already getting asked for the 50th time, 'where's your dog? Can I pet your dog? What do you have your dog for?' It does get tiring," Roberts said.
The dog in question is Roberts' personal service animal—a 4-year-old German Shepard that accompanies her to school most days. After struggling with debilitating anxiety for most of her life, Roberts realized the potential benefit in getting a service animal and started her search for one in 2018, which led her to the non-profit organization Shelter to Soldier.
Although Shelter to Soldier mainly trains shelter dogs to become certified service animals for military veterans with PTSD, the organization also selects five non-veteran applicants a year. In order for her application to be considered, Roberts was required to submit a doctor's note proving the need for a service animal, as well as a downpayment on the dog's training fees.
Although she only recently acquired her service dog in June of 2020, Roberts says the pair had been building a relationship for almost a year prior to when she was able to officially bring her dog home.
"I would go to see her every weekend until I got her," she said. "[Shelter to Soldier] would train me on how to train her so I could know how to handle her."
According to Roberts, owning a service animal is very different from owning a regular pet.
"It's not very much like a pet and [owner]; it's more of a partnership," she said. "You have to be able to handle her and she has to be able to handle you."
Since her training days with Shelter to Soldier, Roberts' service dog has learned a variety of techniques that she uses to help provide Roberts with relief. Her dog is trained to notice certain anxiety tics such as nail picking, and perform "interruptions," or tactics used to disrupt anxious behavior, and bring Roberts' focus back to her dog. Additionally, by sensing increases in Roberts' heart rate, her dog is then able to calm her down through compression therapy by laying on Roberts' chest, which she feels is especially helpful when a panic attack causes her to lose consciousness.
"I remember  one time during one of my Zoom classes last year, I had a really bad panic attack and she just pulled me from my chair and laid on me until I could not be passed out," she said. "When [my heart rate] gets higher and higher, she can get me on the ground before I pass out and hit my head on something."
Although there have been other service animals on Poway Unified campuses in the past, Roberts' service dog was one of the first to come on campus at Westview. Because of this, Roberts had to go through a process of receiving clearance from the school when switching from virtual to in-person learning halfway through last school year.
"My parents and I just had to send a bunch of emails to the school and district explaining why I actually needed to bring her on campus," she said. "School is one of the biggest anxiety triggers for me so I just needed to make it clear that if they weren't going to let me bring her on campus, then I wasn't going to come back to school or I was going to transfer."
Since bringing her dog to school for the first time, Roberts has gotten used to all the challenges associated with having a service animal on campus. Although her dog wears a vest which clearly states that she's a service animal, students have tried to interact with her dog, which Roberts says puts both her and the dog in a stressful situation.
"I've had kids now call her name on campus and try and pet her," she said. "I've gone to the extent of hitting peoples' hands away because you're not supposed to talk, touch, or look at a service dog. That's all illegal and it distracts [the dog]."
Apart from having to limit interaction between her dog and other students, Roberts also has to put up with invasive questioning and people invalidating her need for a service animal. According to Roberts, having an invisible disability makes dealing with these instances more daunting.
"You kind of have to prepare the response in your head so when people ask, you don't stumble," Roberts said. "I've noticed that if I stumble, a lot of people will be like, 'Oh, then you don't know what you're talking about' or 'you don't look like anything's wrong with you, so you must not actually need her.'"
While it gets difficult for her to deal with insensitivity from her peers, Roberts feels that the relief her service dog brings to her life in and out of school makes the challenges worthwhile.
"School's been stressful for me for years, so having her there makes it a lot less stressful and can act as a safety net," she said. "She can tap into my emotions way faster than I can, and she knows how to make me smile. If she's being goofy in class, it's not necessarily her wanting to play, it's her distracting me the best way she can. She just makes life easier with my head."