PUSD misses chance to improve schedule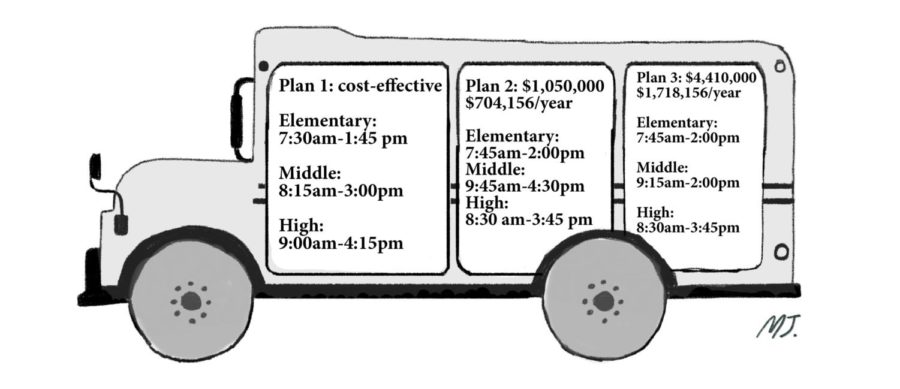 Out of the many challenges caused by COVID-19, one of the most striking was trying to navigate school without the presence of in-person instruction. Along with the pressing issue of physical health, school districts had to learn how to strike a balance between maintaining the mental health of students, while also abiding by health guidelines. In completely uncharted territory, the school district managed to create a new normal and guide us through a year of virtual learning. 
Despite all the problems associated with virtual learning, there were some unexpected benefits to the model. For instance, the virtual school day allowed for students to be efficient, as they weren't confined to a classroom when instruction was over. Students were offered more opportunities for office hours and given a more flexible learning environment. If there was one thing that virtual learning did well, it was giving students freedom after so much of it had been taken from them by the pandemic. In light of all the improvements made during this time, I had hoped that PUSD would apply its innovative thinking used to meet the challenges of virtual learning to actually making the change this school year to a later start time, especially since we would need to do it anyways thanks to SB 328.
SB 328 is a bill signed by Governor Newsom in 2019 which called for the start time of a regular school day to be no earlier than 8 a.m. for middle school and no earlier than 8:30 for high schools. It is now 2021. At this point, we have known for years that secondary schools in California will soon be expected to follow a later start time. 
That's what makes PUSD's decision to return completely back to normal, with no changes to schedules, even more disappointing. In spite of all the progress we were beginning to make with COVID-19 and virtual learning, PUSD decided to not take a step forward, which it could have done by developing an innovative, flexible schedule. Instead, PUSD returned to what was easy and normal. They let yet another opportunity slip them by, a decision that is all the more disheartening because it essentially kicks a well-known problem further down the road. 
While the new late-start rules may sound like a minor adjustment of 25 minutes for Westview students, pushing the start time back to 8:30 or later actually would result in a major change within school schedules for the district. 
Since PUSD currently operates on a busing system that only works thanks to staggered start times, this change means that all schools in the district are impacted. Currently, schools within PUSD have start times that put them into one of three groups: tier one starts around 7:30, tier two starts between 8:05 and 8:30, and tier three starts between 8:45 and 9. This system allows the district to send bus drivers to make several trips, taking groups of students to multiple schools each morning. 
Currently, there are three options up for debate regarding a master schedule that abides by SB 328. All of these potential plans differ in how much they inconvenience school districts, those with a less dramatic effect costing more. Option one, which is regarded as a cost-neutral option, requires that elementary schools go from 7:30 to 1:45, middle schools go from 8:15 to 3, and high schools operate from 9 to 4:15. Option two will cost $1,050,000 upfront with an annual expense of $704,156 and requires elementary schools start at 7:45 and end at 2, middle schools start at 9:45 and end at 4:30, and high schools start at 8:30 and end at 3:45. Finally, option three, which will cost $4,410,000 upfront and an annual expense of $1,718,156, has elementary schools in session from 7:45 to 2, middle schools in session from 9:15 to 4, and high school in session from 8:30 to 3:45. 
As it stands, the conflict rests entirely on finding a balance between the needs of students and the cost to meet them. None of these plans are particularly desirable. All the options either adversely impact us students or the school district.
But, this doesn't mean we should keep procrastinating and kicking this problem down the road. The reality of the situation won't change. The cost of progress will stay the same. The possible start and end times won't vary from the three plans already proposed by much. In the end, schools must adopt a late start schedule that follows SB 328 by July 1, 2022. No matter what, the school schedules for the 2022-2023 school year will be impacted. 
This is why I believe the 2021-2022 school year would have been an ideal opportunity for PUSD to test out different options in accordance with SB 328, like offering a mixed schedule plan that incorporates online courses or restructuring period lengths. Students were already adjusting to the change of going from virtual learning back to in-person school. A schedule change to conform with SB 328 could have helped ease this transition as well as served as an opportunity to introduce aspects of a more flexible school schedule like the one we had virtually. Instead of making a small return to normalcy this year only to have a massive schedule change next year, we should have fully committed to the changes we needed to make. With how flexible most of us are after virtual learning, now would have been the best time to make this revision.  
That being said, the process of changing school schedules to abide by SB 328 has been a long and complicated one thanks to it being pushed back due to COVID-19 and affecting all of PUSD schools. There isn't a perfect solution, but I wish that we would have used this mandated change as an opportunity to do better and move forward with the little improvements that we made this past year of COVID-19.
While this didn't happen this year, PUSD can still apply what we have learned in the past year of virtual learning, like the importance of flexibility and student freedom, when we have to adopt the new master schedule next year. PUSD still has the chance to let this be more than a missed opportunity. No matter which of the three options is chosen, PUSD can do right by students if they commit to introducing a more flexible school schedule and give students more freedom to tap into the learning structures that will provide them with the greatest degree of success.