Girls volleyball bonds with new players, wins Classical tournament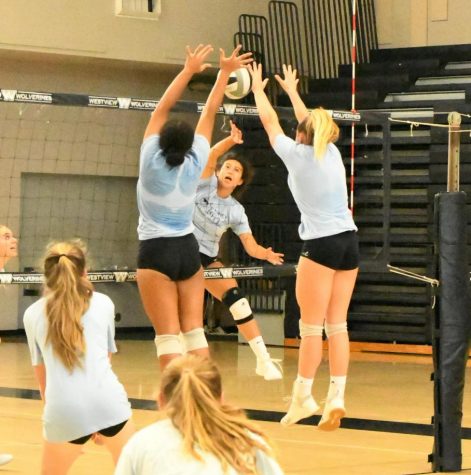 With tough competitors like Rancho Bernardo, and the season just getting back to normal, the girls volleyball players have started to reconnect with each other and form relationships with the team's new members. 
The team started the year by winning their first tournament of the season, as well as a few scrimmages.
"Something that's fueling me this year is the fact that it's my last season with the amazing program we have at Westview," said returning Libero, Lauren Dumo (12). "So, I really want to make all of my actions count." 
Even though the previous year made it harder for the team to practice with each other, Cheyenne Roberts (12), said that this year feels almost the same as the ones from prior years before the pandemic. 
The girls have been able to spend time with each other off and on the court, cheering each other on.
"Overall, we've just been in the gym more together, whereas last year we were more just games, games, games," Roberts said. "We've been just trying to get to know each other [and] build that team bond." 
While spending time with each other off of the court, they strengthen their bond with each other, forming the necessary relationships needed to build a great team.
"A huge factor in helping out [the] team bond is spending time with each other off and on the court," said Dumo. "We have bonded through making silly dances with each other and constantly hyping each other up when we are on the court."
Just like previous years, a few new members are joining the team.  
They are all excited to play for the program and grow as players and people. 
"I am looking forward to getting to create deeper friendships with the new girls that joined our team this year and to having a normal season for my senior year," said Dumo.
This extra time spent practicing together has helped the team win their first tournament of the season, Aug. 21, and they're looking forward to be able to compete more. 
"One thing that definitely helped me was the cheering and 
support I got from my teammates," said Tatiana Moe (12). "I was really tired during our last game and I could feel it literally in my legs and arms, but because my team kept going and cheering, I think we were all able to push through those last few winning points."
Unlike last year, this year is set to have a standard season with up to two games per week.
 "I'm just excited that they get a chance to have a real season," head coach Nancy Ros said. "I feel great about them. They're a good group of kids."
Not knowing when COVID-19 might upset the season again, the team plans to take advantage of the time they have to practice together and prepare for their future matches.
"We're always trying to work on winning," Ros said. "But we're trying to maximize whatever we get to do, because who knows when it could all get stopped. We've obviously been there before, so we're going to  try to make the most of whatever we have."
With seven out of nine returning players being seniors this year, the team wants to make sure that this season is a good one with time spent together on and off the court. 
"To be able to have a normal season with these girls is something I'm beyond grateful for," Dumo said.