Zhao, Henry bond together over part-time service jobs at Rubio's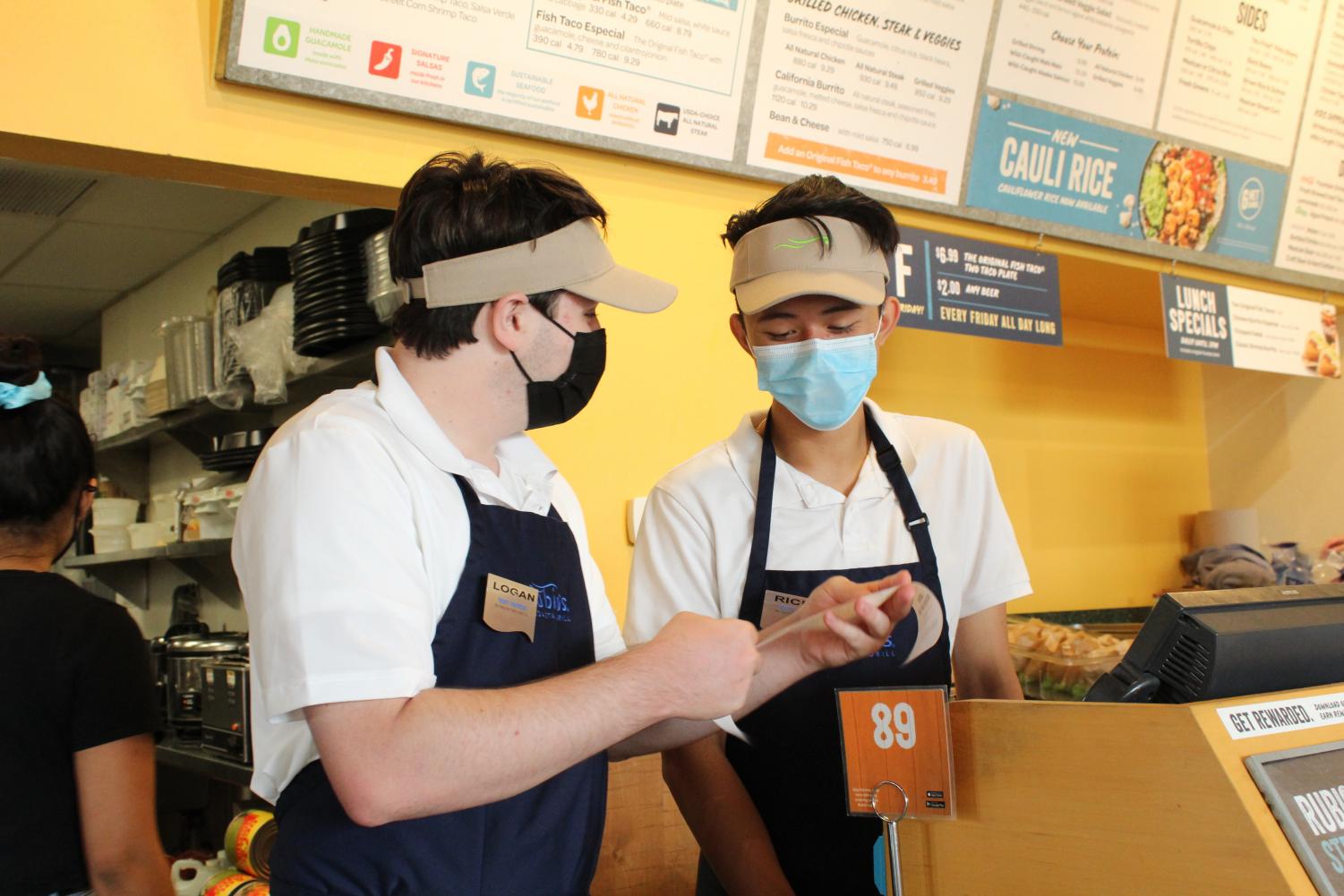 Every time Ricky Zhao (12) entered into Rubio's and saw his co-worker Logan Henry (12), he never failed to dap up his "homie" with a fist bump and a head nod. Sometimes, they even daringly went in for a loud hand clap that transitioned into a handshake with thumbs locked together.
Zhao first applied to work at Rubio's in early July, searching for a job anywhere he was qualified. The manager at Rubio's was the first person to respond to his application, so he eagerly accepted their job offer.  
Zhao and Henry met through a mutual friend during their sophomore year in a vanilla Minecraft server that Henry owned. They would often join calls on Discord, a communication platform commonly used by gamers. 
Although their friendship began on Minecraft, it was furthered by League of Legends. The two used to play the game together for several hours a day.
Henry said he could talk to Zhao about anything from school-related topics and the merits of the anime Naruto to his love of Madison Beer. Zhao viewed Henry as somebody who was always open to hanging out and exploring new fast-food restaurants. 
Their most memorable escapade was a visit to Jollibee, where they said they tried the best chicken sandwich they ever had. 
As they were already such close friends, Zhao eventually convinced Henry to apply to Rubio's. Although he still had to submit an application for the job and complete an interview, Henry easily got the job due to one of his references being Zhao.
On his first few days of training, Henry was trained by Zhao.
"It was horrible, I felt like an underling," Henry said. "It was fun, but this guy felt like my boss. He was fine for the most part, [about] half the time, maybe even a quarter. "
Zhao said he  wanted Henry to pick up the material quickly because he felt responsible for his actions at work. He taught Henry how to execute the customer service steps lined on the screen of the cashier. 
"When [Henry] first started, he gave a very bad attitude to customers," Zhao said. "He wasn't saying his greetings, and [he needed to learn how] to switch up how he talked around customers, because he was serving them."
After Henry was trained, during slow hours, when they weren't on their phones, they tried to learn Spanish from their co-workers.
"Our co-workers are all 40 to 50 [years old], and they speak Spanish," Zhao said. "We would learn Spanish from our co-workers from when they communicated with each other." 
Despite being good friends, they tried their best to maintain a professional relationship in the workplace. However, they weren't always successful in staying focused. The large age gap between the two high-schoolers and their coworkers was apparent. Zhao said it's nice to have somebody like Henry to goof around with to make monotonous tasks on the job less boring. He said he believes that his co-workers tend to either be too focused on their jobs, or Zhao and Henry were just less focused because they were showing each other memes.
Although the job is generally easy, as many people who work in customer service understand, Henry and Zhao can sometimes encounter difficult customers, but they choose to recognize that those moments will soon become a summer memory the two could laugh at and look back at fondly. 
Their time together at Rubio's was short lived. As summer ended and a new school year began, Zhao distanced himself from friends. He chose to prioritize his school work and no longer had the time to play video games and call as much as he did during the summer. 
Henry was also being transferred to a new Rubio's location closer to his parents' workplace. Until he receives approval from his manager, Zhao and Henry will make the most of the rest of their short time at Rubio's together. When Henry's gone, they won't be able to send each other as many memes during slow hours and bond over the awe of their boss, but they'll never stop debating about which one of them is right about Naruto.