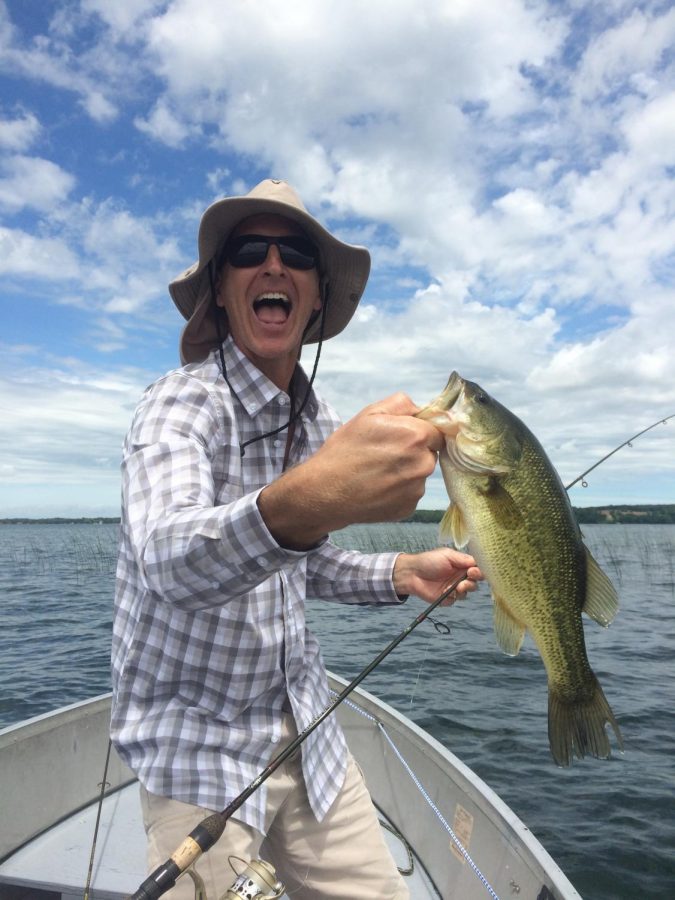 "There is nothing in this room that I can't trace back to the Industrial Revolution," social science teacher Dan Lutgen said confidently in March to his second-period World History class; I was a naive student in his class. "Nice tangerine Mr. Lutgen," I typed in the chat referring to the bright orange snack on Lutgen's back table. Lutgen chuckled and said he tried to eat a tangerine every day to get his daily dose of vitamin C. Disregarding his explanation, I asked, "So what does a tangerine have to do with the Industrial Revolution?" 
Lutgen spent minutes explaining in great detail that through the Columbian exchange, tangerines were introduced to the Americas via steamships. He concluded that because of the Industrial Revolution, Americans could ship Chilean tangerines, for example, to local stores within two days. I underestimated the extent of Lutgen's ability to connect the present to the past and his seemingly boundless knowledge of world history. 
Lutgen said he grew up destined to become a teacher. His grandmother was a teacher, his mom was a teacher, his biological dad was a teacher, and his aunt and uncle were teachers, administrators, and counselors. His plans as a 10th-grader in high school reflected that. Even then he knew he wanted a family of four kids, so he leaned towards becoming a teacher because it had a schedule that would accommodate his family life. 
One Thursday in December during his junior year of high school, he went to school, attended a basketball game, and when he arrived home he was informed that his adoptive dad passed away from a sudden heart attack. 
"When he passed, I kind of shut down for several months. [It was] pretty crushing as a 16 and one half years old," Lutgen said. "But what I really learned from him that I get to reflect upon wasn't the crisis filled with hurt for the next few months after his passing, [it was] life skills."
Lutgen's dad was born in a small town in Minnesota and he referred to him as his father ever since his mother married him when Lutgen was 3 years old. He even took his surname, Lutgen. Growing up, his dad ingrained the classic "Minnesota nice" values into him of being kind and polite.
"He was that 'Minnesota Nice' where if he's driving he didn't cut people off," he said. "If there was a line, he didn't take cuts. So as a kid, when you're 2and 5and 7and 9, whether you know it or not, you kind of emulate the behavior of your parents to a great extent."
Upon his passing, Lutgen realized how much of an impact his dad had on him. The life skills his father indirectly taught him through his actions shaped how Lutgen treated his students with genuine kindness and politeness. 
Lutgen also began to see how hard his mother worked as a single mom teaching elementary and then middle school students in the PUSD. He'd often watch her grading papers at the dining room counter and on his days off from school he would occasionally help his mom teach her fourth, fifth, and sixth-grade students over the years.
"I loved it," he said. "It was really, really cool to feel that connection or to actually help human beings. For me, I already was contemplating [becoming a teacher], and then I saw a teacher in action and I went, 'Oh my gosh this is my career.'"
He loves to tell stories—to send his eager students to another place. Forty years ago he read to elementary and early middle school students the book Charlie and the Chocolate Factory by Roald Dahl. Lutgen witnessed their little eyes widen when he simply put on a playful voice. With just one passage, he said he could see the impact an engaging lesson had on students as they began to realize that "Woah, reading can be fun, or reading can be cool."
He continued striving to engage his students as a young student-teacher at Mt. Carmel in 1990, Rancho Bernardo as a full-time teacher in 1991, and when he transferred to Westview in 2008. For the last 31 years, he had taught students about the Cold War as he read The Butter Battle Book by Dr. Seuss, which simplified the brink of nuclear war between the United States and Russia to a battle of buttering bread one side up versus side down between the Zooks and the Yooks.
Because he had 31 years to develop and perfect his act for students, his voices for characters became more dynamic than simply just one playful voice. For the boys in the back room, with a serious, deep voice and a careful emphasis on his words, he said, "My boys in the back of the room have already begun to think up a walloping whizz-zinger one!" He let out a high-pitched squeak to emphasize a child's naivety as he said "Grandpa! Be careful! Oh, gee!" He conveyed the sage grandfather by speaking slowly and seriously as he said, "Be patient. We'll see. We will see…"
His teaching persona, Lutgen said, greatly contrasted his shy, introverted personality in real life. In high school, he could go a month without saying anything in class, but it gave him the time to observe how teachers interacted with students, and students interacted with students. 
"It gave me a chance to mentally take notes about what teachers were effective, and how they were being effective with shy kids like myself, or whatever superstar, or whatever gymnast," Lutgen said. "[It] was just interesting, even in the 10th and 11th and 12th grade, just to be an [observer]." 
However, his civics teacher, Mr. Rutledge, who was a laid-back, playful person who wore shorts and surf shirts, was able to bring Lutgen out of his shell in class. His English teacher, Mr. Gustafson, was exactly the opposite: he was very mechanical about writing and stressed grammar, which Lutgen said spoke to him because he was not a creative writer. Despite how drastically different the two were, Lutgen was reminded that there are different ways to teach students effectively. 
"I hope my demeanor is one where students are comfortable saying, 'Lutgen, I had a rough night last night I can't get this assignment in on time,' and then I can of course go 'That's far more important than getting an assignment turned in on time," he said. "I hope that attitude is obvious to my students. If it is, then at that point, I start having really good conversations with students."
Westview Alumni Rishad Dalal ('12) fondly remembers his time as a student of Lutgen's in his AP European Civilization class, and as Lutgen said "son 2.5." Dalal had been best friends with Lutgen's son, Mark Lutgen ('12), since third grade. He lived down the street from the Lutgens and visited their house four days each week, often either seeing Lutgen in his pool swimming with his dog Bailey or redoing his backyard himself. Dalal said whenever he was curious about what Lutgen's landscaping plans were, Lutgen was a natural teacher and helped him to understand the process.
"I'll always remember how caring he is," Dalal said. "It doesn't matter what the situation is whether it's related to school, whether it's related to something outside of school, or just a personal thing, he will put himself in a place where he is supporting other individuals. It's hard to see that level of sacrifice in other human beings."
Before the pandemic, Lutgen would often take walks with students around the campus if they were having a difficult day in class. 
"We'll just go for a little lap [near the] grass [by the] Plaza," Lutgen said. "Just to get them out of the classroom and I'd say, 'Hey, obviously something's going on today, you don't have to share with me, just want to let me know you can take a day off of class.'"
Lutgen said he was empathetic of students grappling with their mental health and personal issues because he struggles with anxiety as well. Seven years ago, he wasn't able to stand in front of his class because he doubted his abilities as a teacher. His wife, Jayne, was prepared to sell their house and move, but Lutgen took two weeks to himself to regain his confidence in teaching. Fellow teachers Jim Jennings, Keith Jain, and Bruce Steel helped him write his lesson plans, and they read scripted lessons to his students during his break. 
"I just kind of shut down and my wife would recognize at four or five in the afternoon I would no longer say, 'Let's go for a walk' or I wouldn't be working out and just be depressed," Lutgen said. "Between myself, her recognition, and then me just [connecting] with a couple of colleagues [who said] 'We will help out' all those sources came together and I think a large part of it is because they're [so] caring."
Lutgen said his coworkers would often check up on him; English teacher Jeff Wenger, especially, sent him a text up to eight times a day about casual topics like baseball. The fog that clouded his ability to see the value in himself as a teacher eventually faded, and he was able to once again create a safe space for his students. The secret to his consistent motivation—the people who surrounded him. 
"I am energized by watching my colleagues, and more importantly by watching my students," Lutgen said. "My battery's perpetually being recharged. That's why I love my Random Acts of Kindness club, which I'm the advisor for. I've watched those kids go out in our campus and try to recharge the battery of other students"
One of his six close friends from his tight-knit group of teachers is classroom neighbor, Wenger, who helps charge his battery when he gets emotionally drained lecturing on difficult subjects like the Holocaust. Being in close proximity to one another strengthened a long-lasting friendship these past 13 years. Of all the topics they talk about before school, between classes, or during their prep periods, baseball has always been a sport they can bond over. Lutgen joined fantasy leagues and read about baseball to be able to talk about San Diego Padres players like Fernando Tatís Jr. and Eric Hosmer.
"[Baseball] is not in my top two [sports]," Lutgen said. "It's Wenger's favorite, so I fall in line to converse with Wenger and pretend I like baseball more than I do. I like football and hockey a lot more than baseball. Baseball's a pastime for me, [but Wenger] would be like 'No, that's not a pastime, it's everything.'"
Wenger claims Lutgen can "go a little sideways sometimes" with his love of hockey and football, and he is truly misguided when it comes to baseball. 
The two can be spotted traveling between each others' rooms  8-10 times a day Lutgen said. They talk about life, sports—and when they injure their backs—their health. Wenger said he hopes to be just like Lutgen when he grows up in three years. 
"He's definitely not just going through the motions and doing the same stuff he did last year," Wenger said. "Seeing how much he cares inspires me because I would love to be as awesome as he is." 
Wenger said he often barges into Lutgen's room unexpectedly but that Lutgen always makes time to give his full attention to him and that Lutgen does the same thing with any of his students when they needed support, or just simply want to chat.  Even in his last year of teaching, Lutgen has revised his lesson plans to better accommodate distance learning and to appeal to his students' interests, Wenger said. 
"Seeing how much he cares inspires me because I would love to be as awesome as he is," Wenger said. "The thing I take from him is the dedication to trying to be as good at this as he can be. He's been a really good teacher for a lot of years, but he hasn't stopped trying to improve."
When Lutgen moved to Westview, he was placed in the L building next to his wife, Wenger, and Kellie Oydna.
"For 11 years I would see my wife in one room, Wenger in the other, and then Ms. Oydna on the other side," Lutgen said. "It was a really good group of four teachers that we all have mutual respect [for one another]." 
Wenger said that although he remembers being the third wheel in the L building, he enjoyed seeing the differences between Mrs. Lutgen, an energetic lecturer who blasted music at times to her AP Statistics students, and Mr. Lutgen. They were "two different atmospheres," Wenger said, but they were both incredibly knowledgeable in their subjects. 
Eight years ago, the Lutgens bought a plot of land in Minnesota on Lake Miltona, a few houses away from his cousins. A year and a half ago, they finally completed building the exterior of the house on the lot, but its interior with concrete floors and a  kitchen with nothing but a refrigerator was hardly complete. However, with running water now, an oven on the way, and septic added, the Lutgens plan to move into their lake house for two months on June 23.
Although he's looking forward to retirement, Lutgen said he will miss his students, colleagues, and the 'less glamorous' parts of the job like reading his students' reports. 
"I've had good days and bad days and [on] the bad days I'm always like, '[I] can't wait to get to work tomorrow and make it a better day,'" Lutgen said. "If something went astray with a lesson or my timing was off, then I was typically looking forward to getting back to work the next day."
Following his retirement, the time Mr. Lutgen and Mrs. Lutgen spend with their two sons and their fiances will give Mr. Lutgen something to look forward to for future days. He's sure to be dancing to his favorite song, "Bohemian Rhapsody," by Queen, with his family attempting, unsuccessfully, to hit Freddie Mercury's highest note while, maybe, eating a bright tangerine. 
"Westview is a great school, but it is an even greater one when Lutgen is teaching here," Wenger said. "I'll miss the warmth he brings to our building [and] the kindness that emanates from him every day."