Whitney takes last ride at Westview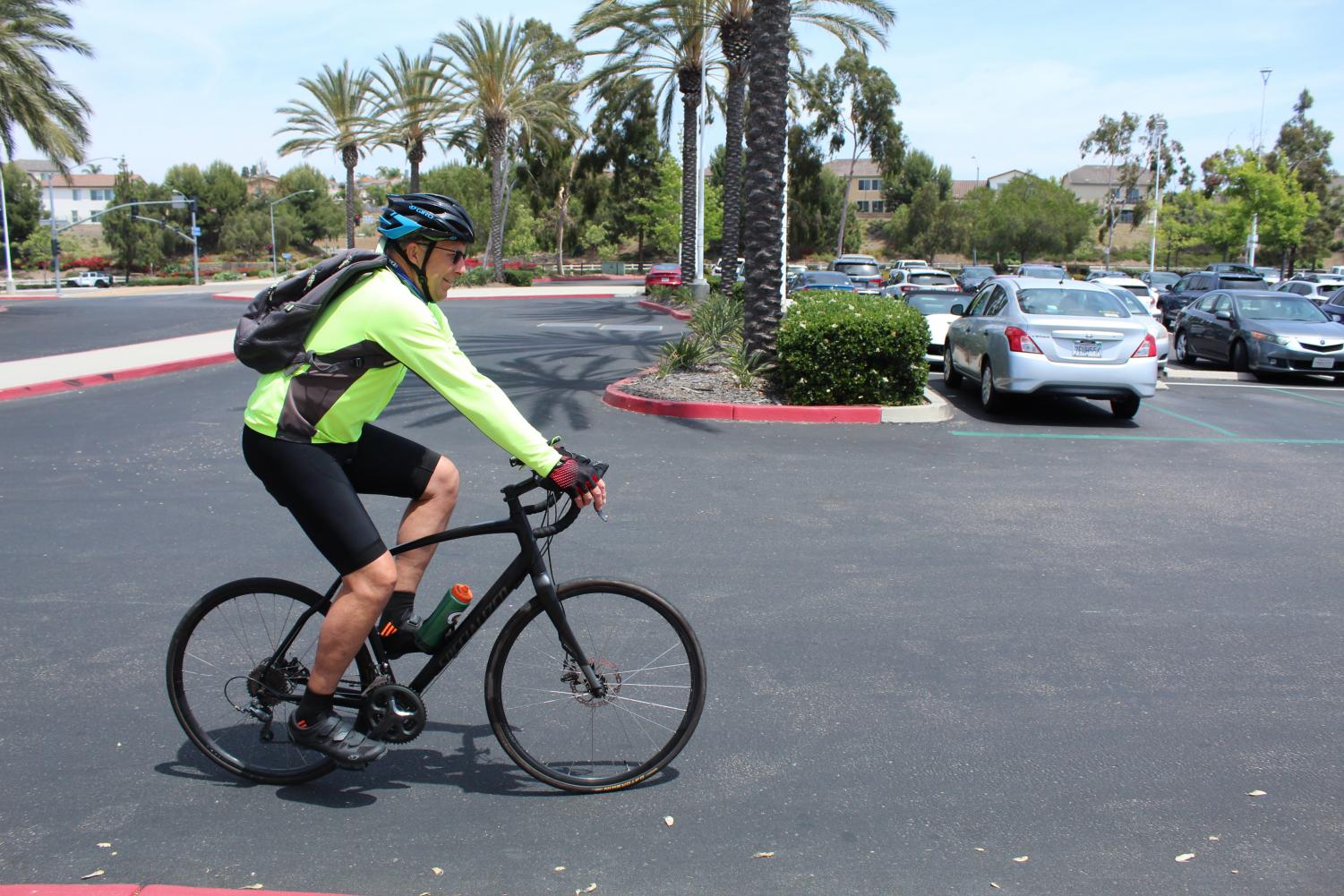 Science teacher Robert Whitney's favorite colors are unpopularly yellow and orange simply because they remind him of a sunrise. Each morning Whitney wakes up at 5:30 a.m. and then at 6:30 a.m. buckles his helmet, puts in his earbuds, and listens to '80s alternative music with songs from Caravan Palace and Oingo Boingo on his bike ride to school. On cloudless days he's lucky enough to see his coveted sun rising. 
"There's refraction in the atmosphere, and you know you can get some of those cool reds and oranges and yellows," Whitney said. "Then the sun's up and then you've got that light sky blue color. How can anybody not feel good? That's the way I look at it— it just energizes me."
This energy has carried him through his 34 years of teaching. However, when he taught at his first school in 1986 at Littlerock High School in Los Angeles, his students were not nearly as energized as he was in the morning. Oftentimes, Whitney said he only hoped some of his students showed up to school the next day. 
Littlerock, he said, was out in the desert with visible mountaintops in the distance in Los Angeles County. Fights broke out on campus up to three times a week and students had to be cautious while leaving classrooms in certain areas of the school. 
It was a difficult start for the "accidental teacher" who was a geology major in college and had no intention of teaching. During his fourth year at Northern Arizona University, he took classes to receive his bachelor's in education because the prospects of a full-time job post-graduation in the poor economy were slim. To pay off some of his college loans, he drove down the state of California from Sacramento to the Sierra foothills handing in physical copies of his resume. He was then hired by Littlerock.
In his first week of teaching, he realized, "this is the best thing ever." However, within his second week at his new job, Whitney said students were preparing to throw wadded-up pieces of paper at him as he was lecturing. This was supposed to be the week he would establish boundaries with his new students. When he realized his students intended to send a barrage of paper his way, he began wadding up his own pieces of paper as he lectured.
"I said, 'Oh, can somebody see what that is,' and I pointed across the room," Whitney said. "Half the class looked over and then I just started throwing papers and we had this massive paper fight. We all laughed and it was great."
He was able to reign the class in afterward and established how it was time to get to work. That day, Whitney discovered that he could be flexible and fun in class but still be respected as a teacher to teach students what they needed to learn.
Whitney's classroom became a safe haven for students where they could hang out during lunch and confide in Whitney when they needed support.
One morning, Amber Soto, a student at Littlerock '96, walked onto campus to see dead rodents a student hung throughout the school. She immediately walked to Whitney's room and he called to get them removed. On another occasion, she heard a rumor from other students that somebody was planning to light the school's trash cans on fire to get out of their classes, so she once again turned to him for support.
"When you feel safe, it's a lot easier to learn," Soto said. "It's a lot easier to open up and to try to do things that you normally wouldn't if you didn't feel safe. [For example,] if there was a discovery activity that I felt like 'Oh if I don't know this, people will make fun of me,' I didn't have to worry about that with him, and it makes a difference."
Soto was in ninth grade when she was one of Whitney's first students in his physical science class in 1992. She said that her experience in the class had opened her eyes to how interesting science could be and it "happened [not just] this one time, but it was an everyday thing."
"If you have that right teacher that teaches [science] in a way that makes it amazing, and that fills it with wonder and [you] with curiosity, that [makes] you want to learn more about it," Soto said. "It continues throughout your life."
Soto also viewed him as a parental figure she could turn to for fatherly advice in the absence of her own father. He helped her determine what her future plans would be and advised her on what he envisioned her pursuing. Inspired by Whitney, she pursued a career in education and is now a director of mathematics at iLEAD Schools where she leads projects such as The Dream Up to Space Program. She'll be flying to Cape Canaveral, Florida to see her students' experiments sent to space and executed at the International Space Station.
"[It] kind of comes full circle," Soto said. "I told him I would love for him to be able to go [to Cape Canaveral] because he was that inspirational person that led me to really love science and to dig in there [and experiment]."
After teaching at Littlerock, Whitney was offered a job at Poway High School but hoped to teach at the newly opened Westview High School where his own kids would attend. 
Having his children at the same school as him created some of his favorite memories at Westview. In 2010, when his daughter Linnea ('11) was a junior, he had her in his Geographic Information Systems class where she would often embarrass him as he walked around the classroom. He remembers her raising her hand in class to yell, "Daddy, daddy, daddy, daddy," in front of all of his students. 
When his daughter first came to Westview, of the 36 students in his Homeroom, only three of them were not his neighbor's children or his daughter's friends. During Homeroom he would bring in bagels, cookies, and danishes so students from other homerooms would flock to his room. He continued this tradition for his son Kary ('14) and during that time he claims he had the "best Homeroom on campus."
Outside of his Homeroom, he taught AP Environmental Science during his first few years, and he said it was one of his favorite subjects to teach because every piece of information he taught his students had real-world implications.
The curriculum gave him the freedom to emphasize the aspects of environmental science he found most important and to poll students on which issues mattered most to them. 
By contrast, in physics, he had to find ways to teach students how to not discount themselves before they had even begun to learn. He often told students how almost 50 years ago he was getting a C in his own high school physics class. Because he remembered the frustration, he had a lot of empathy towards students who had a difficult time understanding the concepts.
"My motto that I tell students is that confusion is the sweat of learning," he said. "So the more confused you are, the better job you're doing, because confusion is not a sign of failure. It's a sign that you're asking the tough questions."
Moving to Westview encouraged Whitney to constantly improve and to develop more engaging lesson plans. The teachers who surrounded him set a high bar he tried to attain as a teacher, which helped him constantly reflect and improve on his own teaching style. 
"I'm never satisfied at the end of the year," Whitney said. "I always think 'Yeah, I wish I'd done that differently, or I love the way this teacher did that.' Ms. Ingram, for example, has this fantastic standards-based grading system. I've watched [Mr. Hubschmitt] teach, and he has this amazing ability to pull in the students that aren't understanding when he's writing equations on the board without even looking at what he's doing. The passion that Ms. Tanaka has; I could go on and on. "
He said he believed that he never achieved the level of teaching he hoped he would, but it wasn't a reflection of his own failure, but a healthy system in which he was constantly striving to improve. In retirement, he said he will miss the opportunity to help students improve.
"I'm lucky enough to be in a field where we talk about evidence-based conclusions and we can show students where to find good information and [how to know] if it's trustworthy to make a judgment on that," he said. "And that's not just science, that's everything that transcends to life in general and where you get your information from and how you draw your conclusions."
When his career as a teacher concludes in a few weeks, he plans to visit every California state park and United States national park as well as slowly walk across every beach in California with his wife. 
He is also committing himself to social and environmental causes as a part-time climate educator or as a member of environmental justice groups, which draw parallels to his time as a geology major. In college, he protested a British gold mining firm opening a mine on the Grand Canyon National Park's boundaries through posing on bulldozers with his friends. Although he was arrested by the Coconino County Sheriff soon after, he will never forget how empowered he felt from the experience. 
"I see that Westview students are concerned with improving our campus [and] our community [and] so many have stepped forward to affect change, [which] takes an amount of courage to do," Whitney said. "It's easy to turn your back and it's easy to suppress expressing and vocalizing what we know needs to happen. I would say keep doing what you're doing, and listen to your voice and make strong statements within the context of kindness."
Whitney, of course, also has smaller goals during his retirement. He intends on hiking, getting into astrophotography, traveling, and gardening to work his way up to becoming a master gardener. And of course—biking. 
"For those of us who feel good most of the time, you can't take it for granted," he said. "I wake up in the morning [and I think]  I'm so lucky I can bike to school; I can bike home from school, and whether it's endorphins or whatever, I can feel much better, [and] I can melt the stress away with a bike ride."
About the Writer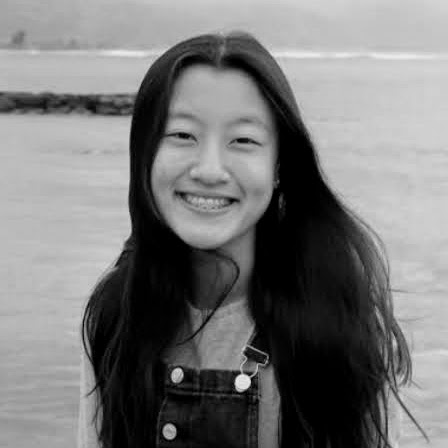 Caitlynn Hauw, Staff Writer
Caitlynn Hauw is a sophomore staff writer for the Nexus. This is her first year as a part of the staff, and in her free time she pursues social activism and writing.