Despite loss to Mt. Carmel, seniors celebrate season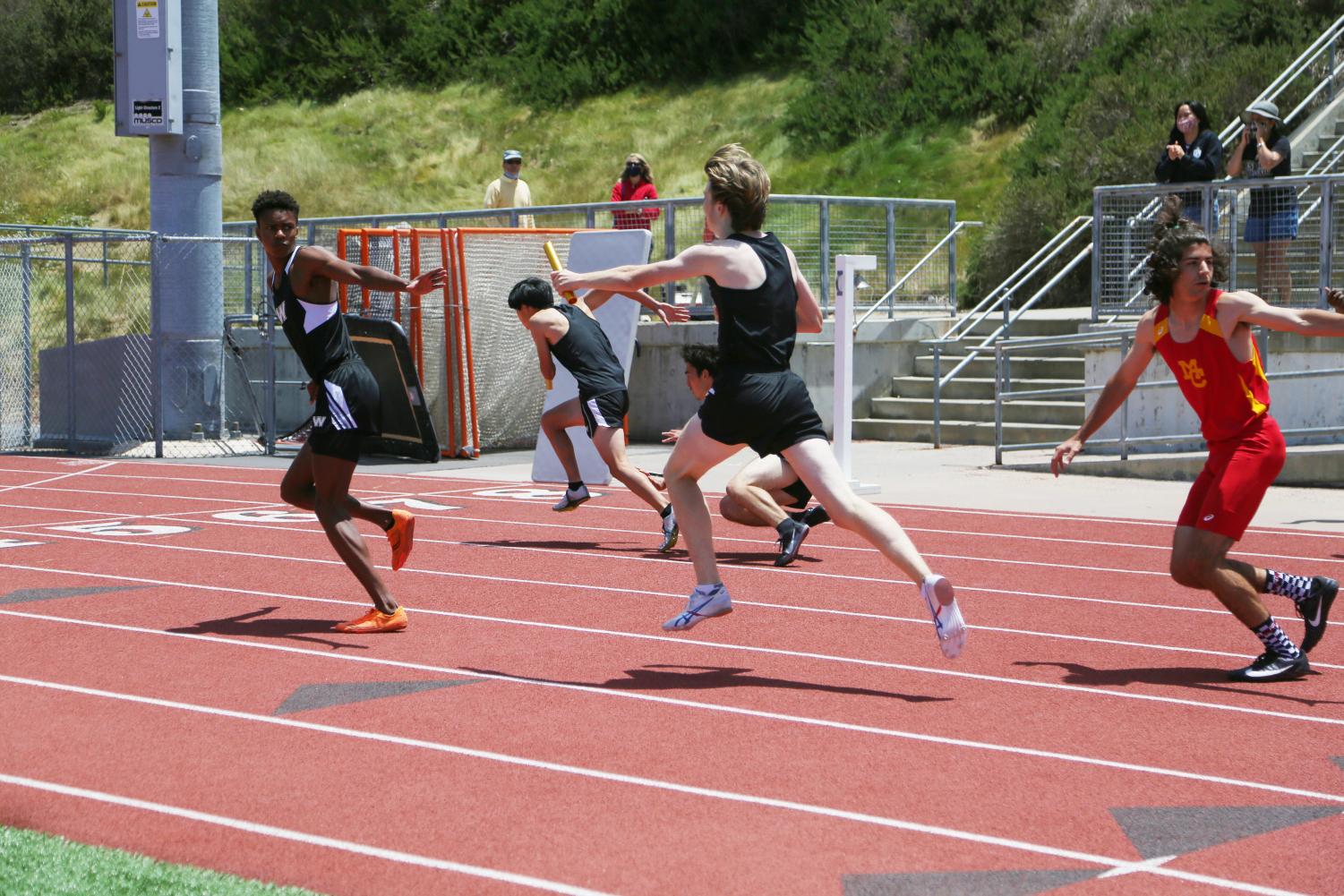 Before the May 23 track meet against Mt. Carmel, coach Eric Dorris gave a small speech about the seniors who would be leaving the team.
"This team has been a very resilient one," he said. "They really stepped up in major ways not only in participating as athletes but also as leaders of the team and in the community. I could not be more proud of what they have achieved this year. They have very bright futures."
Behind him hung the names of each of the senior athletes, made the day before as a sign of the rest of the team's appreciation. The meet marked the end to a shortened season, and for many seniors it was a bittersweet moment.
"Even though we had to struggle through COVID, I'm glad we got to have a season," Ava El-Kareh (12) said. "Obviously it's kind of crazy to look back and realize that this is the last season meet of the year, but I can still cherish the memories we made."
Pushing past her mixed feelings on the season end, El-Kareh placed first in triple jump, as did Adam Labrador (12). Brooke Gorman (12) placed first in long jump, and set a season record for herself. 
In the boys 4×100 relay, CJ Latimer (12), Henry Foster IV (12), James Lince (12), and Bryle Ong (11) placed first.
Outside of individual accomplishments however, Westview lost, boys 92-44, and the girls 101-34.
Despite the loss, the meet was more about closing out the season with a fun experience than it was about success when it came to scoring. For many athletes, it was the last time they would be running before the league meet. To take advantage of this final opportunity, several senior long-distance runners formed a relay team for the boys 4×100 relay race. While Omar Perez (12), Nicholas Brown (12), Nathaniel Lara (12), and Drew Cottingham (12) ultimately did not end up placing, the experience was still a fun moment in a year that has been different from most.
"This last meet I really tried to do something new," Brown said. "I've never run short distance before, but my goal was just to have some fun, primarily, because this is really my last chance before leagues."
Brown, Perez and Cottingham went on to place first, second and third respectively in the boys 800-meter. 
"I feel really good [about how I did] today overall," Perez said. "Just getting ready for leagues was the real focus, so anything else was really a bonus. I'm just glad I can look back at this experience."
At the end of the day, many athletes found value in what they learned over the course of their participation in track.
"Sports has taught me that the work you put in is the results you get out," Brown said. "Track is the kind of sport that you need to practice day in and day out, rain or shine, so it's the hard days that define you. If anything, it taught me to persevere, and that the work will pay off."