Robotics wins Chairman's Award at regionals
When the 80 or so team members of Westview's FIRST Robotics Challenge (FRC) team Option 16 heard the news of their regional Chairman's Award win on May 17, euphoria filled the room at the fulfillment of three full years of hard work.
"I was genuinely shocked," Ella Godun (11) said. "The way that they announce the award at the ceremony is usually by giving an introduction to the winner without revealing the name. So the initial excitement really built up, and there was this question of is it us? is it us? that was really intense until it was finally announced."
Like many of the emotional team members there that day, Godun was near tears. As the future president of Option 16, the emotional payoff that came with the moment was in part triggered by the award's prestige, and the fact that it honors teams that best represent a model for other teams to emulate.
"It was very exciting [when we heard we had won] especially because this year was so different from most," captain Melody Chu (12) said. "We had to contend with a fully virtual season and a cancelled world championship, so this was really a culmination of all of our efforts into a big award that our team has never won before."
At the time, most of the team was sitting outside the ROP rooms at the back of the school together, with a TV set up for the award presentations. For some members, it was the first time that they had ever seen each other in person.
"It was great to see people in-person for the first time, and to celebrate together," Chu said. "Despite the challenges of being virtual, we did just as well and maybe even better than we have done in the past few years."
The long road leading to the win was also a factor, especially because of the sheer scale of work that went into the award submission—which included a 10,000-word essay about the team and a short video that incorporated the theme of the competition, to showcase Option 16's outreach and team spirit—and also the season itself. Because of the award's focus on a team's outreach and community connections, students worked to emphasize their projects in the last three yearras.
"I think we really upped our game in terms of outreach this year, and have been doing so in the last few years," Godun said. "But this year in particular, we really had to rework our entire program because we went virtual. Usually, when we have hardware students, we have them in the machine shop working the drills, but this year not only did we have to make all of our training virtual, we also had to figure out how to make outreach virtual. In addition, beyond just doing the activities, we also had to effectively present them."
In order to give the judges the clearest picture of Option 16's accomplishments, team members found creative ways to showcase outreach.
"We presented continuities in our pre-established community programs," Angela Yu (11) said. "We really focused on how we adapted to COVID because this year's theme was 'game changers' so we went that route and kind of compared and contrasted what we did before with how we learned from it to continue robotics virtually."
Option 16 usually allocates a small group of team members towards a thorough preparation for the interview and presentation portion of the award since 2014. This year, Yu, Anandi Radhakrishnan (11), Jamie Chin (10), and Mia Chen (10) were chosen to present. The group spent nearly three hours each week for a month leading up to the interview preparing and honing their oratory and presentational skills.
"Normally we just have a script that is memorized," Godun said. "That, and some preparation beforehand for questions. But this year, we went all out because of the different virtual platform that we were provided with. We had a really full, fleshed-out presentation that demonstrated our team's passion for robotics."
To work with the theme of "game-changers," the three presenters set up a skit in which they acted as sports broadcasters. Various materials were also prepared, such as Pokemon-like player cards for each member of Option 16. Presentation and material aside, students also had to learn how to effectively answer questions.
"During practice, students are interviewed with a similar format to the Chairman's interview by our mentors and a few seniors," Chin said. "We practiced answering different questions and timing the interview, and developed a script and slideshow presentation."
According to Yu, the award was a nod of recognition towards the robotics program as a whole, including the mentors who have been with the team since the beginning of Option 16's founding.
"This award is meant to recognize a team's work in the past three years," Yu said. "So it's by no means only the work of three people. A lot of team members worked together, even those from seasons and seasons ago, to make it happen, so our presentation was just meant to showcase that."
For members of the team, the end of the season marks a year that has been full of discovery and accomplishment. 
"For me, the award wasn't the only payoff," Chin said. "I loved the experience that I gained. There was a lot of preparation prior to the interview in which I got to work with people I haven't worked with before. I was also able to further strengthen my public speaking and storytelling skills."
Like Chin, Godun also appreciates the opportunities provided by the adaptations made to the season.
"One thing I think that was really valuable was learning how to manage the majority of students that were still virtual once we were allowed to return to campus," Godun said. "I think that kind of management experience, where you had to keep track of two things at once, was really helpful to my own growth as a leader."
Both Godun and Rayyan Nasser (11) were honored with Dean's List Finalist awards, an achievement meant for student leaders who have led their teams and communities in FRC endeavors. 
"At first, when I heard Ella's name I was only really focused on celebrating for her," Nasser said. "But then they announced that I had won as well, it felt like my excitement just went to a new level, one that I didn't even realize I could reach."
The intense euphoria of the achievement was only boosted by the fact that though each team is usually invited to select two members for nomination, rarely do both receive Finalist, due to intense regional competition.
"It's almost unheard of for two people from the same team to win," Nasser said. "So it really felt like one good thing on top of another."
Extensive preparation had also gone into the interview process for Dean's List, and the two candidates had prepared for weeks beforehand with Chu, who won Dean's List last year. Whereas  Chairman's Award is meant to honor teams, Dean's List is the highest achievement possible for individuals, and both Godun and Nasser worked to showcase their own accomplishments. 
"As much as you represent the team, Dean's List award really validates you as an independent person," Godun said. "It was amazing when I saw my name up there, and then right after, Rayyan's popped up, because we got to celebrate together."
Like the Dean's List Finalists, Option 16 will also be advancing. Every team that wins Chairman's Award at the Region or District Championship level this season will be eligible to be a winner or finalist at the FIRST Championship level, so Option 16 will go through a second round of interviews June 4-18. 
Regardless of the coming results, however, the team looks forward to the next season.
"Considering that this is what we've accomplished in an irregular year, I'm really excited to see what's to come in a year when Worlds isn't canceled," Godun said. 
About the Writer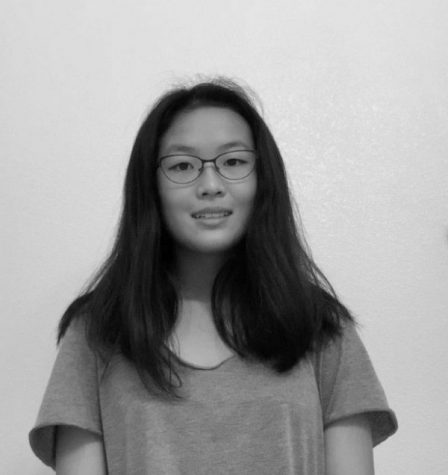 Amy Wang, Web Editor
Amy (10) is web editor for and in her second year as a part of The Nexus. When she has the time to, she writes flash fiction, reads, and spends time with friends. She hopes to major in computer programming, or creative fiction.