Theatre hosts final show of year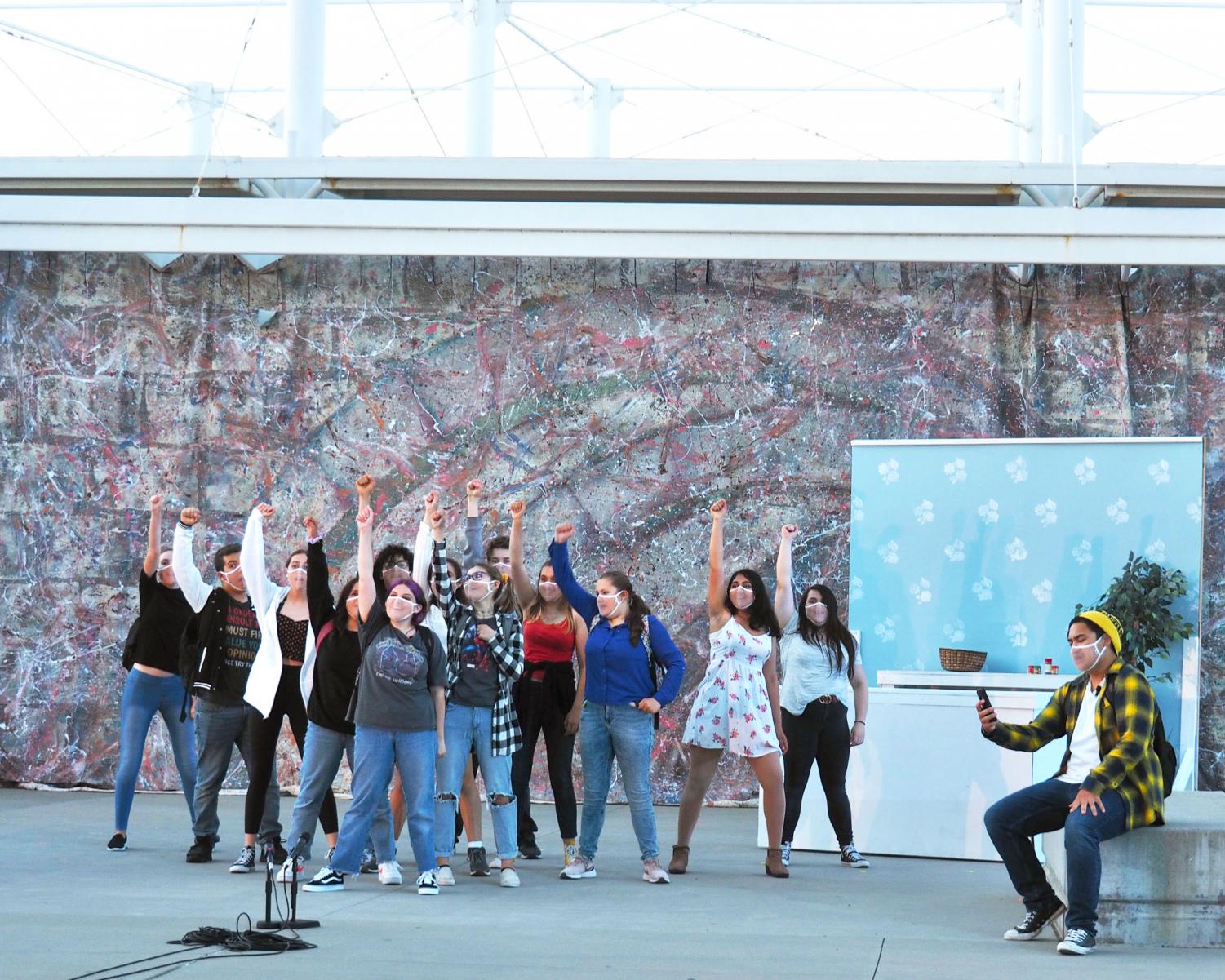 As lead actresses Natalie Dahl (12) and Morgan Montesi (11) stepped onto the outdoor stage, the setting sun and the sound of birds seemed to fade into the distance. All eyes were on them. 
On May 29, Westview Theatre Company (WVTC) performed closing night of Freaky Friday, their final show of the year. Under restrictive health guidelines, Westview was the only school in the district to put on a musical production this year. 
For the safety of the cast and audience, the show was held outdoors in the cafeteria area. 
According to stage manager Amanda Tsai (12), coordinating the outdoor setting was difficult, but nothing that the crew couldn't handle 
Having done two prior performances during the pandemic, WVTC had an understanding of how to put on a production away from the theater, but decided to modify their outdoor layout for Freaky Friday's musical format, Tsai said.
"We had previously done two outdoor shows this year [in the amphitheater], but we decided to switch locations so that both actors and techs would have more space to create," Tsai said. "We decided on the area between the gym and the [cafeteria] after a long production meeting discussing all the pros and cons of the location."
After the setting was decided, it was just a matter of transporting equipment from the theatre across campus, and setting up a functional stage in front of the gym. 
"We had to figure out several technical aspects, including how to put up a curtain, how to create wings, how to store set pieces, and how to get an entire control booth with thousands of dollars [worth] of equipment from inside the theatre all the way across campus—and then actually make it work." Tsai said.
To "make it work," the crew transformed the space, making it unrecognizable as a cafeteria. Black tents made up the wings; a large, black tarp hung along the cafeteria's awning to emulate a curtain; and a tech panel was set up adjacent to the gymnasium doors, all of which had to be taken down and reassembled between dress rehearsals and performances.
According to Tsai, putting in the work with the tech team was well worth it, as she enjoys seeing the end product come to life.
"As the stage manager, I get to see the show evolve from the very first rehearsal to closing night," Tsai said. "And it is so amazing to see how everyone comes together to create something so magical."
With elaborate wooden roll-on sets, professional lighting and sound, and songs with collaborative choreography, WVTC's Freaky Friday showcased the skills of every member of their cast and crew, culminating in a cohesive performance. 
Dahl said she was grateful for the company's innovation and drive, recognizing the added difficulties that an outdoor performance offers. Despite the extra work, she was thankful for the opportunity to perform one last time.
"It's kind of insane, because you're supposed to be able to touch people, and show your emotions through doing that, and also being outside is a big challenge for tech with mics and sets and of course our big backdrop, but it also presents something kind of fun that we have to adapt to," Dahl said. "It's weird that this is my last [show], [but] I'm super glad that we stepped up and found safe ways to do [it], because I think I would have been super sad if we didn't have this and I graduated."
Director Robert Townsend recognized the unique charm of the outdoor performance, though he is excited for an eventual return to the theatre.
"Now that we've been performing outside, there's something wonderful about it," Townsend said.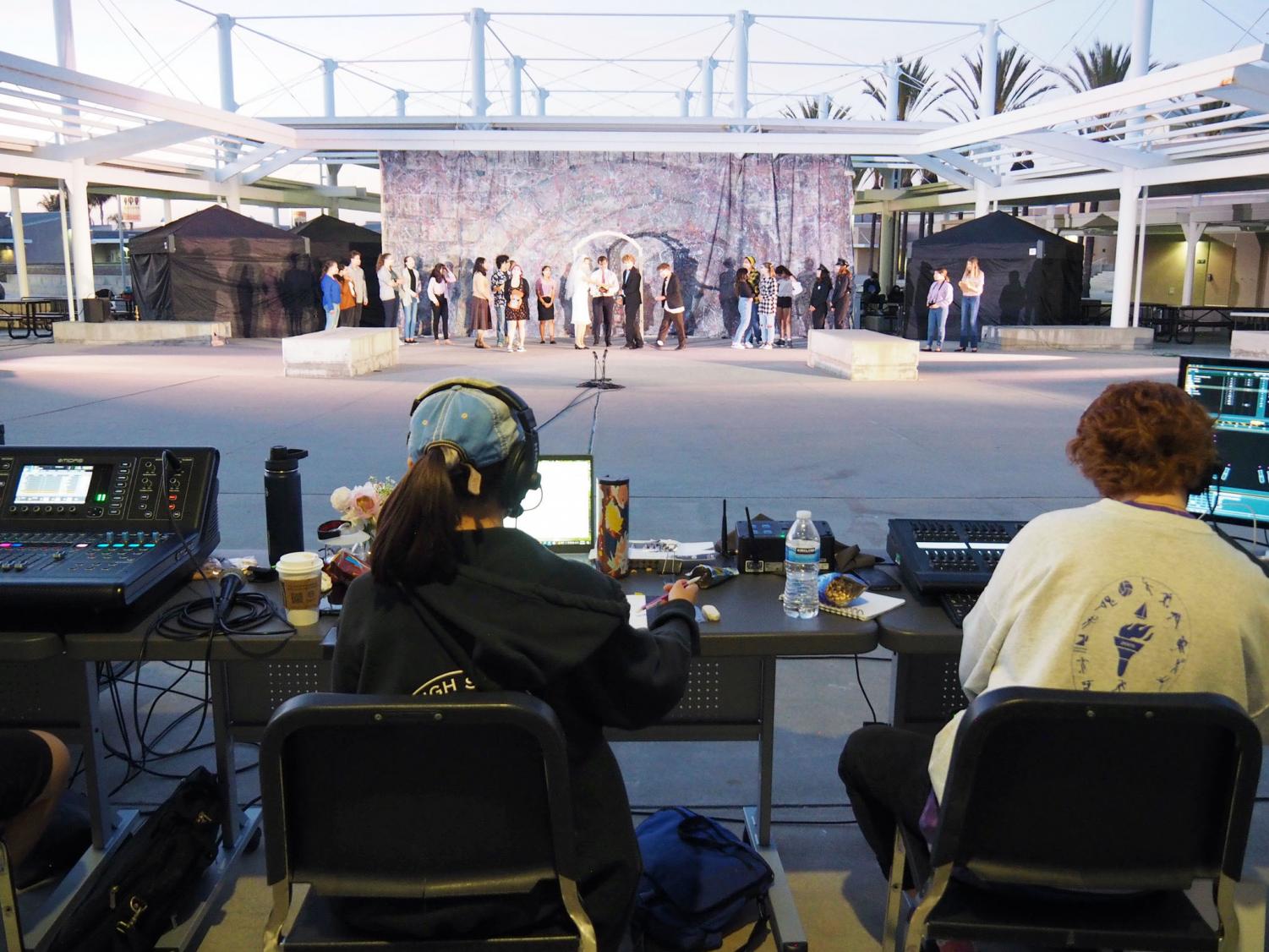 While the setting and guidelines of the show were out of the realm of the usual, some things haven't changed, like the cast and crew's passion for their work.
"I love watching my closest friends doing what they love and having an audience see all that we have accomplished and bring them a little joy too," Tsai said.
Through the hardship and uncertainty of the past year, the show serves as a reminder, not only that students are slowly but surely returning to normal routines and activities, but that the Westview community can rise above any odds.
Townsend said that the performers and crew went above and beyond this year, truly living by the age-old-mantra: the show must go on.
"I'm just super proud of every student involved in this production," Townsend said. "They've worked really, really hard, and I think it's turned out beautifully. It gives me joy to see the joy back on their faces, being back with each other and being able to perform again. It's something that we hold very dear to our hearts, and I've just been feeling very fortunate that we've been able to put on a musical."
And as another class of seniors graduates, the baton is passed to the younger grades for them to make the most of their future performances—hopefully returning to normalcy, but with the additional knowledge gained from this modified year. 
"The future is in their very capable hands now," Tsai said. "Hopefully they will take what we have done for productions like this show and continue to improve."