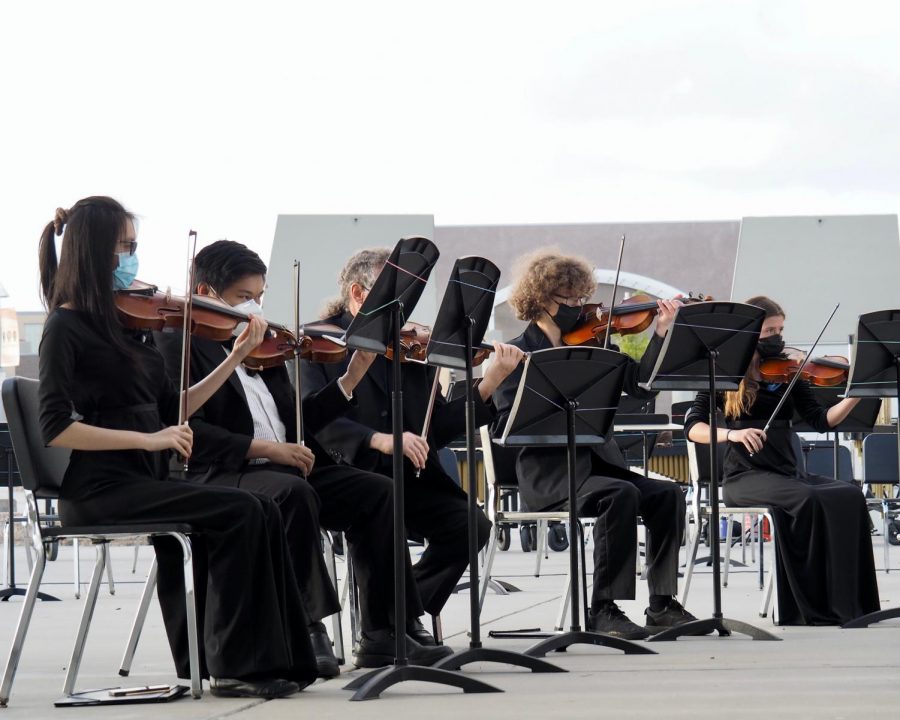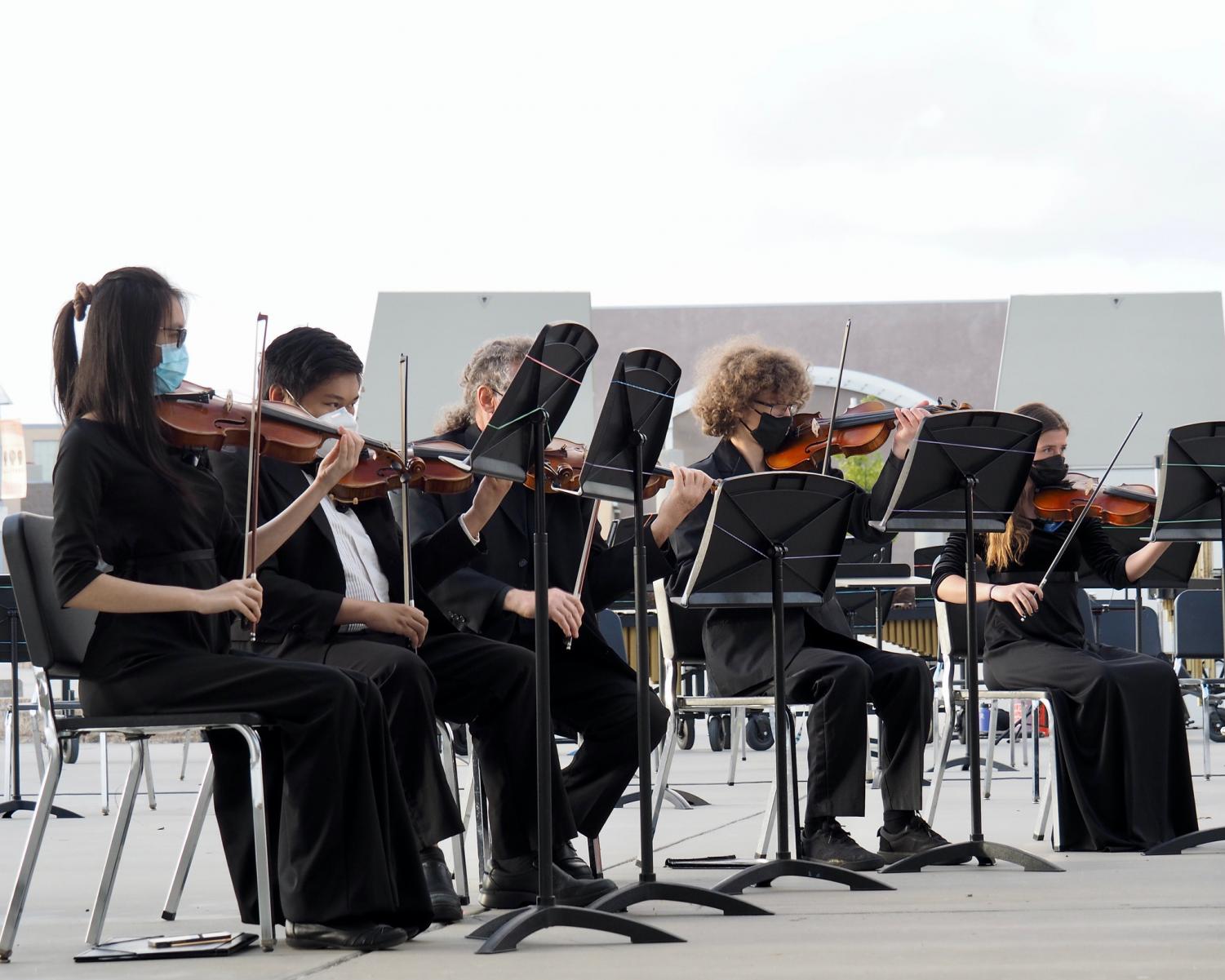 Westview GOLD performed the GOLD Show, their first in-person show since their Winter Show in December 2019, May 20-21. The GOLD Show has been a yearly tradition for band, orchestra, and color guard since the school opened.
Because of COVID-19 restrictions, the show was held in the cafeteria instead of the theater, and did not feature a theme, story, and costumes like it had in previous years. Section performances were not able to be included, and instead will be recorded at a later date for online viewing. Band and orchestra students rehearsed outside, where there was too little reverberation and too much wind. Still, GOLD students pushed through the trials and tribulations to continue their tradition. 
All their hard work culminated in a successful year-end show, trumpet player Sammy Levy (12) said. 
"The GOLD Show is typically one of the performances that makes students the most excited, so we thought it was really important that we have a GOLD Show this year no matter what," Levy said.
According to Associate Director Martin Fierro, the GOLD Show aims to provide a cinematic experience to the audience rather than a traditional concert performance. In the theater, the performers would utilize both curtains to create a seamless stage change, so after each performance the show could continue without disruption. 
This year's GOLD Show wasn't held in the theater, but this aspect of the show was still preserved through a unique setup. Band, orchestra, and Color Guard performed on opposite sides of the cafeteria seating area. After the band played, the audience would turn around and the Color Guard performance would begin, while the band ensembles transitioned behind them. 
"We really try to make it more of a show instead of just a concert," Fierro said. "That's always been our focal point. Instead of making the parents and viewers wait around, we want them to have fun throughout the show." 
Although the new setup proved to be convenient, band students were faced with other unique challenges of performing in a pandemic. Fierro said that the open space of an outdoor environment meant that the band's normal, indoor volume was too quiet for their audience.  
"We needed to play louder, but because [the students] hear themselves more, they tend to play more timid," Fierro said. "That was difficult to overcome. If they aren't listening to each other and adapting, we sound really bad."
Specialized PPE, like slit masks, also made it difficult to move instruments around once the band students began playing, and bell covers on the brass instruments often altered the pitch of their notes. 
"It's definitely something we had to get used to, so there was a little bit of a learning curve at the beginning," bassoon player Mars Whiteside (12) said. "There were times where Mr. Fierro would raise his hands to have us play and nobody would play, because everyone was trying to fix their mask. But I think our musicians did a really good job figuring that out and working with each other."
Fierro said he maintained faith in his students that they would be able to adjust and give their best effort. Ultimately, he said, the band was able to put on a successful show. 
"Some days I would be like, 'I don't know if we can do this,' but they pulled it off in the end," Fierro said. "We got through everything and I am super proud of them."
For Whiteside, the changes in the GOLD Show this year did not take away from a rewarding experience.
"I definitely missed having the big show that we normally have, but I was so happy to be out there and see everybody come together," Whiteside said. "It was a real performance."