Boys basketball buzzer-beater beats Mt. Carmel in overtime
In a neck-in-neck game against rivals Mt. Carmel, the boys basketball team secured a tough but well-deserved 52-50 victory, April 23.
Despite the early lead of Mt. Carmel, Westview was able to make a comeback, leading to a close game, won by a last-second, three-point buzzer-beater shot during overtime by Shooting guard Jack Hirst (11). 
Hirst said the team worked hard at practice every day to prepare for this game and everyone really looked forward to it.
"I think I can definitely say that our entire team was just excited and ready to be able to play against our rivals," he said. "It's always the most anticipated game during our season."
Mt. Carmel took charge and pushed Westview to its limit, walking away with a 10-point lead by the end of the first quarter.
Point guard Jack Boyd (12), who scored three of the nine points for Westview in the first quarter, admits it was a bit challenging in the beginning.
"The team had a rough start but we experienced games like this before, so we knew we could make runs and come back," he said.
Hirst agreed, stating that the team was a bit slow at first but was able to get back into the rhythm after one three-pointer scored by Zachary Fugmann (12) at the beginning of the second quarter.
Coach Kyle Smith said that despite the early deficit, Westview stayed calm and ready.
"There are many ups and downs within basketball games, and we have a lot of experienced players who understand that," he said. 
Westview did not waiver,  determined to even the score. They eventually caught up to Mt.Carmel, constantly scoring three-pointers and denying a majority of opposing points in the second quarter
"We felt good about how our players and scheme looked," Smith said. "Our players did a good job of continuing to execute and we were able to get back in the game."
By the end of the second quarter, the score was even and every so often one school would pull ahead by 1 to 2 points, only to have the lead snagged back by the other team.
"It was expected [that the game] would be close but I feel like we should've pulled ahead way before," Boyd said. "Due to the fact that we practiced a lot and our teamwork has helped us win our previous games."
During the second quarter, there was a complete drought of points, as both teams frantically sped to each side of the court to try and score, only to end up losing possession to the other team.
"Scoring droughts happen a lot, like in our game," Boyd said. "We knew though, that if we kept playing the way we were offensively and defensively, we would get back on track."
Hirst said that the game was very close and neither side lost momentum or strength.
"It was honestly such a back-and-forth game until the very end," Hirst said. "But it was definitely expected from Mt. Carmel."
Despite the close second quarter, Smith said that he didn't sense nervousness from the team at all.
"We have really good senior leadership and that helped set the tone," he said. "Our team enjoys competition and there is no better competition than a rivalry game."
Boyd and the other seniors on the team were able to set a competitive but fun atmosphere, which let the rest of the team follow up and bring up their game.
With the score even by halftime, the coaches told the team to stay strong and on top of the competition, according to Boyd.
"We didn't make any adjustments," he said. "We knew if we kept playing the way we've been, we would take the win."
With the sides switched, and the third quarter beginning, Westview once again looked to take on Mt. Carmel at full force.
The third quarter resulted in, once again, a very close with a score of 37-36 with Westview making a lot off three-pointers by players like Boyd, Max Lonneker (12), and Scotty Krysl (12).
As the game approached the fourth quarter, the actions and plays of both teams became tense and pressed for time. With five seconds left in the fourth quarter, Westview seemed to have secured the win, with a two-point lead at 45-43.
However, in the last 20 seconds, the unthinkable, unexpected, and unpredicted happened; a foul on Mt. Carmel, resulting in r two free throws.
Despite the shaking of the gymnasium from the fans, Mt. Carmel made both free throws, tying up the score and sending the game into overtime.
"It was pretty frustrating but we had to play through it and refocus our energy on winning," Boyd said.
Smith said that the team needed to do their best to move on and keep adapting to the situation.
Despite going into overtime, Smith said that just like in halftime, the team did not make big adjustments at all.
"We did our best to make sure we always had correct personnel in the game to match up against whatever lineup MC was playing," he said.
Down to the wire, the four-minute overtime was just as close and intense as the previous three quarters.
"The last moments of overtime were intense and we were again going back and forth the entire time," Hirst said. "Our plan was to execute our offense and make sure to maintain their point guard."
In the last 25 seconds, Mt. Carmel managed to score a layup and take the lead with a score of 50-49.
"The final scenario was a broken play," Smith said. "Everything was going wrong and we needed to improvise."
In the last few seconds, Hirst received a pass from Krysl. He squared up and took the shot. For a moment the audience held their breath in awe and silence. All eyes watched as the ball sailed through the air.
As the buzzer went off, the ball swished into the bucket and the gym erupted into cheering, the team all rushing to congratulate and praise Hirst, who had just made the buzzer-beater save to seal the win for Westview.
"It was definitely a once-in-a-lifetime feeling," Hirst said. "I'm glad I took the shot."
The entire team and coaching staff were astounded and amazed by Hirst's last-second but precise save.
"Hirst was able to see what was happening and sprinted over to grab the ball and make a very difficult shot that won us the game," Smith said. "Beating your rival team in overtime on the buzzer is just as good as it gets."
After their well-fought victory against Mt. Carmel, Westview wasn't quite ready to settle down yet, as they would play the Sundevils again the following day, this time on their home turf.
"We were all extremely happy and proud for [Hirst], " Boyd said. "However, we knew we had to get ready once again to focus on the second game tomorrow night."
Westview went on to take on Mt. Carmel on their own court, April 24, with a score of 57-50 and emerging victorious in both games against their rivals.
About the Writer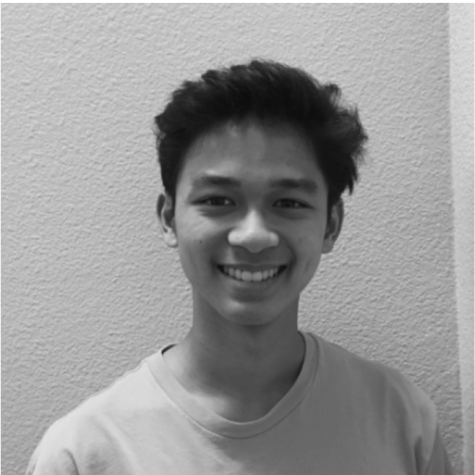 Matthew Flores, Staff Writer
Matthew Flores is a Junior and staff writer for the Westview Nexus. He runs sprints for Westview's track and field team, a part of the Westview Filipino club, Bayanihan, and is very active in his church. In his free time, he plays the piano, skateboards, and watches anime. As known by the entire staff, he always has food on him and is always willing to share, unless it's Oreos.