After two-game hiccup, boys volleyball sweeps Mt. Carmel in match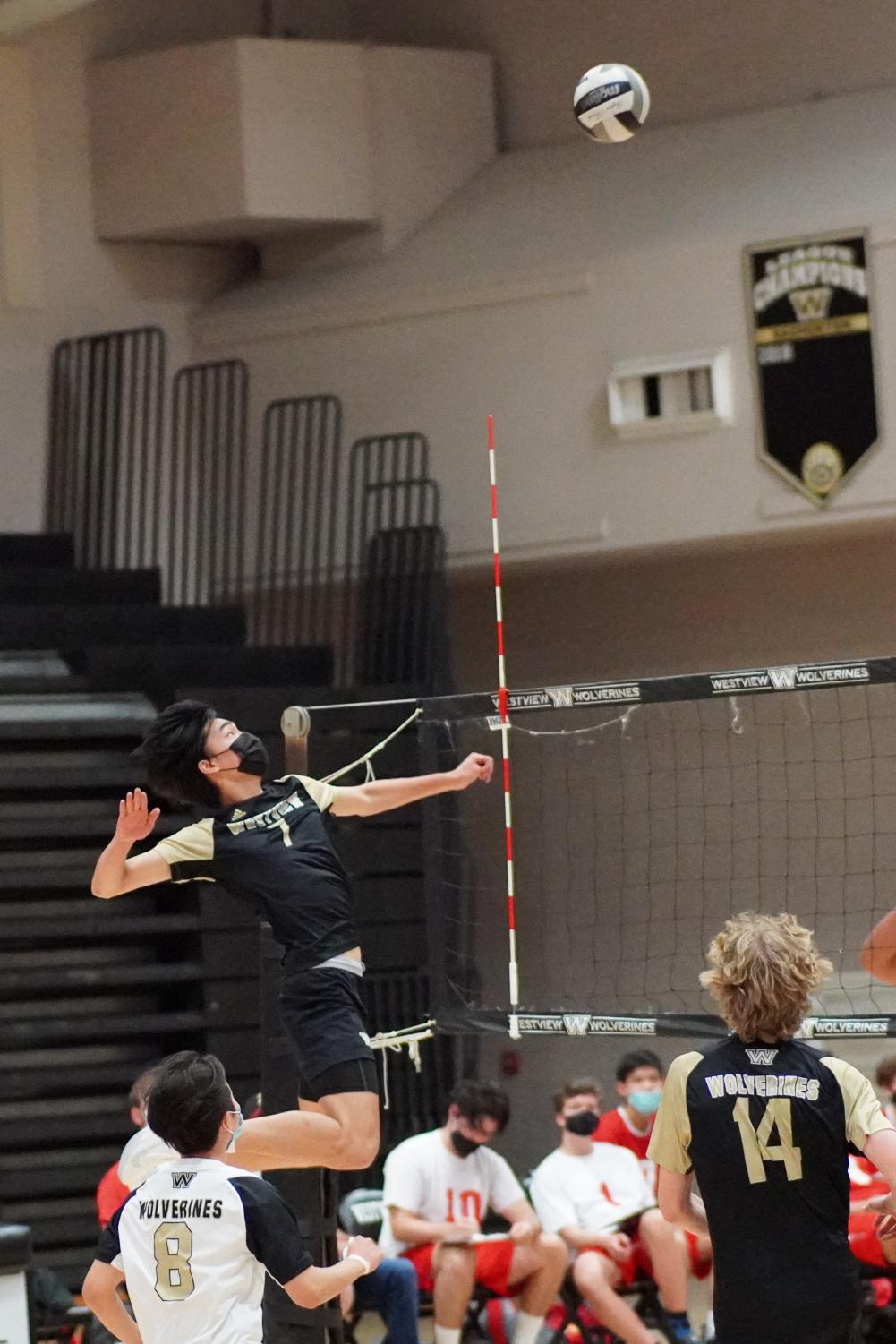 Following a 3-2 loss to Del Norte on May 3, the boys volleyball team came back the next day May 4, with a 3-0 victory over Mt. Carmel.
Late in the season and holding third in the Palomar League, the Wolverines head coach recognized the loss against Del Norte as "eye-opening," and tried to bring something new to the court . 
"We needed to switch things up," coach Mike Amonette said. "We know we haven't been consistent on the court, so even though we hadn't tried it in practice, we thought it would be a good idea to try a few people in different positions."
Most prominent among these position changes was to add a bigger outside block, exemplifying the defensive roles of middle blocker Joel Petry (12) and right side hitter Noah Lim (11). The change proved positive, sparking a strong serving and defensive match.
Westview started off with a dominating first set, keeping the Sundevils off balance with outside hitters Caden Sajnog (11) and Sean Lemaster (12) delivering a series of kills, all while the Wolverines maintained strong defense and blocking. This powerful combination led to Westview taking the first set, 25-15.
Westview maintained its defensive ability going into the second match, and as setter Xavier O'Boyle (11) went on a 7 serve streak, and citing the defense for allowing him to continually serve. 
"My teammates on the bench and on the court really hyped me up," O'Boyle said. "Our defense was on fire, and the guys in the back row did incredible, especially Caleb [Lim], our libero. We really couldn't win without them."
The defense helped lead the team to a 25-18 victory in the second set. 
And though Mt. Carmel started off strong in the third game, the momentum eventually swung in the Wolverines' favor. 
"I get the easy balls and try to make them perfect, and I also try to support everyone on defense and offense," Lim said. "You have to always watch the ball, and expect the unexpected as a libero. We really came together tonight and our team chemistry really carried us through this game."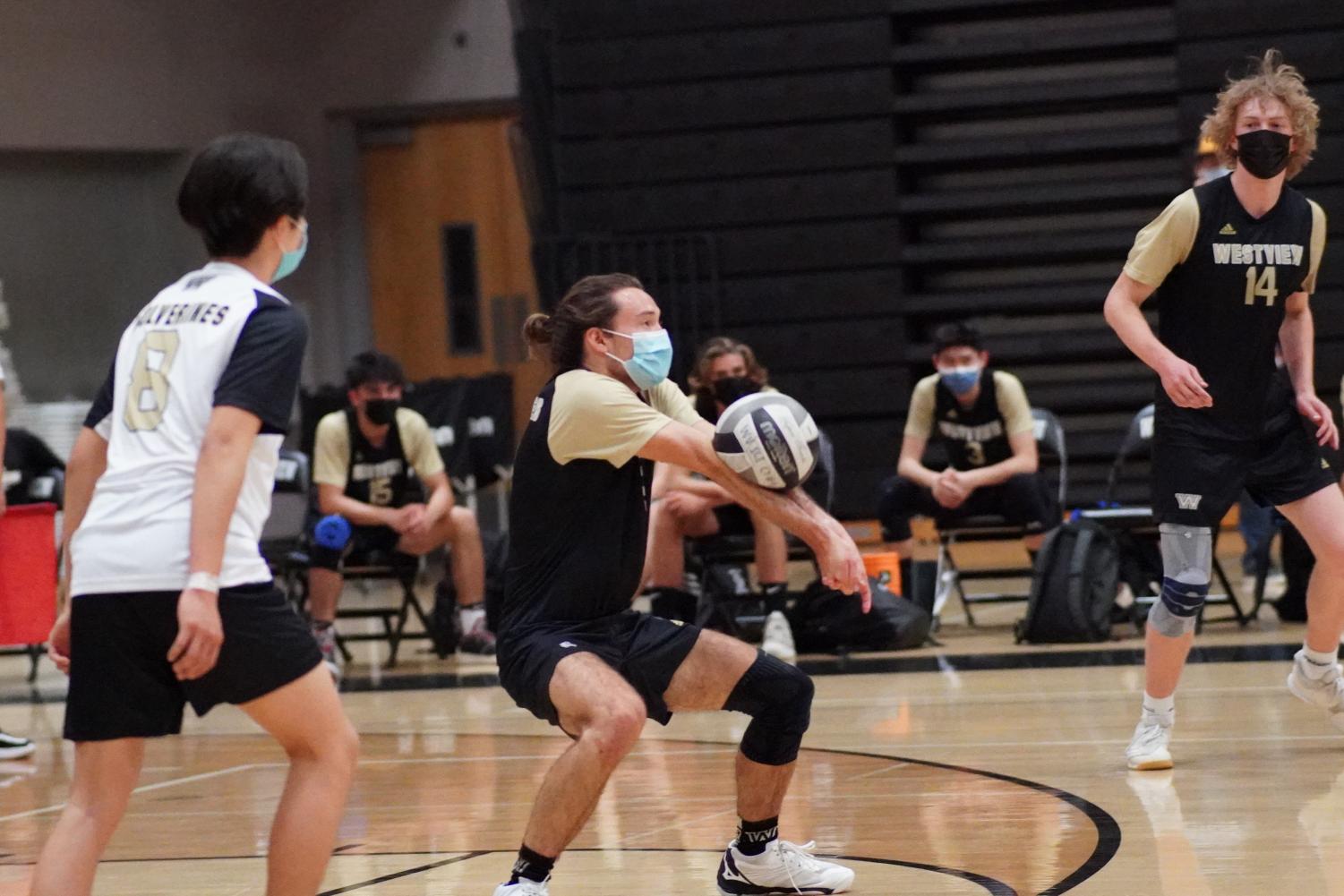 The Wolverines and Sundevils finished a back-and-forth third set with a 25-21 Westview victory, a very refreshing result for the players.
"The loss against Del Norte brought us down a lot," Lim said. "But we talked about it after the game yesterday and I think we're going to improve and become stronger, especially after the match today. It feels good to get a break now, after we played a few tough teams."
Lim's remarks resonated with much of the team, and the unity created by the defensive game was also an important detail in the aftermath of the win.
"We really couldn't win without those strong defensive players," O'Boyle said. "We can't make those hits if we don't have those passes and those digs, and those plays really hype up the team."
About the Writer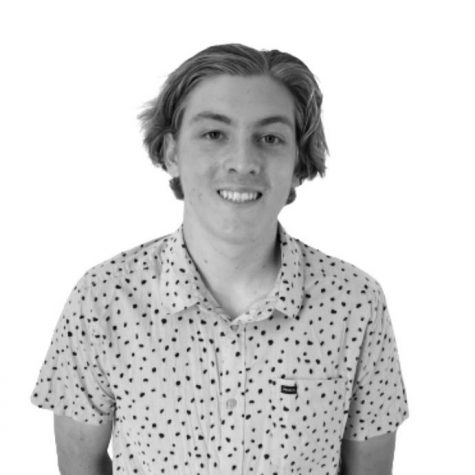 Carter Kangas, Staff Writer
Carter Kangas is a junior at Westview. He is part of Westview's water polo and swim teams. During their respective seasons, he cheers on the San Diego Padres and Seattle Seahawks. In his free time, Carter enjoys taking pictures, hanging out with friends, and listening to music.