Spring Talent Show marks return of all-school campus events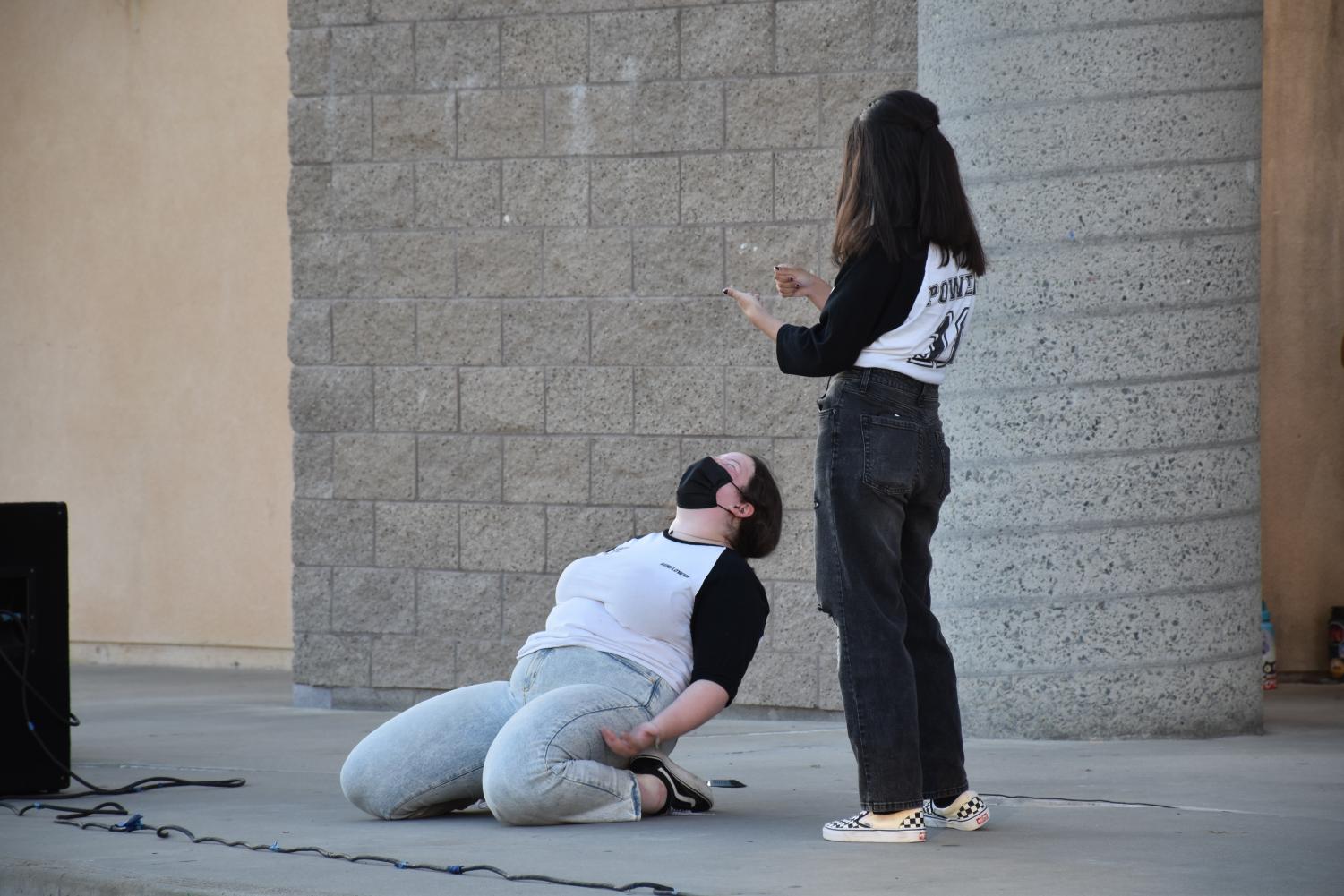 The Spring Talent Show, ASB's first on-campus event open to all students in more than a year, was held on April 30. 
The event abided by strict COVID-19 safety guidelines, allowing a maximum of 100 guests in the amphitheater and ensuring social distancing through separated seating areas. ASB also provided masks for attendees who did not have one. 
The show featured 10 student performances of song and dance, as well as opening and closing acts by Westview Improv. For Montserrat Margritz (11), the talent show offered a rare opportunity to sing on stage during the pandemic.
Margritz performed her original song, "The Odd One Out," during the show. 
"The song I wrote is about falling for someone you shouldn't fall for," Margritz said. "It's something I think maybe a lot of people can relate to."
Margritz's song was inspired by her own personal experiences with friendships and love triangles throughout high school. She said she hopes her song can help people feel less alone as they deal with youth, mistakes, and what she considers "teenager things."
Cameron Carrier (12), who performed a self-choreographed dance at the show, said he also saw the talent show as an opportunity to connect with his audience. Carrier has been passionate about dancing for a long time, he said, but because he couldn't take dancing classes when he was younger, it was difficult to establish himself as a dancer. 
"When I was little, I taught myself how to dance in my backyard," Carrier said. "I didn't start performing until this year, when I did a virtual show, and the Spring Talent Show was my first time performing in person."
Carrier choreographed his dance to Lindsey Stirling's "Brave Enough." Although he enjoyed performing, Carrier said, he also felt it was important to positively impact the people watching him. 
"I was nervous but I told myself I could do it, because it was for the audience and not me," Carrier said. "I wanted to show them that you can do what you love to do. That is why I dance." 
Carrier said he hopes to dance for larger audiences in the future, and considers the talent show a valuable performing experience. His biggest wish, he said, is to help kids like him find the courage to "follow their dreams."
According to Improv Co-Captain Cassandra Nguyen (11), the talent show also presented a much-appreciated opportunity for the Improv team. Because their acts rely heavily on audience participation, Nguyen said, they could not perform at their highest level in virtual environments. 
"During COVID, we didn't get to perform as much in front of a live audience, so when ASB reached out to us inviting us to perform the opening and closing acts, we were all eager to do it," she said. 
Although Improv still had to make adjustments to their acts, like focusing more on verbal games than physical ones, Nguyen said she felt their talent show performance was rewarding. 
As a member of the audience, Jason Heflinger (12) said he felt grateful to see student events restart and enjoyed watching his classmates perform. 
"It was refreshing to feel some normalcy again," he said. "I felt like I was back in the quad during lunch watching the talent demonstrations we used to have."
Shai Davis (10), a first-time Improv performer, said she believed the show was a success for viewers and performers alike. 
"I think any performer, not just Improv, wants to take every opportunity to be on stage right now because we were deprived of that for so long," she said. "It's our way of expressing ourselves and if you hold us back, we're going to come back in full force. That really showed today."
Despite the pandemic regulations and smaller, socially distanced crowd, the Spring Talent Show has marked a welcome return to all-school events on campus.