Girls volleyball closes brief season with win against Patrick Henry
YJ Si, Editor-in-Chief
April 8, 2021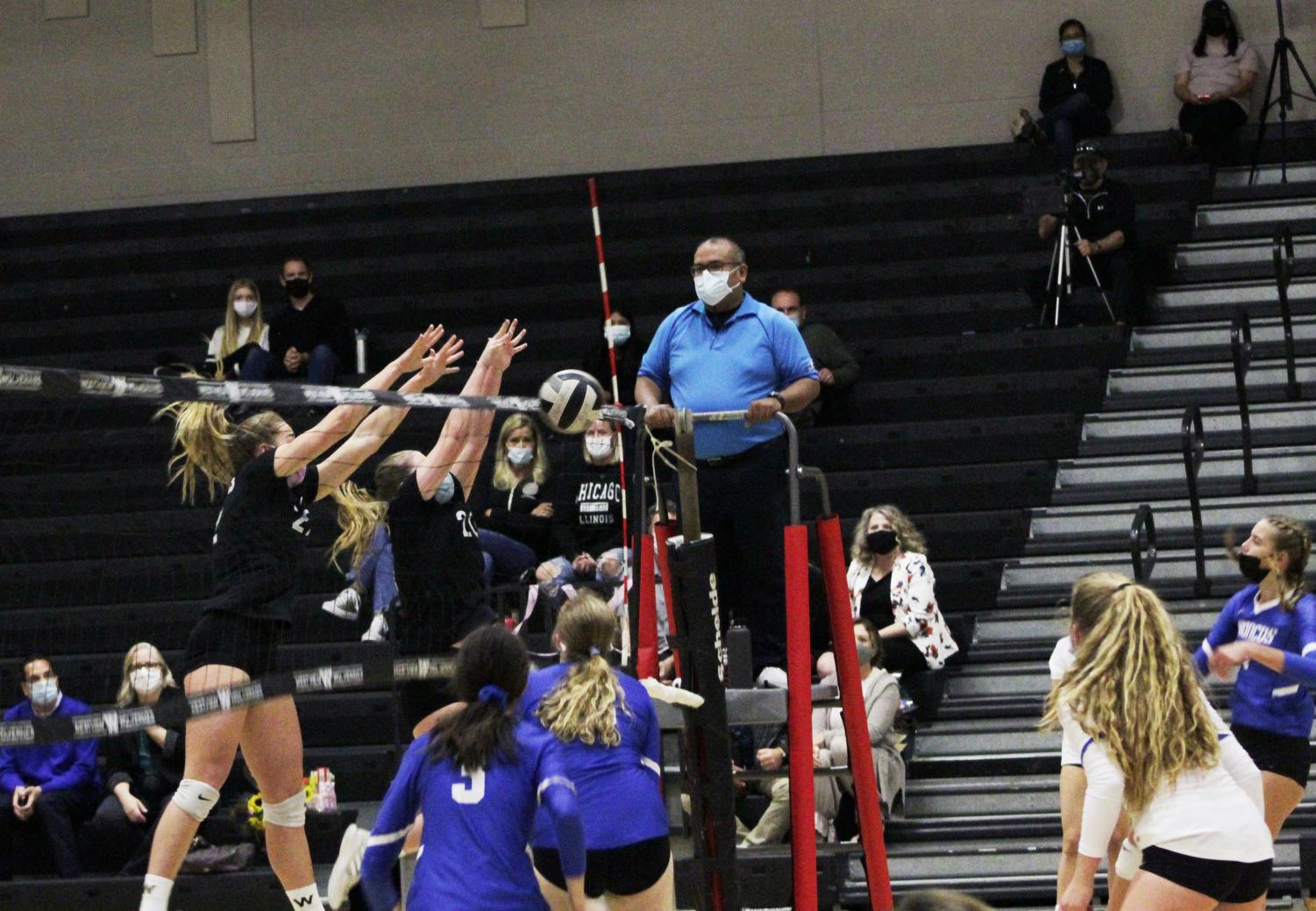 The score was 14-11. After winning the first set against Patrick Henry High School, the Patriots pushed back, taking the second and third set, and the Wolverines took the fourth set. At 2-2, Westview pushed to close out the game. After a serve from Patrick Henry, outside hitter Hailey Cordon (12) passed the ball to setter Alice Nguyen (11). Nguyen set the ball the right-side hitter Mia Fox (12), who closed out the game with a kill, winning the April 1 match 3-2. Overall, this year the girls volleyball team won two games and lost two. 
Amidst the pandemic, sports only began competing in February. Despite their short season, captain and outside hitter Abby Robertson (12) said that she was grateful to even get a chance to play.
"Nobody thought we would [still] be in a pandemic this time of year," she said. "Being able to be on the court, even for a little bit, was really nice."
As a senior, Robertson said she didn't expect to play again at all, much less experience a senior night like the ones she saw in past seasons. Despite that, she said she was blown away by the celebration on senior night before their first home game against Rancho Bernardo, March 22. While not necessarily better or worse than senior nights in the past, she said the way it felt like the pandemic never happened was what made it so meaningful.
Although they lost the game 3-2, Robertson said that getting the chance to play was satisfying enough. 
"We weren't expecting anything big or special," she said. "But [senior night] was amazing. It was the best it could've been."
It had been more than a year since Robertson last played an official school-affiliated game. In the hours before she finally stepped on the court and heard the whistle blow, she said she was anxious to finally start playing. When she did, she said she felt a bout of normalcy, away from the restrictions of the pandemic.
"I think a lot of the girls were sharing the same feelings—we were all crying, happy and sad," she said. "But when we finally got on the court, it felt like we never stopped playing."
Despite this being her last season, Robertson said she felt lucky just to get one last chance to play with her team. 
"It's sad, but we're so grateful," she said. "Watching each other perform and get a kill or a block was the best feeling and we were so, so happy."
After closing out the season with a victory, Robertson said that it was a bittersweet game for the whole team. Despite winning, she said she felt as if the season ended right as it began. Even so, she said that as she continues to play club volleyball outside of school, she won't take a sports season for granted anymore. 
"Back then [in past seasons], I don't think many of us were always super-duper thrilled to go to practices every single day," she said. "It's been a huge eye-opener for every single one of us to see how easily a whole season can be taken from us. Each practice, each game, each play—we made sure to all be grateful for that."
Fox said that the season was amazing even with its brevity. She said that the closeness of the team and its supportive environment made the season mean so much more to her.
"Our team is really tight-knit," she said. "It meant so much that I got a chance to play again with some of my closest friends."
Even though the season was short, Robertson said that the little gameplay she got with her team gave her a glimpse of the strength of the younger members of the team.
"The season was short, but we really have so many strong players," she said. "I'm excited to visit next year for a hopefully full season and watch them play."