Boys volleyball secures victory, celebrates long-awaited senior night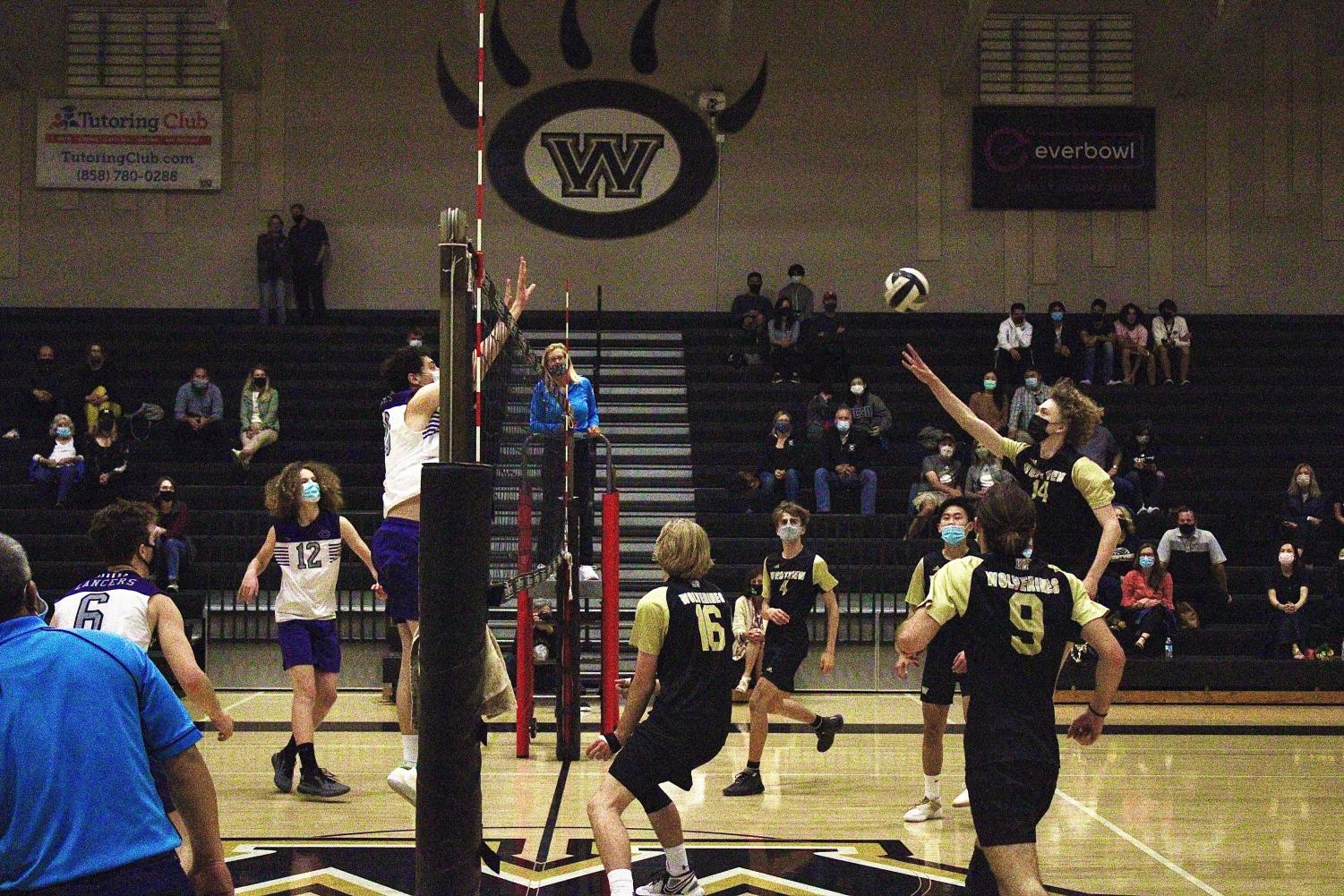 In their first game since the end of the 2019 season, the boys volleyball team claimed a 3-1 victory over Carlsbad High School, March 28. 
Like many sports, the 2020 season for boys volleyball had been cut short by the COVID-19 pandemic, leaving many players questioning what the future of volleyball would be.
"It was surreal to be playing again after our season last year was cut short", said outside hitter Sean Lemaster (12). "At the beginning of this year, we weren't even certain if we would get a season, so just being able to play was awesome."
The volleyball team was ecstatic to hear that a season, though short, was happening. 
"We didn't really have a season last year for Westview," said middle hitter Joel Petry (12). "It just felt really good to play with my friends."
The team was also celebrating its return to the court with senior night. The four volleyball seniors were honored by their cheering fans and teammates, as they began their last season at Westview. For many of them, senior night was nothing compared with being able to have a season and play with friends.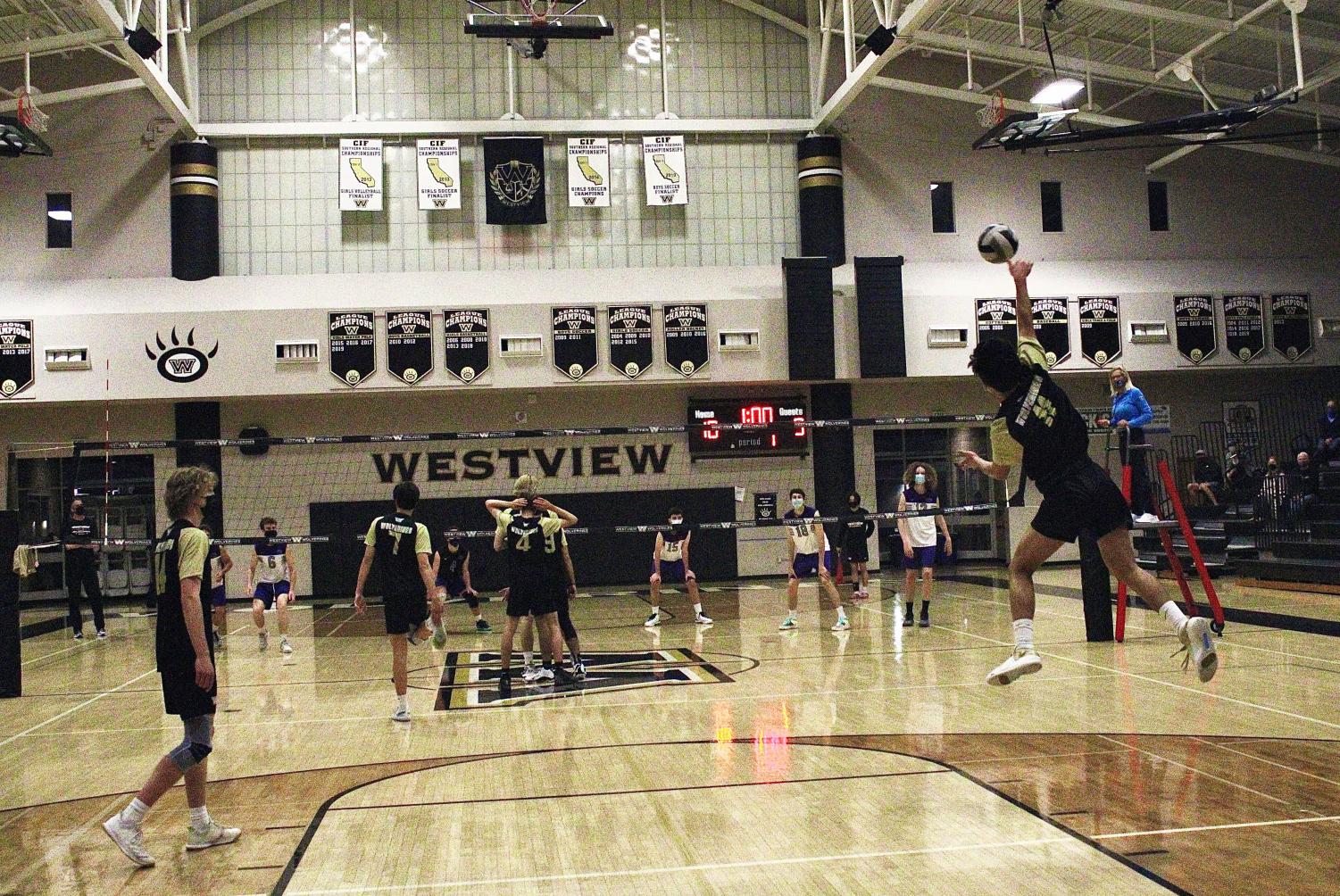 "Senior night was a blast," Lemaster said. "The wins are always great, but nothing beats being able to play again.
The team started out strong, taking an early lead for Westview, and securing the first game with a score of 25-23 after a back-and-forth battle. Westview was also able to capture the second game in a much quicker manner, with a score of 25-16.
In the third game, the Wolverines were startled by a strong serving rally by Carlsbad, losing their strong passing game and momentum in the process. Westview struggled to find a winning  rhythm and an answer to the changing tide of the match, eventually being forced to give up a game, 18-25.
"The serves went off and we couldn't handle it for a while," Petry said. "Our passing just really shut down. [The third set] was pretty close, but we really came back in the fourth."
The Wolverines recognized the mistakes of the third game and came back in the fourth, wielding fresh energy and a renewed sense of teamwork. Aided by a strong defensive game, as well as by outside hitter Caden Sajnog (11) and his spikes, Westview rekindled its passing game and secured the momentum it had in the first two sets. 
"We just had to stay together as a team," Sajnog said. "We had to calm down. It wasn't going to get out of hand if we just stopped to take a breath."
The Wolverines had to fight through another difficult back-and-forth game, eventually rallying back with a series of strong serves and kills, taking the fourth and final game, 25-21.
"It's always good to get that first win," coach Mike Amonette said. "They met my expectations and higher. That was a good team we played tonight with Carlsbad, and it's always nice to get that win over a solid team."
About the Writer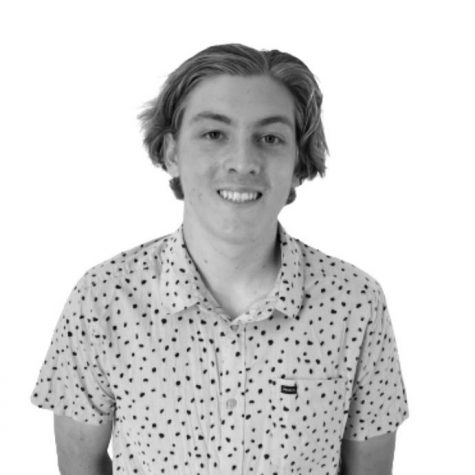 Carter Kangas, Staff Writer
Carter Kangas is a junior at Westview. He is part of Westview's water polo and swim teams. During their respective seasons, he cheers on the San Diego Padres and Seattle Seahawks. In his free time, Carter enjoys taking pictures, hanging out with friends, and listening to music.