Okolo sisters hold fundraiser to purchase racially inclusive books for PUSD libraries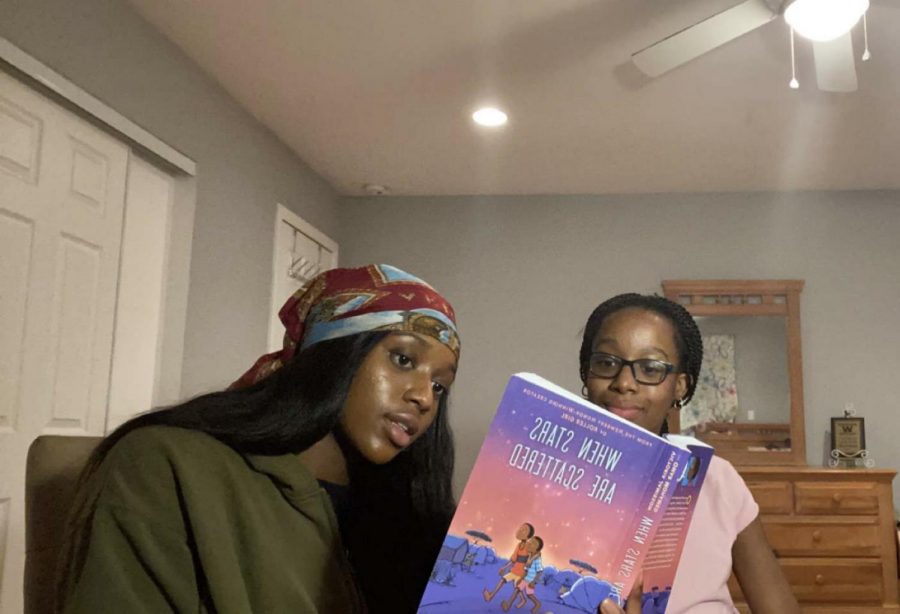 Growing up, Ekene Okolo (11) loved to read. She loved the way the paper felt on her hands as she went to flip a new page, she loved escaping to worlds other than her own, and she loved the imaginative freedom reading offered. However, she was not able to relate to the novels' characters in the way that we'd all like to when immersing ourselves in their worlds.
"As a person of color, I was never able to find books with Black protagonists that I really resonated with," Ekene said. "Almost all of the novels I read only depicted white characters, and the ones that did have Black characters, were almost exclusively centered around racism and made the Black experience seem so negative." 
In light of the Black Lives Matter protests that broke out across the country last June, Ekene and her sister, Nene Okolo ('19), decided to create an Instagram page, Blackinpusd, that allows students of color to anonymously share  their encounters with racism within the Poway Unified community.
"We thought that creating a platform which would allow students to share their experiences would be a great way to bring awareness to the racism that Black students and other students of color face in our community," Nene said. "By showcasing these issues, we felt that this could help us work towards creating necessary changes to prevent these incidents from continuing in the future." 
Since creating their Instagram page, they've accumulated more than 7,500 followers and published more than 500 posts aimed at advocating for racial equality and ethnic, anti-racist curriculum. Their page even caught the attention of PUSD district officials, who reached out to the Okolo sisters about drafting a racial equity and improvement plan that's since been approved by the district's board members. Not only that, Ekene and Nene have also worked with the district to create an ethnic studies course that's projected to be implemented in all PUSD high schools beginning next school year. 
On Jan. 5, the recognition they received for their work with the district went far beyond their initial expectations when the Biden Inaugural Committee contacted Ekene and Nene, asking if they would put together an act of service for the National Martin Luther King Jr. Day of Service on Jan. 18. With less then two weeks to plan their event, they decided to reimagine an idea they previously had to help provide PUSD students with greater access to racially inclusive novels written by authors of color. 
"We originally had plans to create a webinar for PUSD elementary students so we could read them children's books with accurate POC representation," Nene said. "But with the service day right around the corner, we thought that putting together a virtual fundraiser to have racially inclusive books implemented into PUSD libraries would be a great way to get the community involved by abiding by COVID restrictions, while also creating a more sustained impact within the district." 
Within a week of opening their fundraiser, they quickly surpassed their goal of $600 and by the time the fundraiser closed on Jan. 18, they had raised $4,458. With the extra funds they received, not only were they able to purchase two copies of 10 different books for each PUSD elementary school like they originally planned for, they were also able to expand their donations to all PUSD middle schools, which are projected to receive two copies of five different books each. 
Although they had help from PUSD librarians when putting together a list of novels to be purchased, Ekene said that finding books that fit the criteria they were looking for proved to be more difficult than they first expected. 
"We never anticipated the amount of research we would have to do in order to find racially inclusive novels that were also written by authors of color," Ekene said. "Most of the books that we looked into to begin with were written by white authors talking about Black struggles, and I feel like the whole research process that we went through just goes to show how little representation Black people and other people of color have in literature." 
Despite the difficulties they had choosing novels that fit their criteria, Nene and Ekene currently have all 15 book titles selected, such as From the Desk of Zoe Washington, a coming-of-age novel featuring a Black protagonist, and Harbor Me, which is centered around a racially diverse friend group working to overcome their individual struggles while also learning to grow as people. According to Nene, Barnes and Noble is currently processing all 590 book orders and is expected to have them distributed to every PUSD elementary and middle school within the next two weeks. 
While they're hoping to expand their efforts outside of the district in the future, Ekene and Nene said their main concern right now is helping to provide PUSD students of color with more accurate representation in literature that can help them see themselves in a more positive light—an opportunity they say they wish they had while learning to navigate life as people of color in a predominantly white society. 
"After so long of only seeing white characters in books being happy and doing fun things, and only seeing Black characters experiencing racism and shown in a negative way, I started to think that maybe I wasn't supposed to experience joy, maybe that was only meant for white people," Ekene said. "People of color deserve to have accurate representation in literature too. We're hoping that by providing PUSD students of color with greater access to racially inclusive books that showcase people of color in a more positive way, we can help them see that they deserve more than just the discrimination they face in society, they deserve happiness too."
Blackinpusd's Racially Inclusive Book List
Leave a Comment
About the Writer
Julia Dailard, Features Editor
Julia Dailard (12) is in her third year as a part of The Nexus. She is passionate about fashion, photography, and advocating for womens' rights. Outside of school, she enjoys spending time at the beach with friends, thrifting, and traveling. She can also probably guess your astrology sign.