He, Kamath win Award of Excellence for PTA Reflections competition
The Award of Excellence acknowledges skilled artists from across the country in the PTA Reflections contest. This year, Grace He (10) and Anagha Kamath (10) received the award for the representation of the prompt "I matter because…" in their pieces.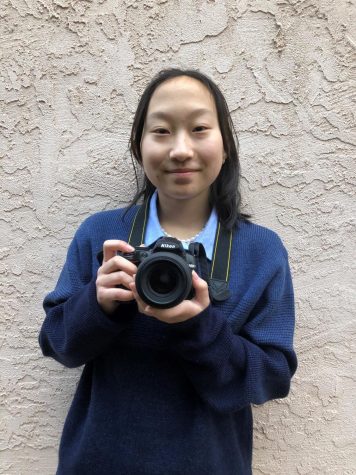 Grace He found inspiration for her short film, "The Children" on a service trip to Furong Village in Hunan, China when she was a freshman. 
"When the opportunity came for me to be able to visit a group of people in need, I felt like I was obligated to do something about it," she said. "We helped the villagers with loans and medical aid and in turn the people there helped me see the world in a new perspective." 
She originally started filming because she thought that would be a fun way to pass the time, but ended up capturing the positive impacts that she was making by talking to the villagers and hearing their stories.
She took a particular interest in documenting the children as they played on a playground and was reminded that even though they may not have what children in the United States have, they have the same hopes and dreams. 
"Making this has definitely reminded me of the value I have, especially during these times where everything can feel pointless," she said. "[The project] helped me reflect and understand that although it might not feel like it at the moment, everything I do has meaning and can impact somebody positively or negatively."
Anagha Kamath "What We Leave Behind"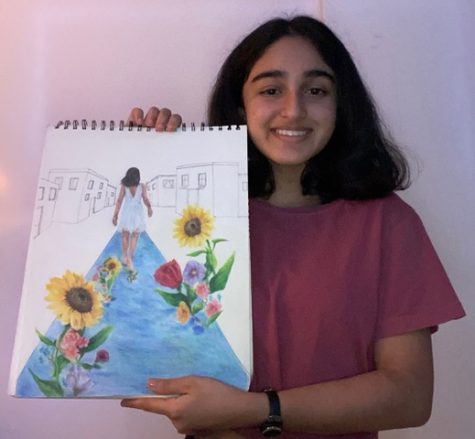 Anagha Kamath used her project, "What We Leave Behind," as an opportunity to experiment with drawing from different perspectives. She drew from the angle of looking up from the previous footprint, which she said symbolizes that every person has the ability to leave a mark where they step. 
"My main idea was that I matter because I have a unique impact that I can make on the world," she said. 
The bare background that the girl is walking towards doesn't mean that the future is bleak—on the contrary, Kamath said that she left it colorless to show that people have a blank slate to make their own. 
"The future is never set in stone," she said. "Rather, it can be changed based on whatever happens in the present." 
Kamath said this project gave her a chance to reflect on how she felt during the majority of the last year. 
"The process of this piece let me think about the ways that I could make a difference, or why I matter," she said. "Because of that, I think this helped me improve morale." 
Archimedes Li (11) and Chloe Choi (12) also received an award, but did not comment for this article.