TV Show Review: Bridgerton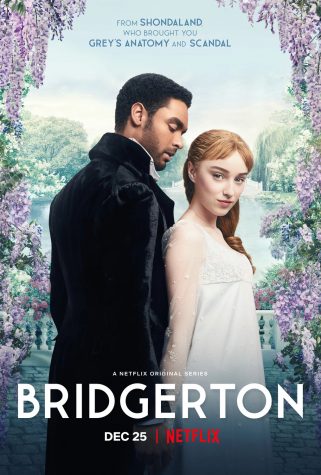 Netflix's Bridgerton, created by Chris Van Dunsen, is an adaptation of the first book in a series of eight regency romance novels called "Bridgertons," by Julia Quinn. The primary story is set in London in the year 1813, and it follows Daphne (Phoebe Dynevor), the eldest Bridgerton daughter, as she enters the competitive marriage market. It involves a series of parties and dances where young women are introduced to eligible suitors in hopes of finding a marriage proposal. 
As Daphne makes her debut in the British society she attends the first event of the season, accompanied by her brother. But her brother steers Daphne away from all eligible bachelors, finding fault with all of them. 
The next day Daphne wakes up excited for all of the gentleman callers, but only receives two. After this Daphne fears that she's losing her "value" on the market, so she comes up with a plan that involves the help of Simon Bassett, who is the Duke of Hastings (Rege-Jean Page). The main plot is centered around Daphne and Simon, but the show also follows the lives of their siblings and different families entering into society. 
At first I thought that there would be too much going on in the show, as there are many side stories and the amount of characters introduced is a bit overwhelming, but the main plotline is surprisingly easy to follow.
And, similar to the unknown blogger in Gossip Girl, in Bridgerton the scandals and gossip are reported to the entire town in an anonymous scandal sheet published by a writer who calls herself "Lady Whistledown." The narrator drops hints throughout the show as to who Lady Whistledown could be, adding elements of mystery and suspense, which makes the show more interesting to watch. 
There are eight episodes of Bridgerton, and they all have satisfying endings that makes the viewers want to watch more. The show is grand, bright and easy to follow. Bridgerton manages to be escapist while also maintaining contemporary themes throughout such as the music. 
Despite its setting and some hints of inspiration from real life events and people, this show is far from being historically accurate. 
Quinn has said, "It's important to remember that 'Bridgerton' isn't a history lesson. We knew we wanted the show to reflect the world we live in today, and even though it's set in the 19th century, we still wanted modern audiences to relate to it." Bridgerton brings in some hints of modern society references, adding, for example, instrumental versions of popular songs such as Ariana Grande's "thank u, next" and "bad guy" by Billie Ellish into the background of ball scenes. 
While old fashion in certain areas, Bridgerton modernizes the narrative with both its song choices as well as casting people of color as key characters. British costume dramas are hardly a new thing, but it's the color-blind casting in Bridgerton that differs the show from other historical dramas. I really like the fact that there is diversity amongst the cast and. Bridgerton creates a world filled with romance and love and hate and fear. 
While there isn't yet solid confirmation, it's highly likely that Bridgerton will be renewed for a second season due to its popularity. Since each subsequent novel focuses on a different Bridgerton child, the second season might follow the order of the books and turn the attention from Daphne to her eldest brother, Anthony Bridgerton. 
Bridgerton has created a world that is easily relatable through its use of modern references despite its fantasy elements. It's an escape from the real world and after binging it in two days, I'm definitely anticipating season two.