Opinion: Once again, debatable Grammy nominations reveal corrupt system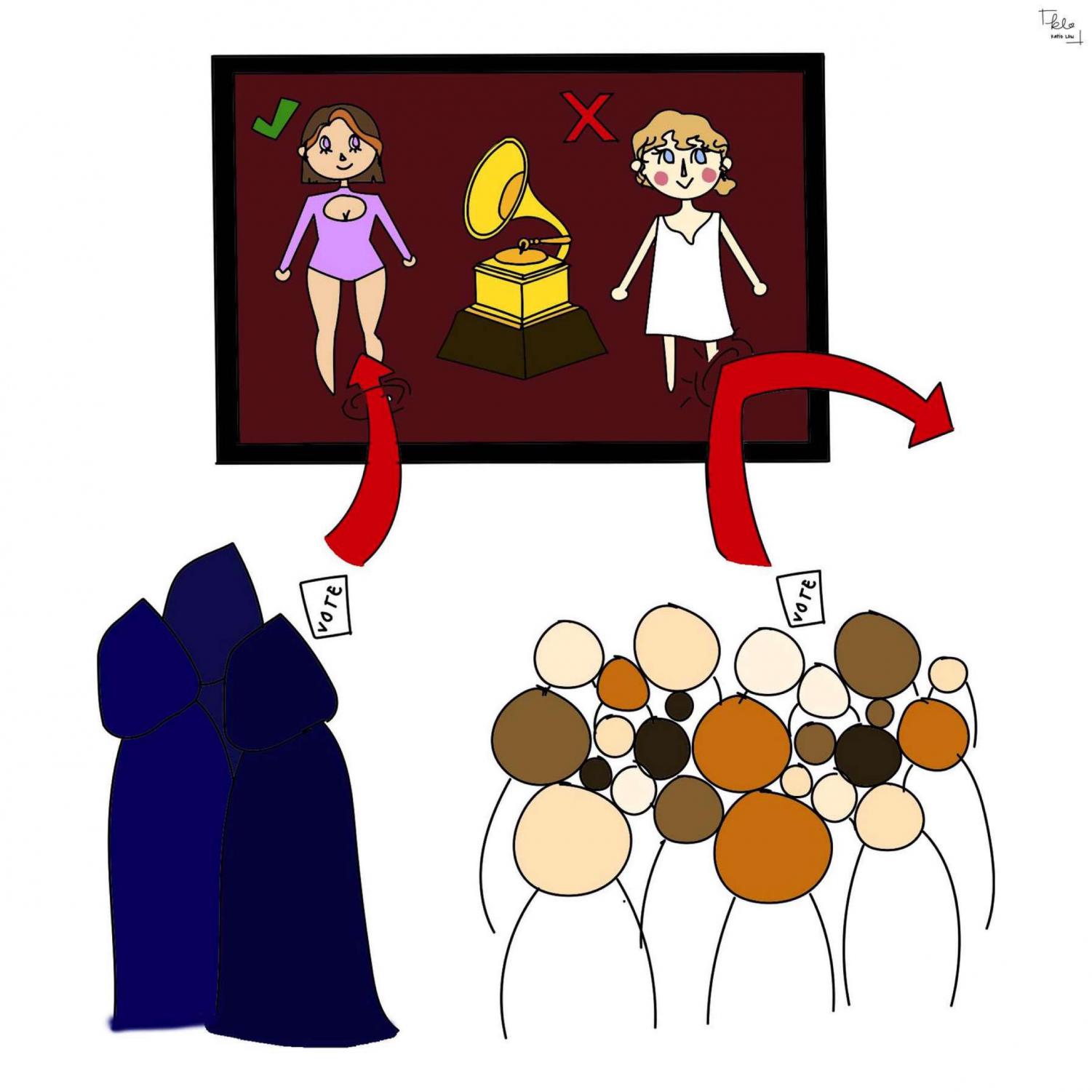 I've always heard that the Grammy Awards are wildly incompatible with popular choice, but I never gave it much thought until I saw it with my own eyes. As I sat at my computer eagerly checking to see what nominations my favorite albums had received, something caught my eye. Something shocking. Something practically criminal. 
The sight that left me in such a state was Justin Bieber's infamous single, "Yummy", sitting at the top of the nomination list for this year's "Best Pop Solo Performance." Someone unfamiliar with this piece may be confused as to why I had a visceral reaction to the nomination, but I guarantee, one listen, and anyone would agree. The song, by most metrics, is awful. Bieber gives listeners an overused beat, heavily autotuned singing, and some iteration of the word "yummy" 55 times in three minutes and 30 seconds. Now, I don't claim to be a musical savant, but if I know one thing, it's that "Yummy" does not deserve a spot on the nomination list.
On the flip side, Abel Tesfaye, known as The Weeknd, performed phenomenally this year on the charts but did not receive any nominations. The most popular music streaming service in the world, Spotify, listed him as the fifth most streamed artist of 2020. His album, After Hours, was the second most listened to album this year, and his single, "Blinding Lights," was the most streamed song of the year, and set the record for staying in the top 10 of the "Billboard Hot 100" for 40 weeks, longer than any other song. The Weeknd's popularity is well deserved, with immersive storytelling and lyrics that he wrote himself, all tied together with captivating instrumentals. 
Tesfaye's lack of recognition from the Grammys is one of many examples of iconic music not being given the credit it deserves at the Grammys. Extremely influential artists such as Nicki Minaj, Katy Perry, Snoop Dogg, the Beach Boys, Diana Ross, Biggie Smalls, and Tupac Shakur (just to name a few) have never received a Grammy. 
The process used to determine Grammy nominations and winners is not a popular vote amongst listeners, but rather an academy process. Singers, songwriters, record labels, and other industry members submit music for consideration, which is then reviewed by 24 small committees of genre experts and sorted into 83 categories. Those categories are voted upon in "first-round ballots" by 12,000-13,000 industry peers (other singers, songwriters, producers, publicists, etc.) who make up the Recording Academy. Based on the Academy's votes, nominations are narrowed down to the top 20 picks, which in most cases go back to smaller nomination review committees of 20-25 people to be further narrowed down to the final nominations that will appear on the ballot. Ballots are then sent out again to the 12,000-13,000 Recording Academy members, who determine winners with their votes. 
 The problem with the Grammys is not the peer review process itself; in fact, the expertise that Academy members are supposed to bring to the table is what gives the Grammys such prestige. An average listener may not be able to recognize musical talent the same way that a professional would.  With music industry-insiders choosing nominations, however, the door is open to potential biases. When a song like Yummy is nominated, one that is produced and performed by highly influential people in the music industry (i.e Scooter Braun, a famous talent manager and producer, and Justin Bieber), which is neither popular with the masses nor shows great musical prowess, eyebrows raise, and for good reason.   
Another instance of a suspicious nomination, and an even more suspicious win, was Alessia Cara receiving "Best New Artist" at the 2018 Grammys. Cara landed a nomination in the category while neither being the best, nor a new artist at the time. Her debut album, Know-It-All, was dropped back in 2015, landing her a spot on the charts with her song "Here." Even if she were a new artist in 2018, her music, although not bad, could never hold a candle to that of SZA, Lil Uzi Vert, or Khalid, her opponents. Interestingly enough, Cara is represented by Def Jam Records, the parent company of RBMG, the label that Bieber is signed to.
Although the Grammys claim to have a fair nomination and voting process, allegations of corruption have come up since the show's genesis in 1959. One of the more recent claims was issued in January of this year, in the final weeks leading up to the 2020 awards. Deborah Dugan, then CEO of the Grammys, was removed from her position and placed on administrative leave 10 days before the show, after she alleged that the Grammys were riddled with sexual misconduct behind the scenes. She also stated that bribery and favoritism played a role in some nominations, causing several artists, including Ed Sheeran and Ariana Grande, to lose their spots on the list. Dugan's claims were vehemently denied by the academy, and she was fired from her position as CEO.
Dugan cited "secret committees" as the reason for nominations straying from the interests of most Recording Academy members and listeners at home. According to her, anonymous board members whose job it is to narrow down nominations for the final ballot often have personal or financial affiliations with artists, swaying their picks and inciting bribery. The anonymity of these committees allows for people with personal agendas to take part, without backlash from the public. In a February Rolling Stone article about Dugan's claims, sources affiliated with the Grammys confirmed her allegations, admitting to having paid to see their interests represented. 
Although seemingly no change has come as a direct result of Dugan's allegations, the audience's dissatisfaction with Grammy results in recent years has led fewer people to tune in. With the 2020 Grammy viewership having declined by 6% from the previous year, it was the least watched Grammys in 12 years, according to Forbes.
The Grammys are clearly a flawed institution, as it has been confirmed by multiple sources to favor artists who have teams that are willing to shell out money for a win. As more secrets about the inner workings of Hollywood come to the surface, it becomes increasingly clear that everything is not as perfect and glamorous as it seems, and people within the industry are willing to go to great lengths for self-benefit. If the Academy were to make the process completely transparent and easy to follow, revealing the names of committee members as well as their affiliations, the show would gain back lost integrity. With bias and monetary agendas involved, the point of a peer review is moot.