Performing arts programs begin returning to campus
YJ Si, Editor-in-Chief
December 17, 2020
Westview GOLD Band/Orchestra
According to Westview Gold president Alex Soriano (12), competitive marching band is currently practicing on the football field Tuesdays and Thursdays during second period. To adhere to California Department of Public Health (CDPH) guidelines, sections are split between days—brass sections go to campus Tuesdays, while woodwinds go to campus Thursdays.
Soriano said that band students on campus are not yet playing music during their rehearsals, as masks must be on the entire time. Instead, band students who opt to go on campus focus on practicing formations and exercises while holding their instruments. For students who are still virtual, Tuesdays and Thursdays are asynchronous.
Despite not being able to practice music, Soriano said that exercising and practicing formations on campus is a lot less restricting than virtual practice.
"When we were all on a computer screen, it was nearly impossible to march, since we're basically teaching ourselves how to march on our own," he said. "It's very nice that even though we are distant, we can just holler over to the side and correct someone's marching technique when they're learning."
Soriano said that competitive marching band is focusing on getting used to holding their instruments and practicing formations in order to prepare for a potential marching show later in the school year, where band students would use precautions like bell covers on their instruments.
Although Orchestra had been on campus rehearsing indoors as of Nov. 10, Westview GOLD director Mitchell Way made the decision to have Orchestra return to a virtual environment the week of Nov. 30 in response to the county reaching the purple tier, according to Orchestra president Esther Jeon (12). Although rehearsing outside was an option, Way chose to bring Orchestra back to a virtual setting as stringed instruments are relatively quiet and thus are more difficult to rehearse with in the open air.
For now, Jeon said that Orchestra has returned to a virtual setting, reviewing theory and sending in recordings of their playing in order to prepare for a virtual winter show, together with compiled clips from band students, which will be released tomorrow. Like at the beginning of the year, they are focusing on bonding activities through fundraisers and Zoom game nights.
Soriano also said that the band program has begun rehearsing formations with Color Guard in the hopes of being able to perform a marching show in the near future.
"Because of the COVID-19 climate, we wouldn't really be able to have a marching band competition like we normally do," Soriano said. "A marching show would be for the parents and other people in our community. We're excited for what we're going to be able to do in the future."
According to Color Guard Captain Rachel Carr (12), the team was practicing on-campus Tuesdays after school, in the spaces in between the classroom buildings and the grassy areas in the quad. The team is on a two-week hiatus from their regular Tuesday practices due to the rising of COVID-19 cases as of Dec. 8. However, as the district permits it, the team began rehearsing formations with marching band Dec. 10 second period, and will continue to do so every Thursday.
Currently, she said that they are going over the fundamentals of using equipment along with some routines. Virtually, the team is still having rehearsals over Zoom, learning various dance techniques, as equipment like flags are difficult to use indoors.
Carr said that practicing in-person gives new members a direct way to talk to veterans and learn more effectively.
"When [new members] were online, it was very difficult for them to understand where they're supposed to put their hands or how much momentum they're supposed to put into their tosses," Carr said. "I can tell that a lot of them have a light bulb go off that they couldn't have when they were at home by themselves. I enjoy watching them grow."
As the Winter Guard season normally begins January and lasts through April, Carr said that the team is looking into possible ways to safely have an outdoor winter season. Like marching band, however, this would not be competitive but instead they would host performances for the community.
"We're looking forward to having our marching show," Carr said. "[For our winter season,] I hope we can compile and perform a show on campus for ourselves and our families."
Dance Troupe has begun practicing on campus, meeting twice a week in the gymnasium to review performance pieces while following social-distancing guidelines. According to Dance Troupe Officer Jade Bucci (12), the team is rehearsing shorter performances that are recorded and posted to the team's YouTube. In the last few weeks, they have been rehearsing a winter concert that will be posted to the ASB Instagram account.
"It's just a way to kind of bring our team together amidst what's all going on," Bucci said. "We've just been trying to keep morale and give at least a bit of an experience [performing] if we can."
Dance Troupe Officer Olivia Dawson (11) said that returning to campus makes practicing and recording performances feel a lot more like a team.
"Being able to practice in the gym definitely brings back the Westview element—it really brings the team together and helps us feel more pride for the school," Dawson said. "Even though we can't actually perform [in front of a physical audience], we can at least be on campus and be in that space."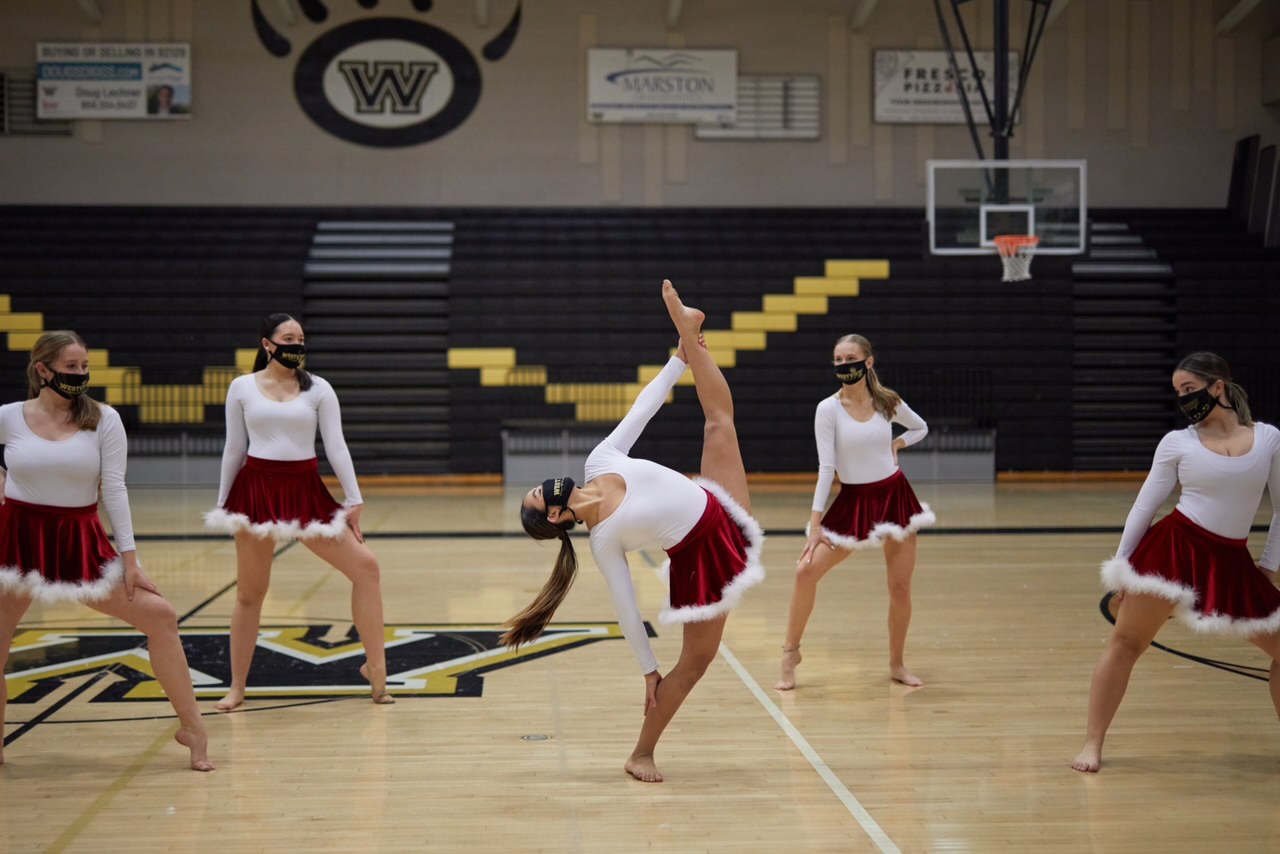 Bucci said that practicing physically is a huge improvement from a virtual environment. She said the extra space and freedom, along with the physical presence of the team, boosts their motivation to be there.
"There's definitely a sort of energy that comes into the room when we're all together versus staring at each other over a screen," she said. "It's a lot harder to motivate yourself to dance on a Zoom in your living room than to go somewhere where you have the space to dance along with your peers."
According to Dance Troupe Officer Alexis Weldner (12), the team is still working out logistics for competitions. Previously, during this time of year, Dance Troupe would be preparing for a competition in January at Rancho Bernardo High School. In the midst of the pandemic, however, competitions will likely be in a virtual setting.
For now, Dance Troupe is continuing to rehearse in person and looking forward to whatever performances or competitions they can do.
"It's about just kind of taking everything with a grain of salt," Bucci said. "We just want to make the most out of the opportunities that we have during this time.
Choir has also returned to campus to rehearse and practice socially distanced, after school in the cafeteria. According to Choir President Sophia Khurana (12), while at first rehearsing in person was difficult, the program is starting to get back into the groove of things.
"When you don't sing with other people, then you kind of lose that sense that you need to really listen to the people around you," she said. "It was definitely a really big struggle when we first all met together to achieve the same sort of harmony we had last year."
As a program that requires projecting with voice to produce music, many choir students have opted to use special masks that don't hinder their ability to sing. Rather than using softer cloth masks, they've chosen to use solid masks that aren't affected by singing.
Khurana said that the members' ability to listen to each other is still something that the program is working on. As they are rehearsing outside, the noise of being outdoors and their physical distance along with their masks makes it harder to hear each other. Khurana says that to combat this, they often have to lower their own individual volume in order to hear each other.
"If we sing out loud, we can usually only hear ourselves," she said. "In order to match the sounds around us, we have to sing quieter."
Despite these difficulties, Khurana said that being in-person has produced a better learning environment for new students. During online rehearsals, members were less likely to ask questions about parts they were confused on. Through on-campus rehearsals, even if it's difficult to hear each person, they are able to point out and review parts that need extra work.
"As a section leader, it's a lot easier for me to know which parts my section needs to improve," she said. "I think it makes us sound a lot more authentic, especially for recordings or virtual performances."
Right now, the program is preparing for their winter concert. This concert, like their last one Nov. 9, will be all-virtual. Members will compile recordings into a full winter concert. 
Khurana said that the program is more used to the virtual performance setting. While she said that they were still figuring things out during their fall concert, they've learned more and will apply that knowledge to their winter concert, which is currently scheduled to release tomorrow.
"We're still mostly online, but being on campus is helping us better prepare for our recordings," Khurana said. "If we can seem even a little bit more like a real, physical choir, that's enough."
According to Theatre Secretary and Treasurer Lexi Hastings (12), the Westview Theatre Company began rehearsing on campus in order to prepare for the "Scenes for Screens" festival, which was set to replace One Acts this year.
Theatre used the space outside the amphitheatre in order to rehearse and record their scenes for the festival, keeping themselves socially distanced. Hastings said that being on campus gave Theatre members new insight and experience in an environment where they do not perform in front of a full audience. After having finished recording, however, the program is beginning to shift back to a virtual setting.
"We've better adapted to a virtual setting [than at the beginning of the year]," she said. "We've gotten much better at setting up different camera angles while keeping good sound input."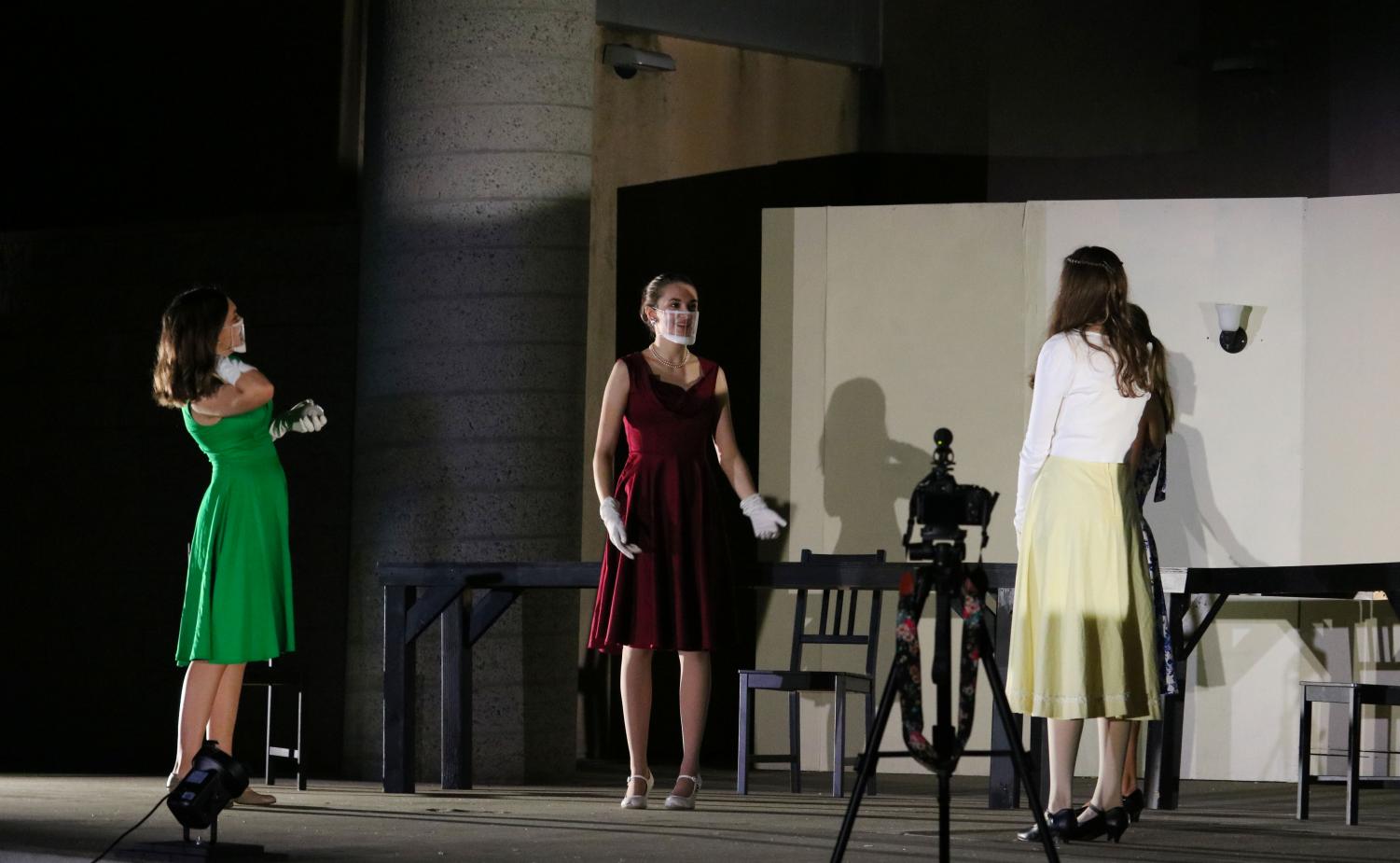 Improv captain and Theatre Company Historian Esteban Marin said that the Improv team had also returned to campus for a period of time, but is now returning to a virtual setting due to the rising COVID-19 cases. Although the team had initially planned a live, virtual performance for tomorrow, it has been canceled.
"Improv doesn't really work in an online format," Marin said. "We want to be involved with the audience, and without that, it's not really fun or enjoyable for anyone. We only really want to continue and perform if it's something that the performers would want to do."
Marin said that Improv is continuing to do bonding activities like Jackbox party games or Among Us to keep the team connected. Likewise, Hastings said that Theatre will also be focusing on their initial virtual activities like play readings.
"It's just a nice way to just get people to stay involved in the company," she said. "We're just trying to figure out ways to keep people engaged, and play readings have been really helpful for that."
For now, Hastings said that Theatre is planning to stay virtual, and she is hoping that there will be a way to perform live for a physical audience in the near future.
"There have been a lot of bumps in the road," she said. "I'm really excited that our company is still able to strive for a good performance, even amidst [this pandemic]."