Liu competes against ping pong world champion
Amy Wang, Editor-in-Chief
November 18, 2022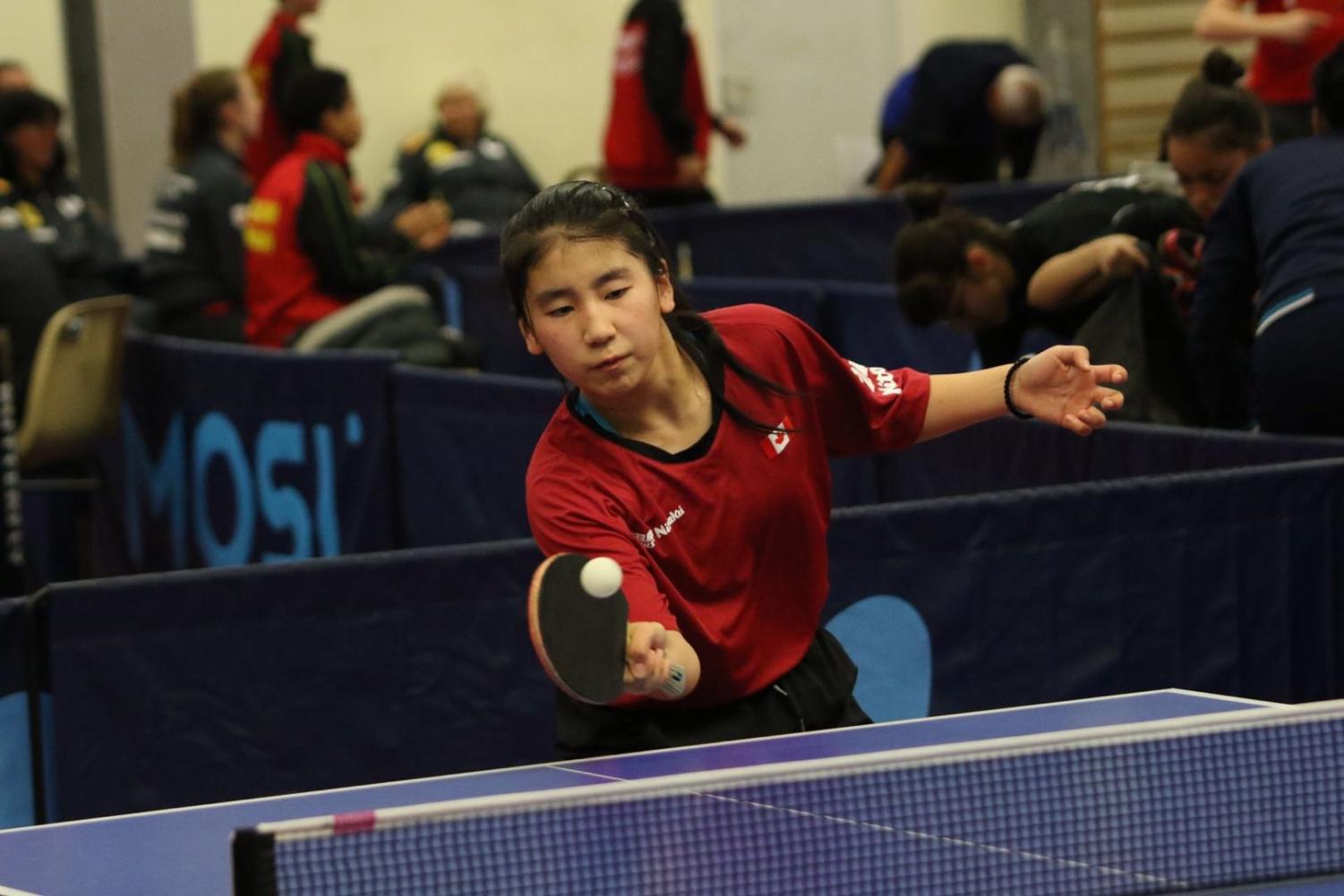 In spite of the 15-hour jet lag, in spite of the ball shooting across the table at light speed, in spite of the fact that her opponent was Sun Yingsha, the current #1 ranked player in women's table tennis, as she peered down the blue expanse of the ping pong table, Crystal Liu (11) felt her resolve stiffen. Even if she couldn't win, she wasn't willing to go down without putting in her best effort.
"I didn't go into [the match or even the tournament] with the mindset that I was going to be able to crush her or anything like that," Liu said. "She was a silver medalist at the Olympics in Tokyo, so the whole time I was just very starstruck and it was very hard to concentrate." 
Instead, Liu wanted to rely on her own strengths to put up a good fight, despite the seven-year age and lengthy career gap between her and her opponent. 
"I've always been a pretty consistent player," Liu said. "I'm a very risk averse person, because I focus on trying to keep the ball in play, but when I'm playing high-pressure matches I always tell myself it's okay to lose, so I'll be more courageous about taking shots without pressure."
Staying calm under pressure is what brought Liu to matches against top ping pong players at the 2022 World Table Tennis Championship Final in Chengdu, China,  Sept. 30 to Oct. 9. 
Liu has been playing table tennis for seven years. In the beginning, she played recreationally, entering tournaments here and there, until she started actually going to Canada to play at age 11. Since then, her career has blossomed. In the latest championship, Liu qualified for the final after winning qualification matches in July.
"During the qualification round in Toronto, we played round robin until the top two players in each group advanced," Liu said. "Out of all of those players, the top four qualified. Mid-August, the final results came regarding who would be on the team, and I was very excited and grateful for the opportunity."
As a Canadian citizen, Liu cannot play for the United States. Instead, at the competition, as she has done before in various tournaments, Liu and the rest of her team represented Canada. 
In this year alone, she's already traveled to Canada twice for big tournaments, missing school for days or weeks at a time.
"It has been challenging to make up work," Liu said. "Especially since it's junior year. [Doing assignments out of class] is not the same as learning in-person, but I'm just grateful to be able to play like I do, even if that means I can't be in class all the time."
By now, Liu is used to the three-hour time difference between Toronto and California. The match in Chengdu, however, was a different story, especially given the nine-hour disparity between Chengdu and San Diego. Having battled the jet lag that accompanied flying across the world just three days before her first match, Liu's biggest challenge was the physical adjustment.
"Our team left Canada on [Sept. 24], traveled three days, and had three days to prepare and adjust," Liu said. "The time zone difference was pretty rough because we didn't really have much time to adjust. We also didn't get to train on-site very often, so it was like I had to adjust to a new environment."
While Liu ended up losing her match against Sun, 3-0, after a close first game, the experience was still an extremely positive one. 
"Traveling on my own [and not with my parents] is something I've done before, but I think this time was really special because of who I met and what I got to do," Liu said. "The highlight of the whole tournament for me was being able to see every player. These Olympic and world champions are people I've been watching since I was very young, so it was crazy that I actually got to meet them."
Besides Sun, Liu also played four other opponents. While she went on to win one of the matches, it wasn't enough to stay in the tournament. The team ultimately left after the first round, having been eliminated Oct. 5.
"We're a pretty young team compared to other countries," Liu said. "At the time I was 15, and my teammates range from 17-21, so I think it's natural for us to be a little inexperienced."
This is not Liu's first foray into international table tennis competitions. As a member of Team Canada, the official Canadian ping-pong team, previously, she's played in six other international tournaments, and should she qualify for them, will be playing in the 2023 Pan American Games.
"I'm really excited for that," Liu said. "I know I should be used to it by now, but just being able to play in so many different places, against such great table tennis players, is one of my favorite things about this sport."