Movie Review: Black Panther: Wakanda Forever
 4.5/5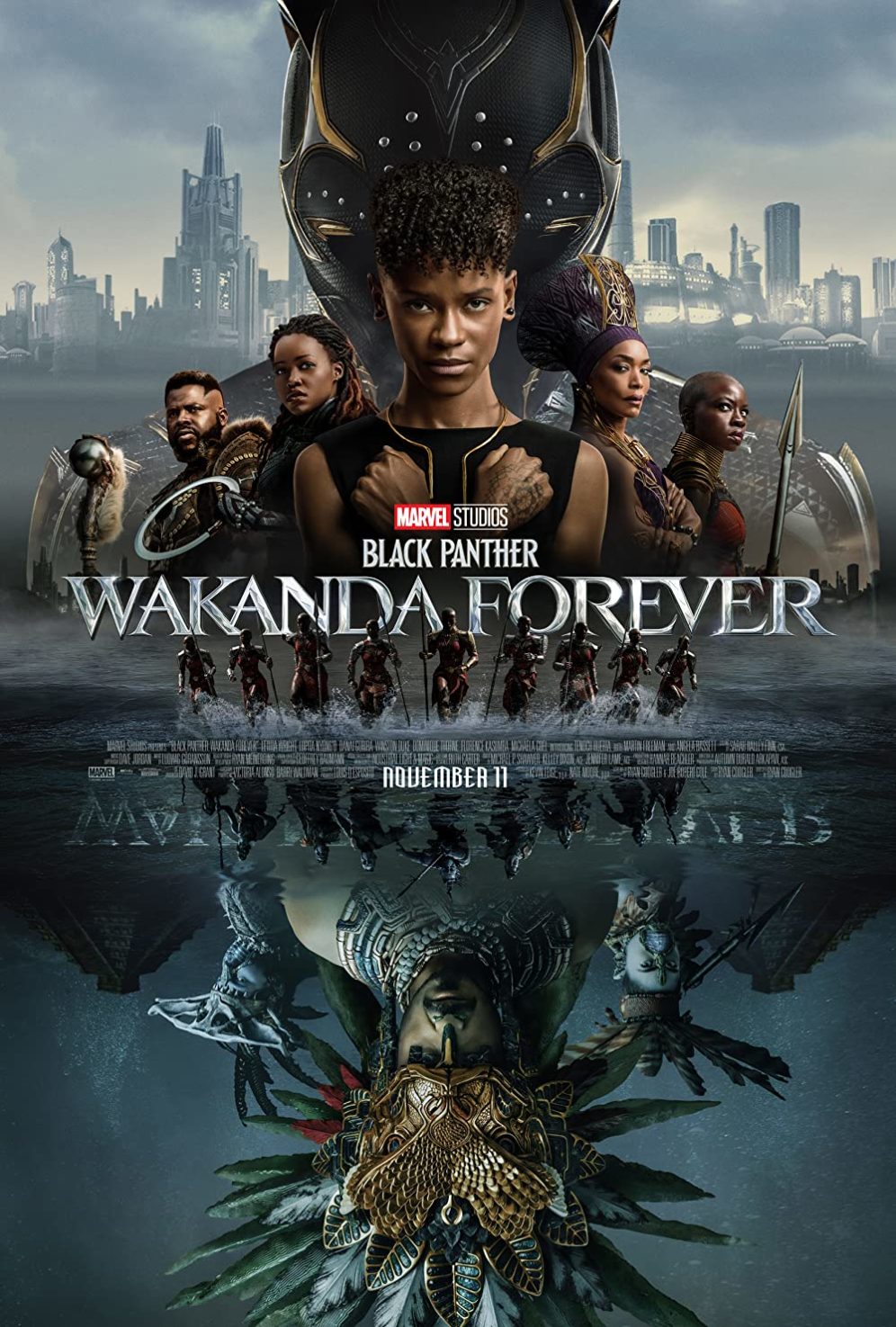 Black Panther: Wakanda Forever is one of the most highly anticipated Marvel films of this year. After the tragic passing of Chadwick Boseman, many fans wanted to see how Marvel would honor his death and continue the story in the  Black Panther sequel. The movie is dedicated to him and begins by  paying tribute to the talented actor.    
The film opens with a tribute to Chadwick Boseman's character, T'Challa, and how the fictional country of Wakanda is coping and trying to move forward from his loss. Viewers can see and feel the raw emotion through the acting of the cast from the loss of T'Challa, especially Letitia Wright, and her  acting portraying her grief of a sister feeling like she failed at trying to save her brother felt so moving that it brought me to tears. Without spoiling too much, Wright's character, Shuri, seeks to avenge the loss of her brother, which was similar to the storyline that T'Challa went through in response to the loss of his father. I thought that the parallel between the two was extremely smart of the director, Ryan Coogler—who directed both Black Panther movies—to show the deep level of their sibling relationship as they go through a similar personal journey. Then, we also see Shuri take on the role as the new Black Panther in this movie, which was compelling to watch her play that part after seeing her mostly as the woman behind the scenes of the action in the first movie. 
One of my favorite aspects of phase four in the Marvel Cinematic Universe, which includes Wakanda Forever, is the incorporations of more diverse cultures. In projects like Shang-Chi and the Legend of the Three Rings and Ms. Marvel, viewers start to see stories of cultures that we haven't seen in past phases. Black Panther: Wakanda Forever continues this trend with the addition of Mesoamerican stories told through the character arc of Namor–a leader of an underwater civilization that refused to be taken over by colonization and fled from Mesoamerica to create an underwater nation–the Talokan. This nation then proves to be just as powerful as Wakanda which would make them a powerful ally or a great threat. The movie follows the ambivalence that Shuri has when it comes to the Talokan as they wish to wage war against the rest of the world before any harm can come to their nation. The only aspect of this film that I wish we were able to explore more of was the story of the Talokan and exactly how their nation functions; which I hope that we get to see future projects delve deeper into details with. 
I loved how a major aspect of the plotline for this movie was led by women. Angela Bassett, who plays Queen Ramonda, was on a whole other level of acting when playing the role of a strong-willed, mourning mother who is trying to move on and resume the throne to look out for her frail nation. Then there was also an introduction to a new female Marvel character who is getting her own movie in phase five, Ironheart. She was introduced as a highly intelligent college student who helps Shuri on her journey to find out more about Namor. Her role in the movie was a bit forced, but I personally cannot wait to see where Marvel takes this.
Overall, I do not believe that Wakanda Forever is better than the first Black Panther, I also don't believe that it is worse. Both films are exceptionally well-produced and written, but they stand on their own and are incomparable. However, I can say that this film is definitely one of my favorites in phase four.