GOLD performs in MC tournament
The whirring sound of gears clicking blared from speakers as GOLD stood in formation at the Mt. Carmel field tournament, Oct. 29. 
For eight continuous minutes, the students maneuvered formation changes and played seamlessly through four movements of repertoire, executing the first full run through of this year's band routine. 
"I was initially very shocked that we were able to perform all the way through as well as we did and place in this tournament," GOLD Vice President Shining Lu (12) said.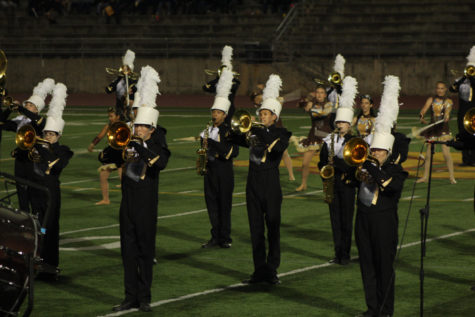 GOLD placed first in the 5A division of the tournament, with Color Guard earning the second highest auxiliary score out of five high schools. 
"I think it came down to the difficulty of the music we performed, and for Color Guard, I think it was the neatness of their formations alongside ours," drum major Mina Hurt (11) said. 
This year, the GOLD show is titled "Anima Machina," chosen by band director Mitchell Way. The show is modeled after a previous GOLD performance. 
"The second movement from the spring show last year was really well-received by the audience, and so we wanted to extend that into a longer, bigger project," Lu said. 
To fit the theme, the show features mechanical sounds and robotic movements. Lu said that the band has emphasized maintaining uniformity in positions and timing. 
"The show visuals are definitely different from past visuals because our movements are less dance-like," Lu said. "We're focusing on making sure there are no disagreements on which count people need to move on."
Given the decreased band size and higher number of inexperienced marching band students this year, Hurt said she feels proud of GOLD's performance, especially because they're only at the midway point of the marching season. 
"Performing at Mt. Carmel gives us an indicator of where we're at and what we still need to work on," Hurt said. "There was a level of competition because there were five schools, but it's not as competitive as some tournaments later in the season."
In preparation for the 2022 Southern California School Band and Orchestra Association (SCSBOA) Field Championships 5A Division tomorrow, Lu said she hopes that their rigorous practice schedule will instill a stronger sense of unity in the band's performance. 
"Cleaning up our form and brushing up on our technique are both things we try to focus on," Lu said. "It comes down to individual improvement and practice, and hopefully it will stick with us in competition through muscle memory." 
Likewise, Hurt said she feels optimistic about the team's ability to perform at championships. 
"I've gotten to see a lot of personal growth in our freshmen," Hurt said. "I'm excited to see how the performance plays out when their hard work has paid off."