PTSA hosts activities at lunch, advocates wellness
The PTSA Mental Health and Wellness Committee hosted an Activity Game Day, Oct. 28, giving Westview students the opportunity to play games like cornhole and Jenga in the plaza. 
Christi Papworth is the chair of the committee, which was founded to help students cope with stress by bringing them fun activities to do at lunch. Several years after its start, the committee has expanded under Papworth's leadership. 
"When I first came [to Westview's PTSA], there already was a committee and they set up games at lunch a couple of times a month," Papworth said. "But after COVID, I felt like we needed to do even more for the students because they had missed out on so much."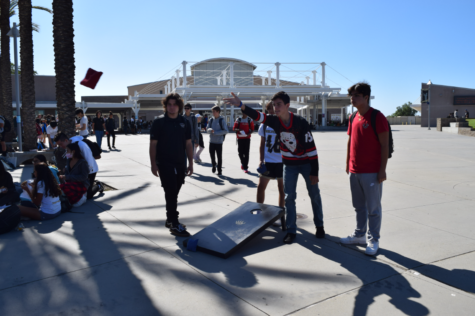 Papworth said that school administrators saw students in need of an outlet and a way to release energy during the school day.
"Students came into the office saying, 'We want to be able to play on the field with just our grade,' which is how the field days started," Papworth said. "There were a lot of students who wanted to do something at lunch, so we started finding volunteers to run the open gym every week. We want to keep talking to the students and finding out what they want so that we can bring more fun things."
The PTSA Mental Health and Wellness Committee will be offering a variety of events and activities for students throughout the year. 
"This year, for the first time, we will have Therapy Dog Days every quarter, the week before finals week," Papworth said. "There will also be Field Days for 9th, 10th, and 11th-grade classes each term. The MH&W committee will sponsor Activity Game Days on the Plaza at least once a month with giant bubbles, giant Jenga, giant Connect 4, corn hole, and board and card games."
Papworth is expanding what's offered by the  Mental Health and Wellness Committee to include more of the Westview community. 
"We're working on bringing in speakers for parents and families," Papworth said. "We have one in the works right now—a psychologist to speak about stress management."
Because of the impact it's had on Westview students, Papworth said she hopes other schools in the district implement a Mental Health and Wellness Committee as well. She spoke at the Palomar Council PTA meeting, Nov. 1, in which other PTSAs in the district learned about the committee's plans for the year.   
"We are the only PUSD high school with a PTSA Mental Health and Wellness Committee and I want it to grow," Papworth said. "I want the other high schools and middle schools to find something that they can do too."
The PTSA student club collaborates with adults in the PTSA to plan activities such as Red Ribbon Week. Natalie Danzig (11) is the co-president of the club, which entails organizing events, managing the executive board, contacting other clubs to work with, gathering supplies for activities, and brainstorming ideas. 
To Danzig, the partnership between students and parents is crucial to planning and executing events.
"Teachers and parents have different perspectives than the students," Danzig said. "They have knowledge that we can use."
For Papworth, the most rewarding part is seeing the positive impact the committee's events bring to the school. She is happy to keep communicating with students to figure out what they need most for their wellness. 
"[I love] seeing how happy the students and staff are and to bring smiles to people's faces," Papworth said. "After the events, students come up to me and say, 'Can we do this more often? We love this.' I want to continue to talk to students and families about what the community wants."
Suggestions for what the committee can bring to the Westview community?
You can email Christi Papworth at [email protected]