Reyes cultivates love for surfing, follows father's footsteps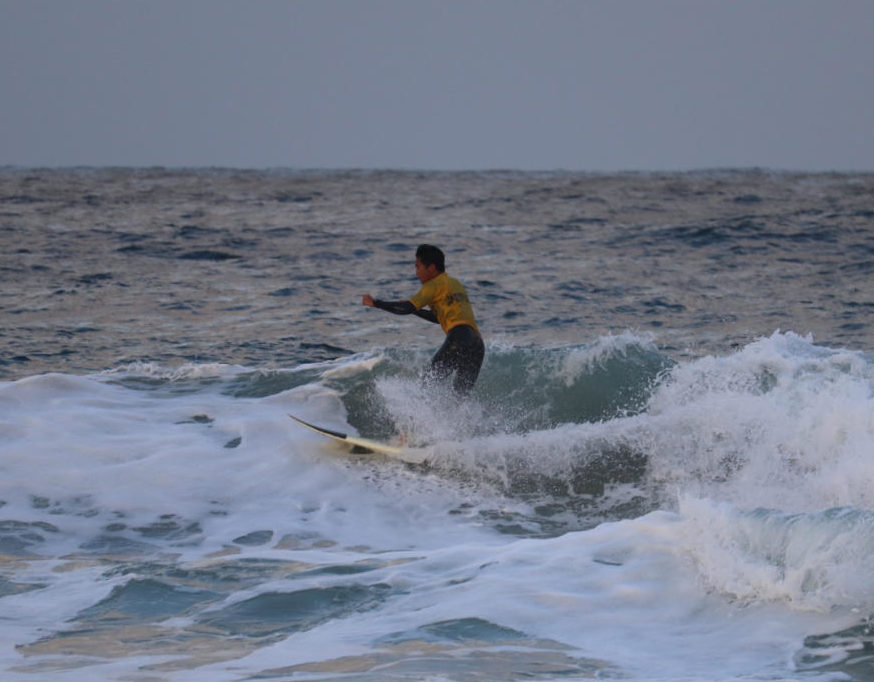 As an avid surfer, Nate Reyes' (12) happy place is Trestles in San Onofre. There, waves come in from the right in bursts that seem almost endless. 
"They're so long, your legs start getting tired," Reyes said. "When I envision the perfect break, that's what I see. Whenever I think of my happy place, I think back to surfing trestles with warm water, T-shirts, swimming trunks, and just taking those godly rights."
Reyes has long held this love for the water. Reyes' family has been an important part of his surfing journey, influencing him to start surfing and hone his skills. 
"I got into surfing mostly because my dad surfed a lot," Reyes said. "Growing up, I would see him come home with all the surfboards, and it just inspired me to want to get out [and surf]."
Over time surfing became a thing that the two could bond over even when they were in choppy waters. 
"In middle school our family was going through a really tough time," Reyes said. "And I think with surfing, especially, my dad and I were able to get super close. Because we went every weekend, it's been our thing."
Nate and his dad, Ed Reyes, are part of the 15th Street Surf Club, a group of surfers who share a communal love of surfing and a positive group atmosphere. The group is led by local surfer Bill McFarlane. 
"At first, [there were] a bunch of small surf crews that were out there, of two or three people who didn't really talk to each other," McFarlane said. "People would get mad at each other if someone dropped down on someone else. And so during the pandemic, I started surfing every day there and realized everybody didn't know each other. So we formed this surf club." 
Nate and his dad have been a part of this surf club for two years now. Because of how often Nate is present at the beach, the members have seen him grow as a surfer and a person.
"We've surfed with Nate's dad for years and we remember when Nate was really small and not that great [at surfing], and I guess it was probably three or four years ago when Nate started surfing better than his dad and his dad is pretty good," McFarlane said. "And we were heckling his dad a little bit about the fact that his son had officially passed him up in surfing abilities, which his dad totally agrees with."
Indelibly, surfing has become one of the keystones of Nate's life. Most mornings, he wakes up to go to 15th Street for "dawn patrol" with the club. 
"You know, usually the kids aren't that interested in getting up early enough to [surf] before school or before work or whatever they're doing in the summer," McFarlane said. "But he does, which I think is pretty cool."
Because of his extensive time out in the water on dawn patrol, Reyes has become more confident in his abilities.
"I think when I was a freshman doing my first competition, I think anyone regardless of who you are is going to be nervous the first time," Reyes said. "I think your first competition is always gonna be nerve-racking. But once you get out there a few times and once you're more comfortable with your skill and everything, you start worrying less."
Most recently in his surfing career, Reyes participated in a competition at Mission Beach, Oct. 23. There, he placed the top of his heat.
"I actually placed the top of my heat just because of one maneuver I was able to do, something I call a floater," Reyes said. "That's when I get my board on top of the wave, and then just pull off and start riding it."
Beyond the flashy tricks, Reyes said his love of surfing comes from the tranquil therapeutic aspects of surfing. 
"In the water, you become more aware of who you are when you're out there, because you're out there in the water for about two, three hours by yourself," Reyes said. "It can empty your mind, but you also just think about who you are, and who you want to be. When I surf, I think I just become much more of an aware person."
This awareness, as well as the many joys surfing on the water brings him, means that surfing as both a sport and a hobby, is an immutable part of his identity. 
"One of the locals at 15th Street told me something that really stuck with me," Reyes said. "He said once you get into it, it'll take over your life and all you think about is surfing. Once you get into surfing, all you think about is wanting to go out in the water the next time. You envision yourself out on the wave and what you're gonna do. And I get it. I think [surfing] has really become part of my lifestyle."