Dance Troupe hosts annual clinic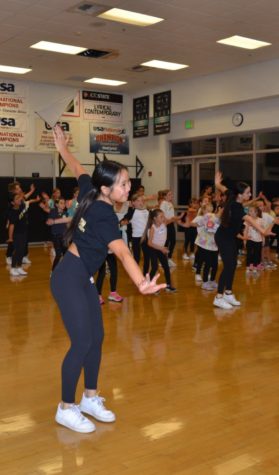 As Dance Troupe officer Jacqueline Tran (11) walked down to the stadium with a younger dancer for the football halftime performance, she was happy to hear how eager the clinic dancer was to perform.
Westview Dance Troupe hosted its annual dance clinic, Sept 30. The clinic was an opportunity for kids ages 7-14 to learn dances with Dance Troupe members and perform during halftime at the varsity football game later that day.
According to Tran, the clinic also allowed Dance Troupe members to learn leadership skills by choreographing the dances and teaching them to the younger kids. Football halftime is usually choreographed by the Dance Troupe officers, but the clinic is choreographed by other dancers, which gives them an opportunity to lead.
Participants were broken up into three separate groups categorized by age where they learned the dance routine they would perform during halftime.
During the halftime show, Dance Troupe performed their normal routine, followed by a performance from the group of younger clinic participants, and then the group of older participants. 
During the clinic, the dancers worked on their musicality, which is how a dancer counts the music so they know when to do a certain move. One of the songs that helped the younger dancers was improve on this was "Survivor," by Destiny's Child. Older clinic members worked on more advanced choreography, which required faster paced songs like "When I Grow Up," by The Pussycat Dolls.
The performance was concluded with a routine performed by the entire Dance Troupe and all 80 members of the dance clinic. 
Mackenzie Hyunh (11) was one of the Dance Troupe members who helped lead the clinic. It was her first time leading the clinic and she was excited to interact with younger kids who shared an interest in dance.
"The little dancers are more drawn to these performances and they're more enthusiastic," Hyunh said.
According to Tran, many of the younger kids have experience with ballet, but the clinic taught hip-hop. 
"[The clinic] provides a fun, safe space where you can just hang out, dance and learn new styles," Tran said.
Along with this, there were varying levels of experience between participants, ranging from very experienced to first-timers. Tran said this made it even more special because it allowed everyone to come together and have fun.
Hyunh enjoyed connecting with the younger kids and hoped to inspire them to return next year.
"When you do the clinic, you're a part of this high school community,΅ she said. "You can make good memories and maybe decide to join Dance Troupe in the future."