Westview receives Blue Ribbon Award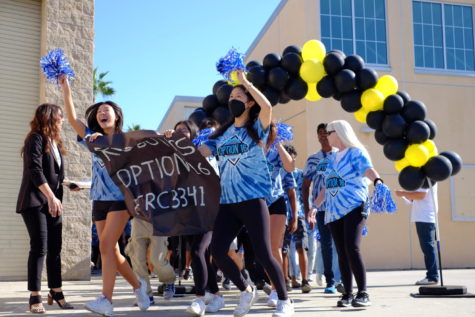 On Sept. 16, Westview was named a 2022 National Blue Ribbon School by the U.S. Secretary of Education. Only 297 schools in the Nation received the Blue Ribbon award this year.
To be nominated as a Blue Ribbon School, schools must have shown great academic achievement and this year, Westview, as well as five other high schools in California, won that award.
"[Being a Blue Ribbon school means that]  you've been honored by the nation as one of the top schools in the nation by the criterias that they've set," English teacher Bob McHeffey said.
To be eligible for the Blue Ribbon award, the school has to be in the top 15% in their state for CAASPP testing scores. 89% percent of juniors at Westview met or exceeded standards in CAASPP English and Language Arts, and 75 percent met or exceeded standards in CAASPP mathematics last year.
While CAASPP testing scores allow schools to be eligible for the award, all aspects of academics that the school provides in their report are taken into account by the heads of education who are currently working under President Joe Biden when determining which schools get the award.
Last year, former principal Tina Ziegler, Vice Principal Shannon Parker, and McHeffey applied for the Blue Ribbon School award by writing an essay about Westview's academic accomplishments.
"[Compared] to schools nationwide and even other schools in California, we're much higher than the average," Principal Ernie Remillard said. "Westview students are participating in extracurricular activities outside of the classrooms from sports to clubs to robotics to music to dance, a little bit of everything, and I think that's really what sets Westview students apart."
According to Remillard, Westview generally has anywhere from 80 to 100 different clubs, which they included in their application.
"The number of clubs show that since all of them are student-led, it shows that our students are interested in being a member of our community, interested in following their passions and getting out and acting on their passions as well," McHeffey said.
The award shows the accomplishments and commitment to excellence on campus.
"It really is a major honor for Westview," Remillard said. "I think it really captures the hard work that's gone on in the campus over the last 20 years, and it validates a lot of the work that students, staff, the community, parents, and other members of Poway Unified School District have put in over the last 20-plus years."
According to Remillard, it's very rare for a high school to receive a Blue Ribbon, so it's an extreme honor for Westview.
"Thinking about students applying for colleges and other opportunities, it's a big deal to say that 'I've attended a Blue Ribbon School,'" Remillard said. "I'm just proud to be part of it, and I've only been here for a short amount of time, so for me, it's really about the teachers who have been here for 20 years.  It's for the students who are currently enrolled as well as their brothers and sisters who have graduated or will be coming here in the future, so it's a really proud moment."
According to McHeffey, this is the first year that a PUSD high school has been nominated for a Blue Ribbon. 
"They gave us certain prompts to talk about like connecting students on campus, how we incorporate the community in our work, so we responded to the prompts with all the wonderful things that Westview does," McHeffey said. "[Those things range] from the fact that we have Wolverine Time during the day for more access for students to get more help and tutoring, to our NJROTC program and how it includes people on campus, to our school site council; all of these things we have situated that make Westview a place of learning."