Football kicks off
Westview kicked off the year with a 21-0 loss against Olympian High School, Aug. 19. 
The game started strong, but the team was unable to keep up their momentum. Safety Fares Krichati (11) caught the kickoff and ran about seven yards before lateralling to Madyx Perovich (11), who was taken down at the 23-yard line. On their first possession, the Wolverines were unable to score. At the end of the first quarter, Olympian scored a touchdown, giving Olympian a 6-0 lead.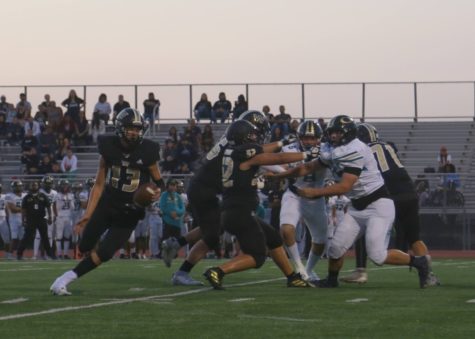 Four minutes into the second quarter, Olympian scored their second touchdown and, two minutes later, they scored a third touchdown and a field goal on first down, bringing the score to 19-0. Olympian closed out the first half with a successful two-point conversion, bringing the score to 21-0.
Going into the second half of the game down 21-0, defensive tackle Patrick McCullough (12) said he felt nervous about his team's ability to persevere given the devastating first half but was determined to
continue putting his best foot forward. 
"I felt hopeful because the score was still close enough to come back from," McCullough said. 
Despite the early losses, Westview went on to prevent Olympian from scoring throughout the entire second half.
McCollugh said he felt satisfied with the defensive line's performance as they continued to persist throughout the second half. 
"I would say that our tackles were pretty good throughout [the game]," McCullough said. "Not too much penetration occurred on the left or right side of the balls, which held off [Olympian] from scoring."
Quarterback Ryan Herrod (12) said he concentrated on his technique so that he would be able to pass well to his teammates after his passes were intercepted by Olympian multiple times. 
"I mainly focused on getting the ball out fast and tried not to take too many sacks," Herrod said. 
Since the team has fallen from Division III to IV this season, McCollugh said he had high hopes for winning this first game.
"We definitely weren't expecting as much competition as we got," Mccullough said. "We knew [Olympian's players] would be on the bigger side, but it played a bigger factor in being able to defend against them and their win in the end."
According to Coach Mitch Donnelly, who is returning as the head coach of the varsity football team for a second consecutive year, the varsity team has a high number of young, underclassmen varsity athletes compared to in recent years.
In turn, many of the returning varsity players have assumed positions of leadership and use their knowledge to aid new players.
"Our younger athletes lack experience and the best teacher on the field is experience," Donnelly said. "They're naturally going to make more mistakes, [so] some of our older players lead through voice and identify how they can apply themselves within the framework of the team."
Herrod said that he anticipates the team to improve throughout the season and expects to see technical growth from both new and returning athletes alike, especially considering how new the varsity lineup is this year.
"Last year we had a lot more seniors and this year we only have eight," Herrod said. "It's tough this year because a lot of the kids were on JV last year, and this was their first varsity game, but I know they'll get used to this level of competition with time."
In spite of the results from the game, Herrod said he is proud of the team's chemistry on the field, which he attributes to the time they have spent together both on and off the field.
"We've done a lot of activities like beach days over the summer, and I think it helps the team [dynamic] because it helps us have each other's backs," Herrod said.
Overall, Donnelly hopes that the football team will continue to build and strengthen their bonds both on and off the field.
"My aim is that [the team] learns to do things for each other and to do things for everybody else," Donnelly said. "It's important to be focused on the process versus the outcomes and learning how to love each other even through difficult times or people that are different from ourselves."
After four years of experience with Westview's football program, Herrod said he hopes to have a successful senior season by continuing to improve during practice.
"I just want to be able to get the ball to the playmakers so they can do their thing, because I think that's the best way for us to win as a team," Herrod said. "Our ultimate goal is to make a run at the playoffs, which I think will be doable."
Looking forward to their next home game against Escondido High School, Sept. 3, Donnelly hopes for his team to maintain a positive growth mindset.
"I try to stay focused on one game at a time," Donnelly said. "If you start thinking ahead, then you set yourself up. Our goal right now is to get better prepared to play quicker and at a higher level."
McCollugh said that he is intent on ensuring the team's technical skills are improved during practices.
"We're most likely going to work on blitz pickups, tackling, and getting the ball to the receivers," McCullough said. "[Escondido High School] will definitely recognize that we struggled with picking up blitzes and rush[ing] more people on the inside gaps. There has to be less leakage through the middle; otherwise it's going to be the same story as Olympian."