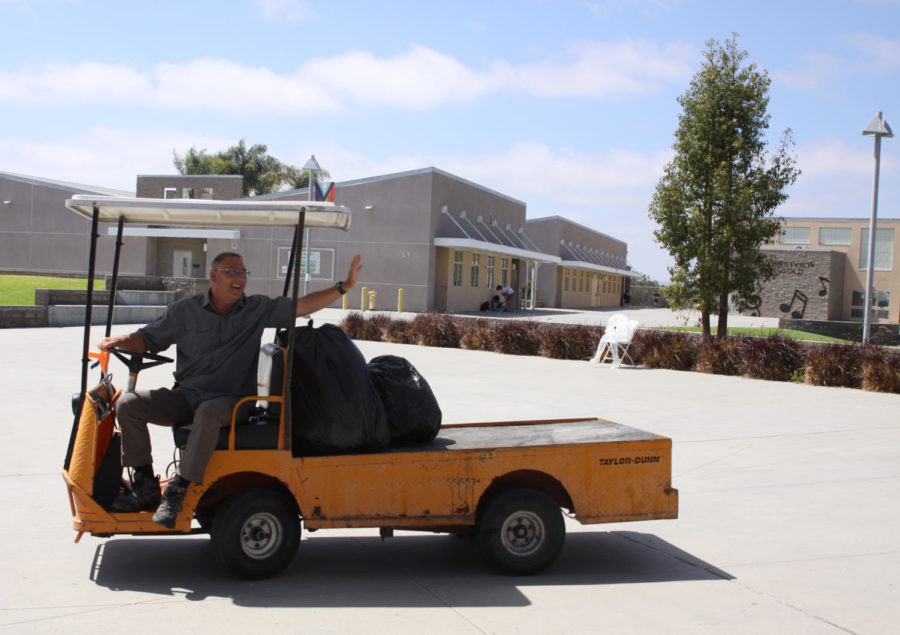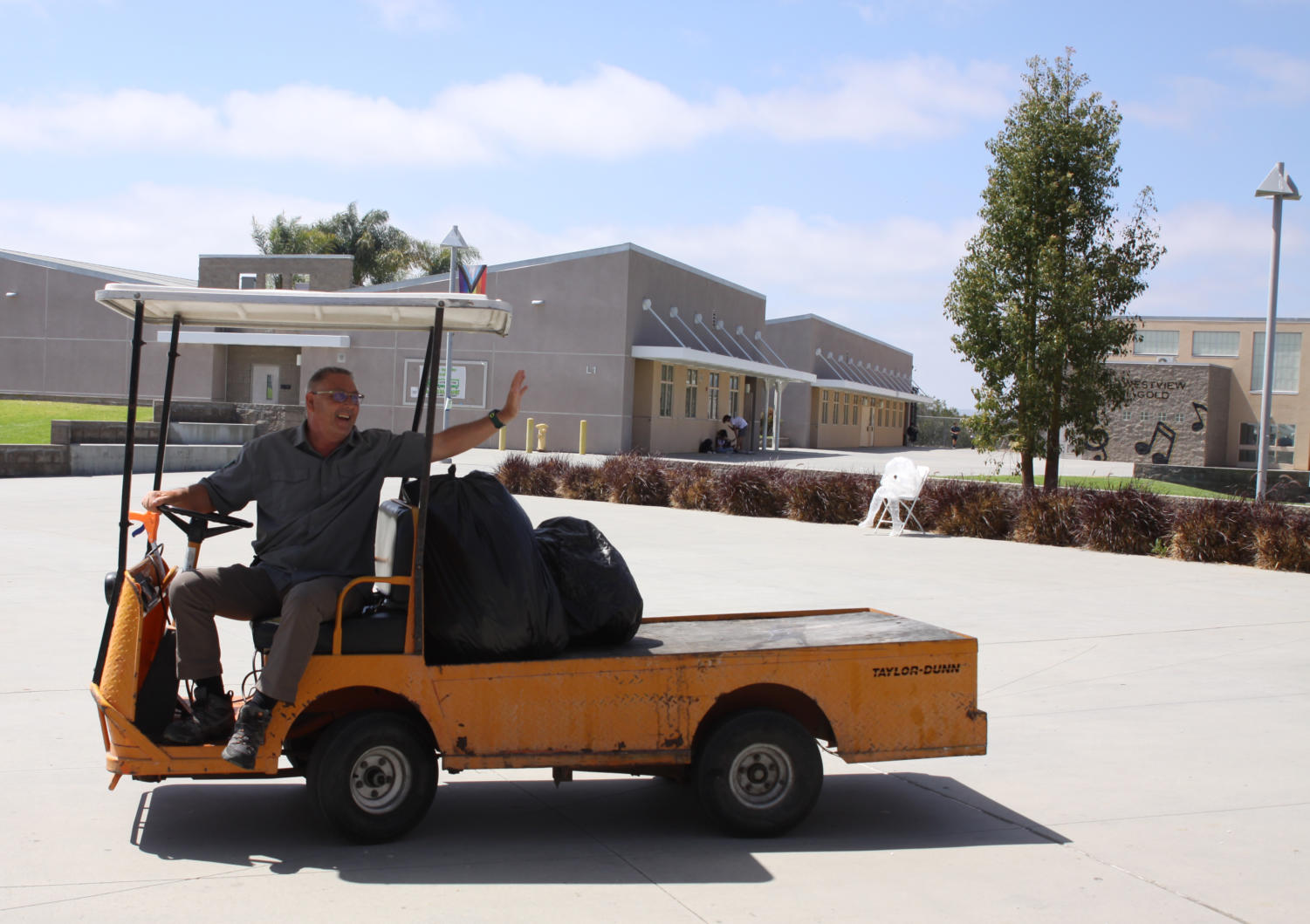 Custodial Supervisor Art Wolfe stands at the side gate by the gym each morning, waves hello to each student, and smiles, radiating warmth. Although Michaela Liff (11) doesn't know Wolfe well, his smile makes a difference in her day.
"His smile is bright and filled with kindness," Liff said. "His eyes light up and he creates a positive vibe between all of the incoming students. His smile is not fake and you can tell that he cares about the students on campus."
For Angela Yu (12) his kindness inspires her.
"He always says good morning with a smile on his face and makes it a point to welcome each and every student," Yu said. "It's just a nice way to start the morning and reminds me to take a little extra step to be kind throughout my day."
Especially on Monday mornings, Eden Cahill (11) said Wolfe's greetings help her get through the gate each morning.
"Coming into school on a Monday is hard for any student," Cahill said. "With this year's addition of showing your ID card, it adds to the gloomy feeling. But Mr. Wolfe always has a smile on his face and makes sure everyone is welcomed. It really makes a positive impact on my day."
Wolfe's simple "hello" has had a profound impact on the students who walk through that gate. 
However, his job doesn't solely consist of pleasant student interactions; at times, he has to clean up messes. No mess was comparable to the mysterious, lingering stench that had seeped into every classroom at Painted Rock Elementary, where Wolfe worked in the 1980s as a lead custodian. 
Wolfe discovered that under the air conditioning unit, there was matted black fur. When Wolfe and the air conditioning tech opened the plate, a rotten skunk was crushed beneath it and fused with the concrete. It appeared that the skunk had crept into the water-cooled unit and was sliced in half by the machine's blades.
Wolfe and the air conditioning tech alternated between using the shovel to chisel the skunk from the concrete and stopping to gag from the stench. 
"You know that rotten egg smell that we get here [at Westview]—the sewage type of smell? Wolfe said. "[The stench was that] times 50. " 
In his 36 years of being a custodian, Wolfe said he has never encountered a worse mess. However, as he moved on from the elementary school, his responsibilities shifted from cleaning up messes to leading the custodial staff and serving in a variety of capacities as needed, such as maintenance. He rose to the position of custodial supervisor at Westview when the school opened in 2002 and drew from his previous experiences to support him in his new role.
"It was a very big learning curve," Wolfe said. Because of all of the technology that now, you look at it 20 years later [and think], 'Oh, really, that's technology?' But at the time, it was a lot to take on. So it was nice but it was very challenging. I got to learn a lot more stuff. I have been able to learn a lot more on the maintenance side. I do a lot of maintenance now instead of calling people so it's 20 years of still learning stuff."
For 20 years at Westview, he has risen at 4:30 a.m. and gets to campus by 5:30 a.m. His regiment mirrors his childhood routine on his parents' farms in Oregon and Washington. 
He or one of his three brothers would wake up at 4:30 a.m. during winter to break the ice of the cattle and horses' troughs. They would then pluck the eggs from their seven chickens' nests, and feed the cows and horses before heading to school at 8 a.m.
Wolfe said he was raised in a strict household where he was forced to take accountability for his actions. His parents instilled a strong work ethic in him, as they were hard workers themselves.
"If I backtalked, or I sassed, or I didn't do what I was told, punishment was 'Johnny on the spot,' he said. "If it wasn't an actual belt or whatever they could get in their hands to punish me with, it was 'you know, go over there and sit down until I tell you you can move' [or] 'you're grounded go to your room,' you get nothing. It was a completely different era. You're held responsible for your actions."
His family moved to Victorville, CA for Wolfe's senior year of high school and there were few job opportunities in the small town. Although he had average grades, he said he believed that college wasn't for everybody. Once Wolfe graduated from high school, he enlisted in the Marine Corps. 
"I had my own squad, and I did not expect my squad to do anything that I wouldn't do myself 10 times over," he said. "Whether it's digging a foxhole, whether it's moving the equipment, it doesn't really matter—you lead by example, you take care of your guys. And so I just did that all the way through my time in the military. I didn't advance very far in the military, because I put my guys over high-ranking people."
After Wolfe got out of the Marines, a substitute custodial, and later, a regular custodial position at Twin Peaks Middle School helped him pay his bills and create a more stable income. 
Despite his earnest efforts, his brother's fiancée once questioned if he went into the military because he couldn't get into college. Wolfe often faces similar, belittling comments such as 'so you went into the military?' or 'you became a janitor because you couldn't get a better job.' Despite this, he said he believes that any honest job is a good job.
"I'm proud to be what I am," he said. "I'm proud to be a custodian. I think I have seen students that [I've had] as far back as elementary school that are now adults, and they have told me that I've made an influence on their lives. What matters to me is when I have a student that I had come up and go 'you really made a nice impact on my life.' That's what I strive for. I look at what the positive things are: what can I do that's going to be positive? For years down the road, maybe some kid will remember, 'I remember our custodian Art Wolfe. I remember him in a good way, not a bad way.' So that's why I'm proud to do what I do."
His career has had its low moments. In 2003 ash from local wildfires enveloped the sky at Westview. Wolfe was once revered as a great leader but a year after the school had opened, he lost members of his staff. The ash covered the roofs and the concrete floors, and Wolfe and his custodial crew were told to sweep it up in three days.
When the wind blew, the ash would billow down from one roof onto the ground, destroying the progress they had made, but he never gave up on looking forward to the high points: his interactions with students. 
"I'm out at the gate in the lunch area every morning," he said. "Just the welcomes that the kids give me every single day make it all worth it. What it's about is to see the kids come in and they may not be smiling when they walk in [but] you'll be like 'hey, good morning,' and then they're [like], 'oh, good morning.' I hope it makes a difference in their day when they come in."
As students like Liff, Yu, and Cahill have become accustomed to his presence at the gate, they've begun to reciprocate his greetings.
"Now, they all will say good morning to me first so it's very nice, and I love [to say], 'Hey, have an awesome weekend man,'" he said. "Especially when you know these kids, especially during testing, they come in and they're just dragging and you know they've been up half the night [to] study and they tried to cram to get ready. And so it's nice to just [say], 'Hey, good luck on your test today.' And you see the athletes come in, you know, it's their game day because they have their jerseys. [I say], 'Hey, go get them tonight.'"
Wolfe said he hopes to return to Westview as a substitute security guard after the six months that he's required to wait after retirement. Until then, Wolfe said he hopes to continue renovating his home and spending time with his dogs. Whenever his wife requests an adjustment to the home, he'll comply with 'yes, dear!'
Every weekday when he gets home and settles in for the day, he relaxes in his bedroom. He said his curtain, bed sheets, carpet, and wall color are always changing: hopefully, never again to purple, a color palette his wife requested during a phase. For now, the bedsheets are plaid: blue and gray; his curtains are yellow with a flowery pattern; the walls are a calming eggshell white. 
Kai, his old black Labrador-pit mix, will be lying on the ground—too old to jump on the bed; and Timber, a Shepard mix, and Nike, an English Setter, will be nestled beside him as he reads a book.