Mosolgo dives at States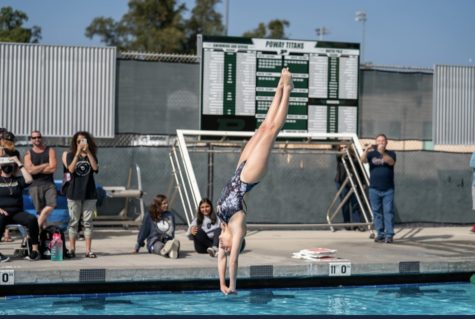 Ana Mosolgo (12) finished 23rd in the state of California as the only Wolverine at the 2022 CIF State Swimming & Diving Championships at the Clovis Olympic Swim Complex in Clovis West High School, May 12.
In high school diving competitions, divers attempt one dive from each of five categories—Forward, Back, Reverse, Inward, and Twisting—called voluntary dives, and then an additional dive from any category, called an optional dive.
In addition to being the only person from Westview who competed at States, it was Mosolgo's first time qualifying.
"I was honestly kind of shocked because I didn't think I was going to make it," she said. "Obviously, I was very happy. This is my last year diving, so it was a good way to go out."
Mosolgo placed 23rd in the state of California for the one-meter dive. Mosolgo said she was just proud to have had the opportunity to compete.
"It was just a good accomplishment to be [at States]," she said. "All my dives went well, but there was just a lot of hard competition from people who were on national teams and stuff."
Mosolgo first started diving about four years ago after 10 years of gymnastics.
"In gymnastics I was doing 25 hours a week, which was too much for me and I wanted to transition into a sport that still maintained some of the aspects I liked about gymnastics," she said. "Obviously, there were some technicalities [to diving], like the way you have to enter the water, that I needed to learn, but after a while it became muscle memory."
Dive coach Andrea Probert has followed Mosolgo's progress since she started on varsity as a freshman.
"Over the past four years, I've seen [Mosolgo] hone her skills and utilize better diving techniques," Probert said. "She's gained better control of the springboard and has shown more consistent use of proper form. I've also seen her develop better physical awareness and more self-confidence as she's become a better diver and stronger competitor."
Mosolgo has not only improved at the sport, but has also become a crucial member of the team.
"[Mosolgo's] has been an invaluable part of this year's team as our highest scoring diver and as a team leader," Probert said. "[During meets,] she was instrumental in running our home meets and made my job easier by organizing equipment setup, leading stretches, calculating final dive scores, making sure everything got cleaned up and put away afterwards, helping her teammates stay calm during meets, and answering questions for our newer divers when I was busy judging the meets."
This leadership extended beyond competitions into everyday practices as well.
"During practices she was always supportive of her teammates and even helped many of them to learn new dives or improve their technique by modeling proper form and giving them tips to get past whatever obstacles they were facing. Her skill and work ethic was inspiring to her teammates and she did everything she could to help our team succeed." 
As the dive captain since junior year, Mosolgo has enjoyed taking a leadership position on and off the diving board.
"As captain I help lead team warmups, make sure the pool is set up along with the boards, and make sure everyone maintains a good attitude at the pool during practice and at competitions," she said. "The best part about being captain is just lifting everyone's spirits and bringing everyone together."
Teammate Zack Van Den Einde (12) can attest to the impact of Mosolgo's leadership and presence on the team. 
"Ana has not only been a great role model for the entire team but someone to look up to for me," he said. "I'm lucky to have both her instructions on the board and friendship outside the pool. She is truly the center of the westview dive program and I think the team was lucky to have her. Ana has [an extraordinary] ability to coach any member of the team. She has encouraged the most growth from the divers that I have seen in my four years at Westview. It is truly a pleasure to be her teammate and friend."
Even though Mosolgo's not planning to continue diving in college, her high school dive career has still impacted her decision to pursue human physiology with an emphasis in sport medicine at the University of Oregon.
"[My major] goes along with all the injuries I've gotten throughout 14 years of sports, and I want to help other athletes," she said.