Choir performs in annual Spring concert, seniors form memories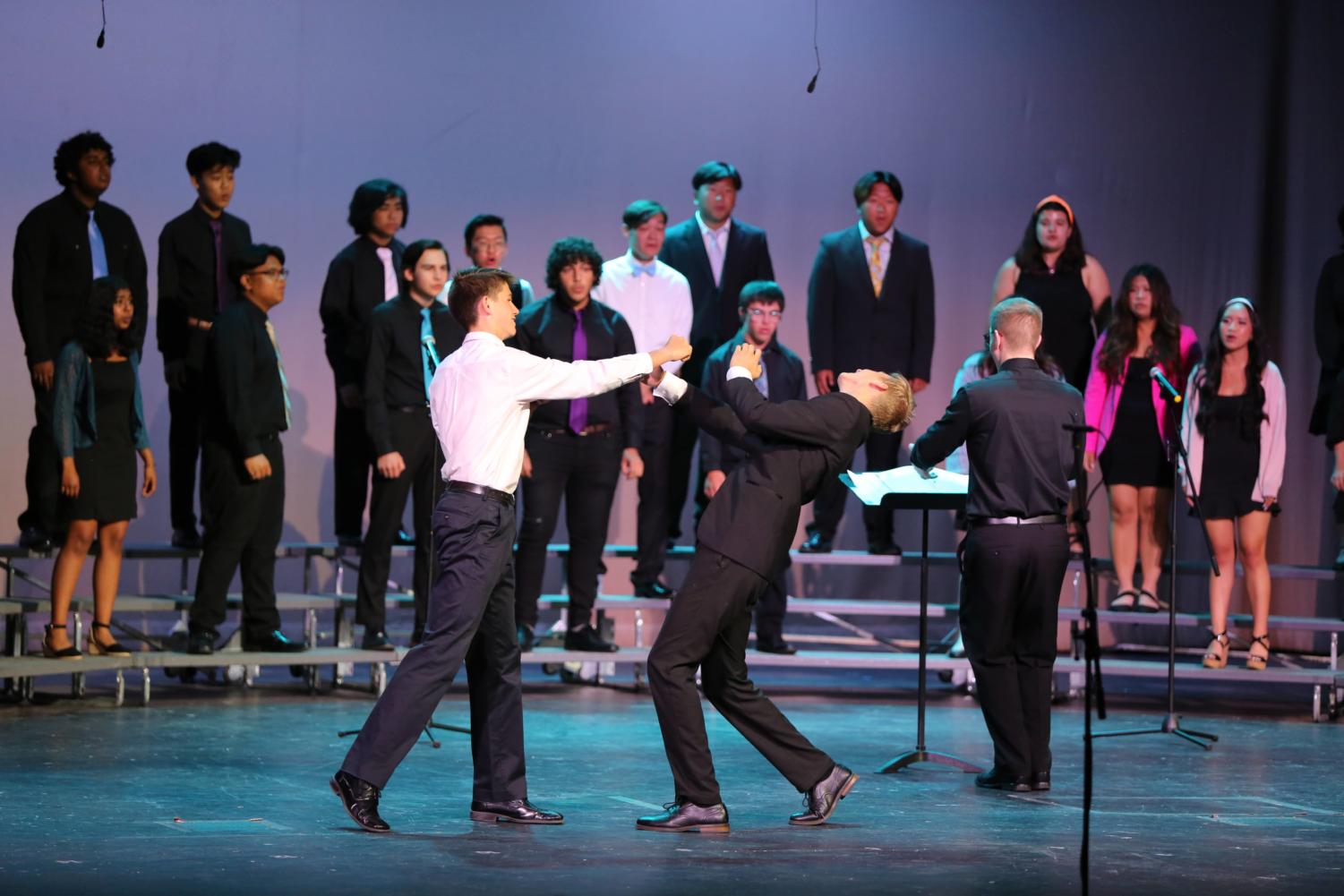 Westview's choir performed their last concert of the school year, themed "As Seen on TV," May 19-20. 
The choir performed many different songs from different eras, movies and TV shows. The performance was narrated by two students who were trapped inside a television. They talked directly to the audiences as if the viewers are the people switching through the channels. The show followed them as they traveled through different channels, featuring songs from Disney,  twentieth-century television and much more. 
Mathew Miller (12) is a Sol singer and has been in choir since sixth grade. He first joined Sol singers because he thought it would be fun.
 "[Being in choir] has helped me be more confident in my singing ability," Miller said. 
Leading up to the concert, Miller has spent a lot of time preparing to ensure that the concert would go well. 
"I have been spending time at home listening to the songs as well as practicing notes on a piano," Miller said. "In my experience, when you are just learning a piece, it's difficult, but the more you practice it, the easier it will become." 
Miller also said that joining choir has been one of the greatest experiences in high school, explaining that it helped him grow as a singer. 
Renn Arganoza (12) has been in choir since middle school, and they also spent a lot of time preparing for the last concert of their high school experience. 
"Coming from a pandemic, this is a really big concert because it's the last spring show that I'm going to do," Arganoza said. "The first one I did in freshman year was great. And then we were supposed to have one but then the pandemic happened. So I want this one to be really good. Choir means a lot to me because it's where I bond with a lot of people, not just my friends but also my classmates as well. Music is an easy way to connect with people.
"[Choir] helped me open up to people and talk to more people outside of my own group. Technically, I feel like I'm more able to speak in front of a crowd now." 
Arganoza said that they used to have a fear of performing in front of a big crowd, but choir helped them overcome that fear. 
"Knowing that I'm in a group kind of helps and eases the tension a lot," Arganoza said. "I know that if I mess up, not everyone's really going to hear it since I'll be overpowered by the other people." 
The choir team put in a lot of practice into this performance, making sure the concert ended on a good note.
"[The concert] had a lot of energy and soul," Arganoza said. "Very lighthearted and fun. It being the last concert, I felt like everyone put their all into making the concert look as good as possible."