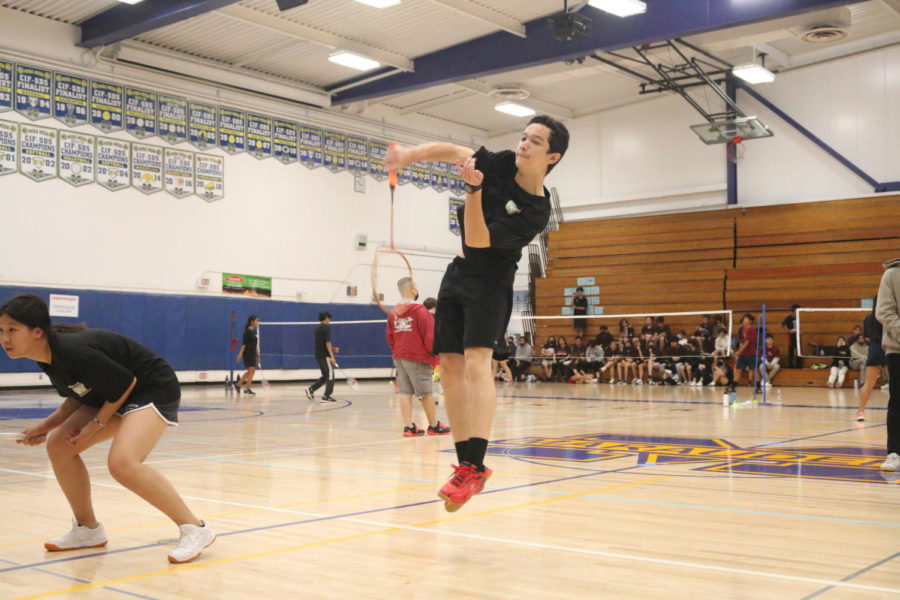 Jayden
A mishit—the birdie went high as Adrian Luo's (10) opponent lit up at the perfect opportunity for a kill. His opponent smashes, but Luo returns. Another smash. Another return. Four consecutive smashes. Four consecutive returns. On the fifth smash, Luo's opponent falters and smashes the birdie into the net, prompting Luo to a well deserved fist pump.
The badminton team competed in the 2022 Rookie Tournament hosted at Mira Mesa High School, April 22-23. The Rookie Tournament solely featured players who had joined their schools' teams in the 2021-2022 school year, allowing less-experienced players who may not have been given the chance to play during the regular season a chance to shine. Notable finishes in the tournament include Anu Khanwale (10) and Meher Gupta (10) who placed second in girls doubles and Adrian Luo (10) who advanced to the quarterfinals in boys singles.
Luo displayed a commanding performance while progressing through the boys singles bracket. Until the quarterfinals round, none of his opponents were able to score more than 13 of the 21 points required to win a set.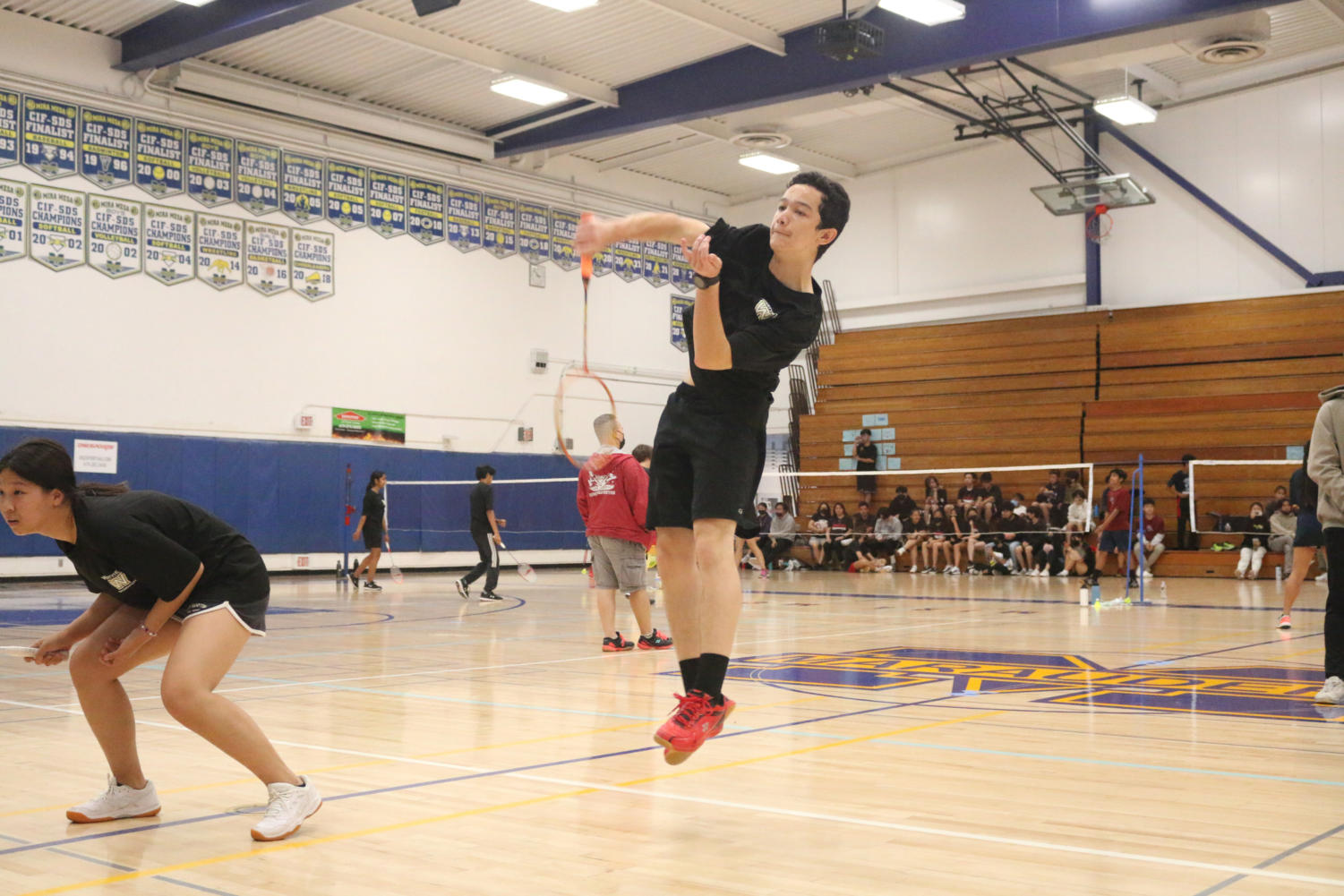 As he advanced into the quarterfinals, Luo faced Nicolas Vo (11) from Patrick Henry High School. Early into the first set, Luo realized he had an unexpected obstacle.
"It took some getting used to Patrick Henry's large audience and very vocal support for all of their players," Luo said. "Like in any sport, when you have a lot of people watching, there's an added pressure, so it's a little harder to focus. That made it more difficult to return and keep a lot of my drop shots in."
Luo wasn't able to stabilize the score, losing the first set, 21-15, but quickly adjusted to his unfamiliar environment by the start of the second set. Luo held a strong lead for the majority of the set before pulling away at its end to win, 21-16. 
"I was a lot more consistent in the second set," Luo said. "I continually used the plays that I was used to, like dropping and pushing to his back corners to put pressure on him, which got me a lot of points."
Moving into the final tie-breaker set fresh off of his previous set win, Luo maintained a consistent lead. However, as the point totals racked into the high teens and the pressure increased, Luo faltered.
"There was one point in particular where I essentially had a free point but gave up my opportunity to smash it," Luo said. "[Vo] ended up hitting a drop shot and I lost the point, which changed my mental state a little bit. I definitely lost the calmness I had before that point."
Luo narrowly lost the set, 21-19, eliminating him from the tournament, but he noted that he gained a unique perspective as a result of this tournament.
"I'm on the varsity lineup, but I didn't really know if I fit in there since I tend to compare myself to other people who may have been playing for four years," Luo said. "But seeing these players who were similarly experienced and pretty good, then playing with and being able to compete with them made me realize that I do fit in with my team."
Similarly, Khanwale and Gupta exhibited an outstanding performance while climbing through their bracket. The duo won match after match, only allowing their opponents to score more than 10 points once.
In their semifinal match, they faced a team from Kearny High School. Much like many of their previous matches of the day, Khanwale and Gupta began with a lead and quickly pulled away, leading to a 21-6 victory. However, early into the second set, the duo found themselves losing 10-1.
"We were warmed-up and super fired-up during the first set, but the other team got a whole lesson from their coach during the break afterward," Khanwale said. "We cooled down because of that and just kept making mistakes, like serving it into the net, or like getting in each other's way, which rarely ever happens."
Despite their steep score deficit, the pair regained their footing and began to score streaks of consecutive points. Khanwale and Gupta won the set 21-15 and advanced to the finals.
The pair then lost against two players from University City High School and concluded as the second-place finishers in the rookie tournament. 
Though the tournament was finished, the duo is far from complacent in their desire for improvement.
"On the car ride home, we just talked about all of the things we could do better like, 'Wow, my drops really, really suck,'" Gupta said. "We're constantly trying to look at areas that we aren't doing too well in, like how I'm always taking up too much space on the court or Anu and her serves, then trying to figure out how to improve them. But overall, I'm pretty happy with how we did."