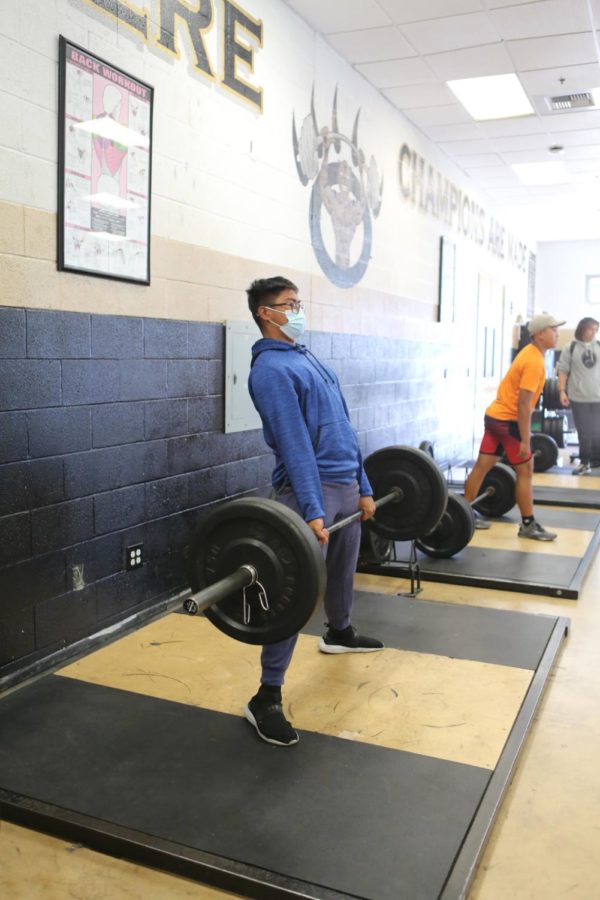 Cara Tran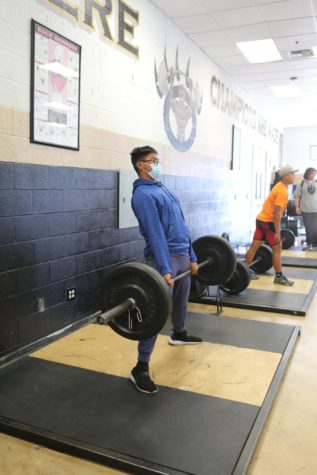 On school days, William Balais (9) wakes up at 6 a.m. to make himself a quick breakfast of avocados and eggs on toast before riding his electrical bicycle to his local YMCA. There he'll spend his morning weight lifting. After a grueling session, he'll bike back home to get ready for the school day.
Despite never having received formal weightlifting training, Balais is able to deadlift more than three times his own body weight. While the average freshman typically lifts 133% of their body weight, Balais currently deadlifts 435 pounds, benches 165 pounds, and squats 235 pounds at his personal best, and he aspires to beat the school deadlift record by his senior year. 
 According to Frank Ramos (12), Balais' unofficial weightlifting coach and friend, Balais has the potential to break Westview weightlifting records. 
"Considering that he is a freshman, lifting more than 300 [pounds] puts him on track to be able to pull [much more] by his senior year," Ramos said. 
Balais became interested in weightlifting after his football team in Texas visited the YMCA to learn the basics of weight training when he was twelve years old. After the visit, Balais said he took a personal interest, watching videos on the internet to learn more about the sport and even using his monthly allowance to buy a YMCA membership so he could lift regularly.
"I would watch videos like video training where [weightlifters] would explain some safety precautions and how to start lifting," Balais said. 
At first, Balais said his goal in weightlifting was simply to get into better shape so he could perform well in football games and that his skill level was far below that of a novice lifter.
With a positive mindset and the encouragement of people he lifted with, however, he slowly made progress and was able to lift more and more. 
"For me, it was never talent that drove me to become stronger, it was the mindset and hard work," Balais said. "Whenever I lift, I'm always thinking 'how can I be stronger than I am right now' or 'how can I lift more' and that sets off a chain reaction in me to challenge [myself]."
Weightlifting has not only helped him develop a growth mindset in regards to strength, but he also strengthened bonds with others. Within the weightlifting community, Balais said that some of his closest friends are Ramos and his brother Christopher Ramos (9).
When Balais first moved to San Diego from Del Rio, Texas, and the brothers moved from Baltimore, Maryland, in 2020, Christopher and Balais bonded over being new to the area and learned that they shared a common interest in weightlifting. Shortly after, Balais visited the Ramos' home, where the two would practice lifting in their home gym while Frank gave them pointers
"Frank helped me with my form and makes sure I never cut corners, and he's why I can lift more than people my average weight can lift," Balais said. 
According to Balais, lifting with the Ramos brothers allows them to hold one another accountable for putting as much effort into their lifting sessions as they can.  
"They push me to my limits," Balais said. "There are days where I get lazy and say 'I don't want to do this,' but they'll motivate me to keep going."
Though weightlifting started out as a casual hobby for Balais, he hopes to pursue the sport more seriously in the future by becoming a professional competitive lifter. As for his time at Westview, he said he hopes to make a mark on the school by setting a weightlifting record. 
"I would like to break [Westview's weightlifting] records before I graduate senior year and set new ones," Balais said. "I believe that if I put my mind to it and trust the process, I'll be able to reach that goal."